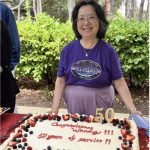 June 8, 2023 3:32 am
Comments Off

on Wendy Leong: 50 Years on Team SBC!
By Samm Baker, Communications Strategist Throughout her remarkable 50-year journey with Stanford, Wendy Leong has exemplified unwavering dedication as an integral part of the Histocompatibility Laboratory. During her tenure, she has been a firsthand witness (and integral part of) to...