Stanford Blood Center and the San Jose Sharks are teaming up once again to collect blood products for patients in need. Donate Life and Be the Match will also be on hand to register interested organ and marrow donors.
Blood Drive Details
Date: Saturday, January 12, 2019
Time: 7:30 a.m. to 2:00 p.m.
Location: SAP Center/Shark Tank – North Concourse Entrance
525 W. Santa Clara Street.
San Jose, CA 95113
Donors will have the chance to win lots of awesome prizes!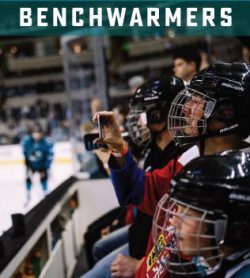 With 50 prize drawings scheduled, many donors will go home a winner. Prizes include:
47 drawings of 2 tickets each to the Sharks v. Avalanche game on March 1
3 drawings of 2 tickets each to the Avalanche game with "bench warmer fan experiences" (you get to sit on the bench while the players warm up!)
Special Bonus: All ticket winners will be invited to take a picture on the ice!
Don't Miss Out on POWER HOURS!
Register between 7:30 a.m. – 8:30 a.m. or between 1:00 p.m. – 2:00 p.m. and you'll have a chance to win awesome merchandise or tickets to the Barracuda v. Gulls game on February 16. 25 pairs will be raffled off!
Please note:
Wait times are common, as this is our most popular drive. Enjoy mingling with fellow fans while you save lives!
We are able to accommodate only one guest per donor or marrow/life registrant. All event attendees must be 16 or older to enter the SAP Center for this event. Thank you for understanding.
Donors must:
be at least 17 years of age (16-year-olds may donate blood with a parent/guardian's consent)

weigh at least 110 pounds for donors 19 or older (Donors under 19 — see height/weight requirements)

be free of cold and flu symptoms (allergies ok; as are most medications)

eat before donating and drink plenty of fluids

bring photo ID
For more information about eligibility, click here or call 888-723-7831.