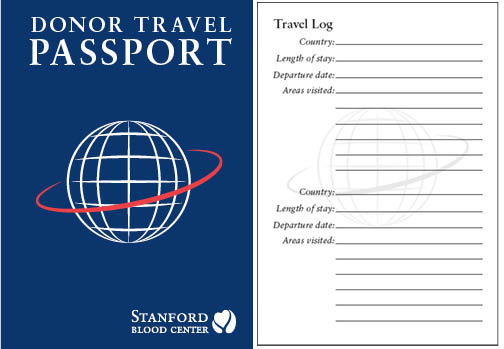 In the absence of a licensed test to screen blood donors for malaria, the measure used to reduce transfusion-transmitted malaria in the United States has been the deferral of donors who have had a malaria infection or had a possible exposure risk to malaria. This makes accurate and detailed reporting of travel during the medical history interview a critical part of the screening process. To aid in this process, the FDA requires that we ask blood donors about their travel history during each donation visit to identify travel to malarial endemic areas or countries, and capture changes to travel history since their last donation.
At Stanford Blood Center, we want to make the donation process as easy as possible for our globetrotting donors. Beginning this month, we'll have a special SBC travel kit available for your use. This handy booklet, which includes a Donor Passport, an SBC-branded passport holder that will fit a donor ID card, and a Travel Eligibility Card, lets donors keep track of where and when they have traveled. Pick yours up at any of our centers or mobile drives starting August 14.
Changes for Donors Who Travel to Malaria-Endemic Areas
Travel to Quintana Roo, a Mexican state that includes Cancun and Cozumel, will no longer result in a 1-year deferral for blood donors.
The duration of travel to a malaria-endemic area is now defined as more than 24 hours to less than five years. Visits of less than 24 hours, such as layovers, stopping while on a cruise or passing through a malaria-endemic area while en route to a resort in a malaria-free area, will not be cause for deferral.
Changes for Donors Who Have Previously Resided in a Malaria-Endemic Country
A donor who has been a prior resident, defined as five consecutive years or more, of a malaria-endemic country or combination of malaria-endemic countries will continue to be deferred for three years starting from the date they left. After the 3-year deferral period, the donor may be eligible to donate provided that s/he meets all other eligibility criteria.
If a donor who has previously resided in a malaria-endemic country visits a malaria-endemic area before 3 consecutive years in a non-endemic country have passed, the 3-year deferral period will start anew from the time the donor returns to the non-endemic country.
If a prior resident of a malaria-endemic country travels to an endemic area after three consecutive years of residence in a non-endemic country, s/he will be deferred for one year.
Have questions about your eligibility? Give us a call at 650-723-7831.