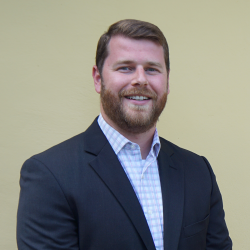 As Stanford Blood Center's Donor Services Director, Bradley is responsible for the administrative and technical management of whole blood and apheresis collections at multiple fixed and mobile locations in the Bay Area. In addition, he leads a team charged with the responsibility for setting the structure, strategy and goals for all collections, recruitment, training and medical records. Prior to joining SBC, Bradley served as a Program Manager with Stanford Health Care supporting the New Stanford Hospital and Clinical Genomics Service projects. In this role, he partnered with hospital department leaders to optimize process workflows and plan for successful future state operations.
Before joining Stanford Health Care, Bradley held positions at SSM Health and Vanderbilt University Medical Center. Both roles afforded him the opportunity to utilize Lean methodologies while managing multiple projects, varying in size and scope, simultaneously. Through this work, Bradley obtained his Lean Healthcare Certificate from the Jack C. Massey Graduate School of Business at Belmont University.
Bradley earned his Bachelor's Degree in Liberal Arts and Master of Health Services Administration from Xavier University in Cincinnati, OH.