By Julie Ruel, Social Media Manager, Stanford Blood Center
As part of our Loyalty Program donors have access to our online store. We offer a variety of items, including SBC-branded apparel, ice cream coupons, messenger bags, and the option to donate points back.
Points are earned at each visit according to the following schedule, which resets on January 1st each year:
Whole blood, platelet, and RBC + plasma donors:
▪ Visit 1 = 100 points
▪ Visit 2 = 125 points
▪ Visit 3 = 150 points
▪ Visit 4+ = 175 points

DRBC donors:
▪ Visit 1 = 200 points
▪ Visit 2 = 225 points
▪ Visit 3 = 250 points
Follow these steps to browse the store and shop!
You may also click here to follow our video tutorial for the same steps outlined below.
1. Visit our website. Navigate to stanfordbloodcenter.org and click on the blue "log in" button at the top right of the screen.

2. Enter your donor ID number. This can be found on your donor ID card.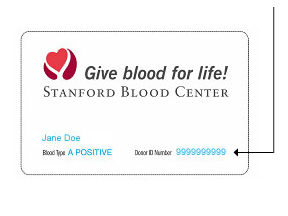 If you don't have your donor ID number, send an email to sbconlinehelp@lists.stanford.edu or call us at 650-736-7786. We'll ask you to confirm your date of birth so we can be sure to provide you with the correct ID number.
3. Enter your password and click the login button. Your default password is your birth date, entered as shown on the website, with slashes (example 01/01/1911).
You may personalize your password after logging in to your account. Click the My Profile button, scroll to the password field, and enter a new one.
4. Click on the Loyalty Store button.
5. Browse the store and go shopping! Find your point balance under "Your Donor Rewards" toward the top left of the page.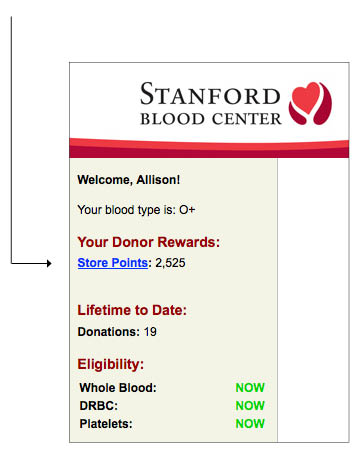 Click on any of the items to read specific details and to view a larger image. Add items to your cart, check out, and you'll have your order within a couple weeks.
To check your point balance and shop in the online store, please log on to your donor account here.
Questions about the online store program or an existing order? Send an email to sbconlinehelp@lists.stanford.edu or call us at 650-736-7786.