By Jennifer Sellen-Reczkowski, Marketing Communications Specialist, Stanford Blood Center
Click here to view this information in an online tutorial.
You've just donated blood and you're wondering if that new all-bacon diet you started has affected your cholesterol level. As a Stanford Blood Center donor, you have access to our online tools, which make it easy to keep your wellness in check and stay on target with donation goals. Follow these steps to get started!
1. Visit our website. Navigate to stanfordbloodcenter.org and click on the blue "log in" button at the top right of the screen.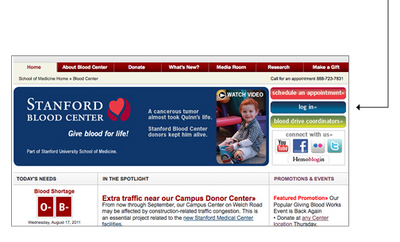 2. Enter your donor ID number. This can be found on your donor ID card.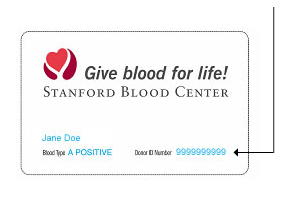 If you don't have your donor ID number, send an email to sbconlinehelp@lists.stanford.edu or call us at 650-736-7786. We'll ask you to confirm your date of birth so we can be sure to provide you with the correct ID number. We hope allow for custom usernames in the near future. Please stay tuned for updates.
3. Enter your password. Your default password is your birth date, entered as shown on the website, with slashes (example 01/01/1911).
If you would like to personalize your password, after you log in to your account, click the My Profile button, scroll to the password field and enter a new one.
4. Browse your account. Once logged in, you will be able to:
• view your blood type
• make an appointment
• check cholesterol test results and see vital statistics
• view previous donations
• manage existing appointments
• manage contact information, including address changes
• request an ID card be mailed to you
• shop in the loyalty store
We hope you'll take advantage of these tools and find them rewarding. Of course the ultimate reward is the reminder that you're saving lives whenever you donate!