By Julie Ruel, Social Media Manager, Stanford Blood Center
Click here to view this information in an online tutorial.
Millions of Americans are affected by high cholesterol, which leaves them at an increased risk for heart disease and stroke. Tracking cholesterol levels over time is an important routine for many and an effective way of staying in tune with your health.
At SBC, each time you donate blood, we do a cholesterol screening on the unit and keep record of it for you to track through your donor account. Because we cannot have donors fast leading up to a blood donation, the test we use is a screening, rather than a diagnostic test. The number shown is your total count (it does not break down the different LDL and HDL numbers). The graph you'll see will allow you to track whether your level increases, decreases, or stays the same over time.
If you've donated blood with us since 2005, your results are available online. Here's how to view your history:
• Browse to our website by clicking here, then enter your donor ID number and password. If you don't know your donor ID number, please send an email to sbconlinehelp@lists.stanford.edu and include your date of birth for verification purposes.
• Click on the "Wellness Check" bar toward the middle of the page.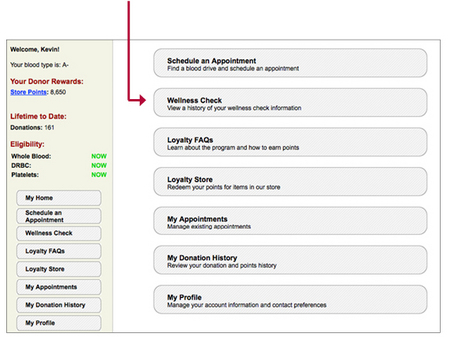 • Click on the "Cholesterol" bar.
• Specify a date range and click "Submit". The page will display up to your six most recent results in the date range selected.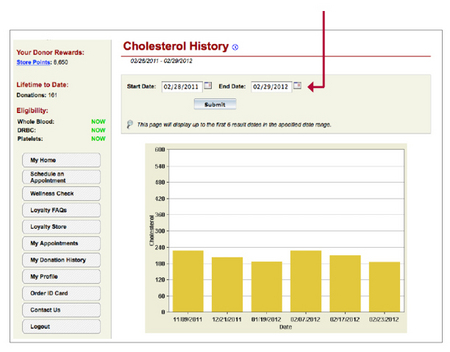 Questions about logging on to your donor account or checking Wellness information? Send an email to sbconlinehelp@lists.stanford.edu or call 650-736-7786.