Stanford Blood Center (SBC) is excited to announce that we are in the process of launching a mobile app for iPhone and Android phones! We're currently in the development and testing phase, and plan to launch the app to the public in spring of 2022.
In the meantime, you can download the beta version and try it out! While we will continue to develop and refine the app, we'd love your feedback! Get the app from the Apple App Store or Google Play Store anytime, and let us know what you think by filling out our brief survey.  If you need further support, you can also contact us at sbcsupport@stanford.edu.
Please note: The SBC app is available for download on Apple and Android-based mobile phones only — not for tablets, desktops or alternate phone operating systems (e.g., Windows, Blackberry, Symbian). It is also important to note that the app is in its BETA phase, meaning users can expect to find some "bugs" or irregularities.
What's Inside?
The beta version of the app will allow you to tackle most of the tasks you usually do on the web portal, plus several fun and helpful extras!
Easy login
Need to reset your password? Forgot your username? First time setting up your account? No problem… it's all there for you on the login screen. And once you've logged in, your device will remember you; so more more fishing around looking for that password!
If you want to log out, you can! Just click the menu at the top of the "me" tab once you are in the app.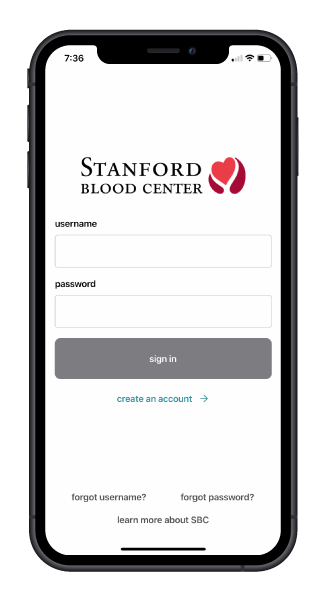 The personalized "Me" tab is unique to each donor
App-only feature! You can see your digital donor ID card with blood type, name and ID number (if you have donated with us and have logged into your existing account). This digital donor ID card can be scanned just like a standard ID card when you come in to give blood. Now you don't need to remember to bring a separate card!
See upcoming donation appointments, or see your eligibility and a "book appointment" button if no appointment exists.
See past donations.
Fill out SBC preCheck™ beginning at 12:01 a.m. on the day of your donation appointment.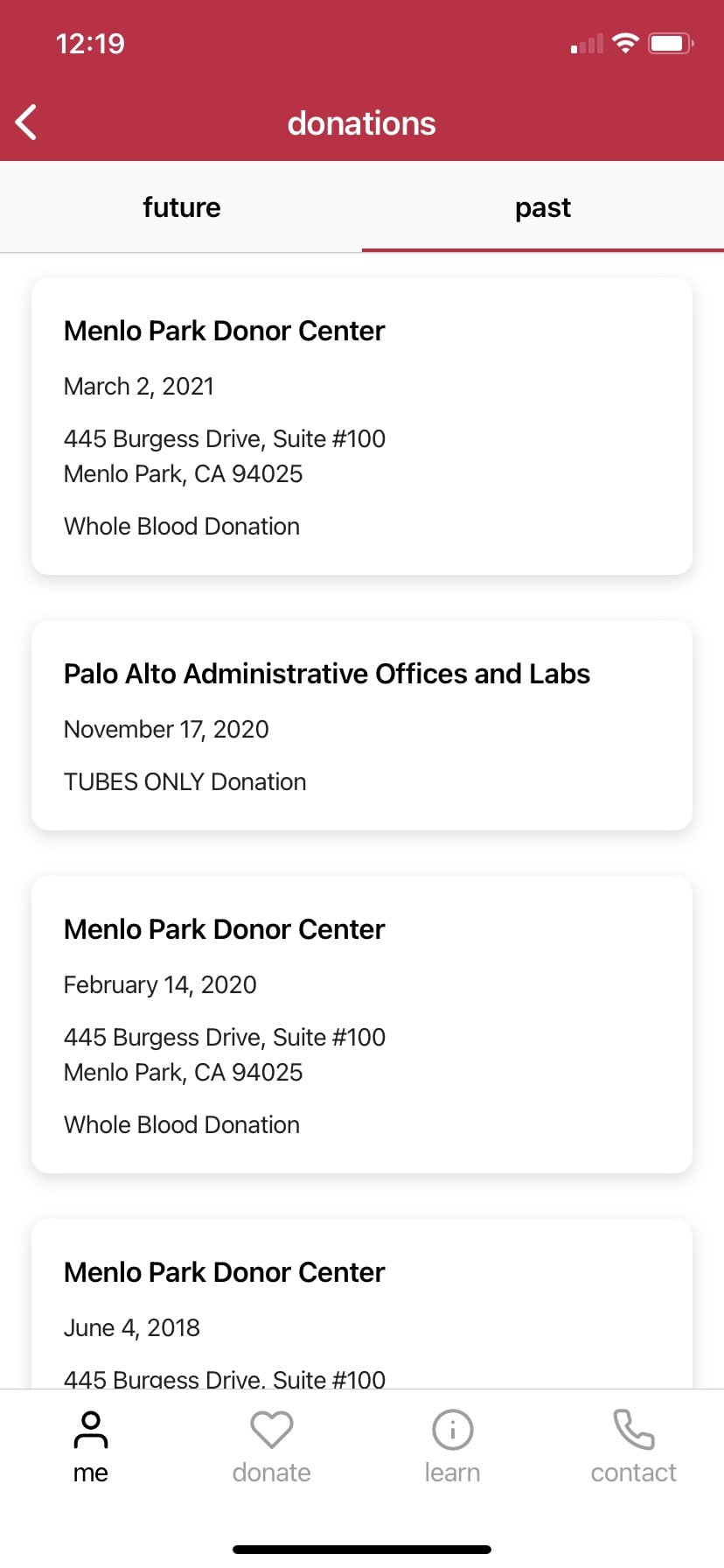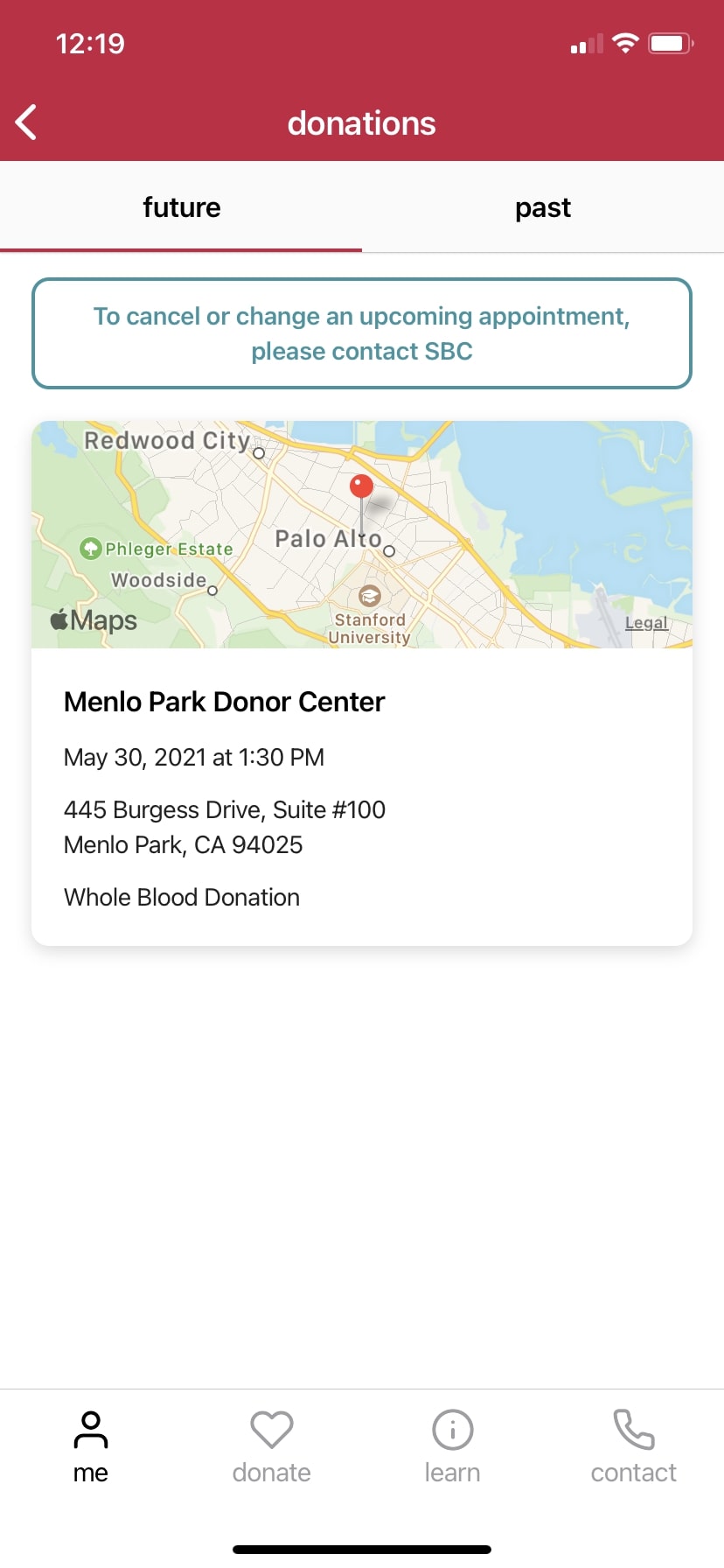 The information you care about in one place
See lifetime donations.
See Donor Loyalty Store points accrued. Redeem points in the store (requires separate log in to web portal).
See latest test results and click through to web portal for complete history.
App-only feature! See badges earned and potential badges to be earned in the future. Some badges even come with real rewards, and we'll be adding more over time!
App-only feature! Click into earned badges to be able to share on social media, via text or email, etc. You can help inspire even more people to donate by showing off your milestones!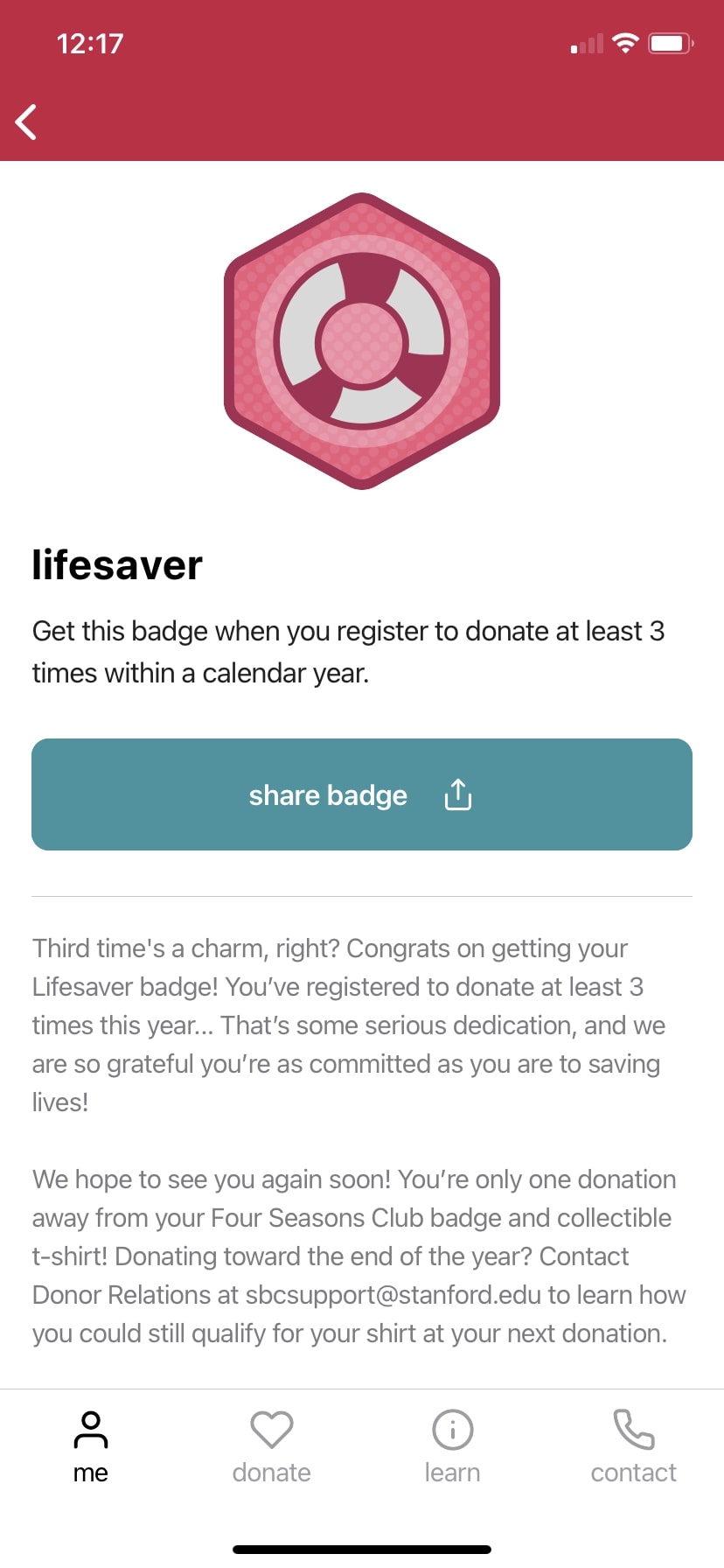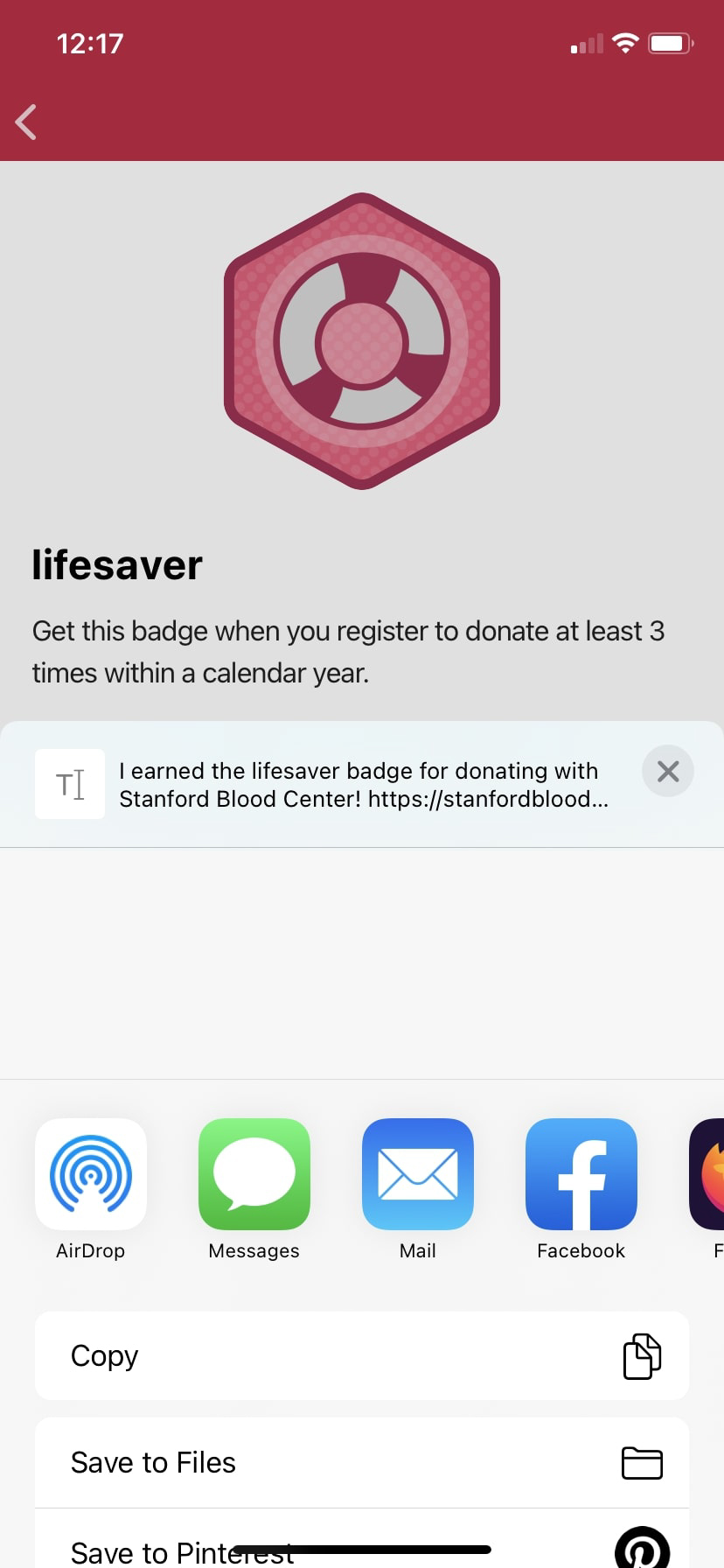 Easier appointment search and booking
App-only feature! Find an available appointment nearest to your location (uses your phone's location) or within a specific radius of a zip code.
App-only feature! See appointments starting ONLY for those dates when you are eligible.
Book an appointment for a preferred date and time.
App-only feature! Add a confirmed appointment to your calendar using your phone's built-in system.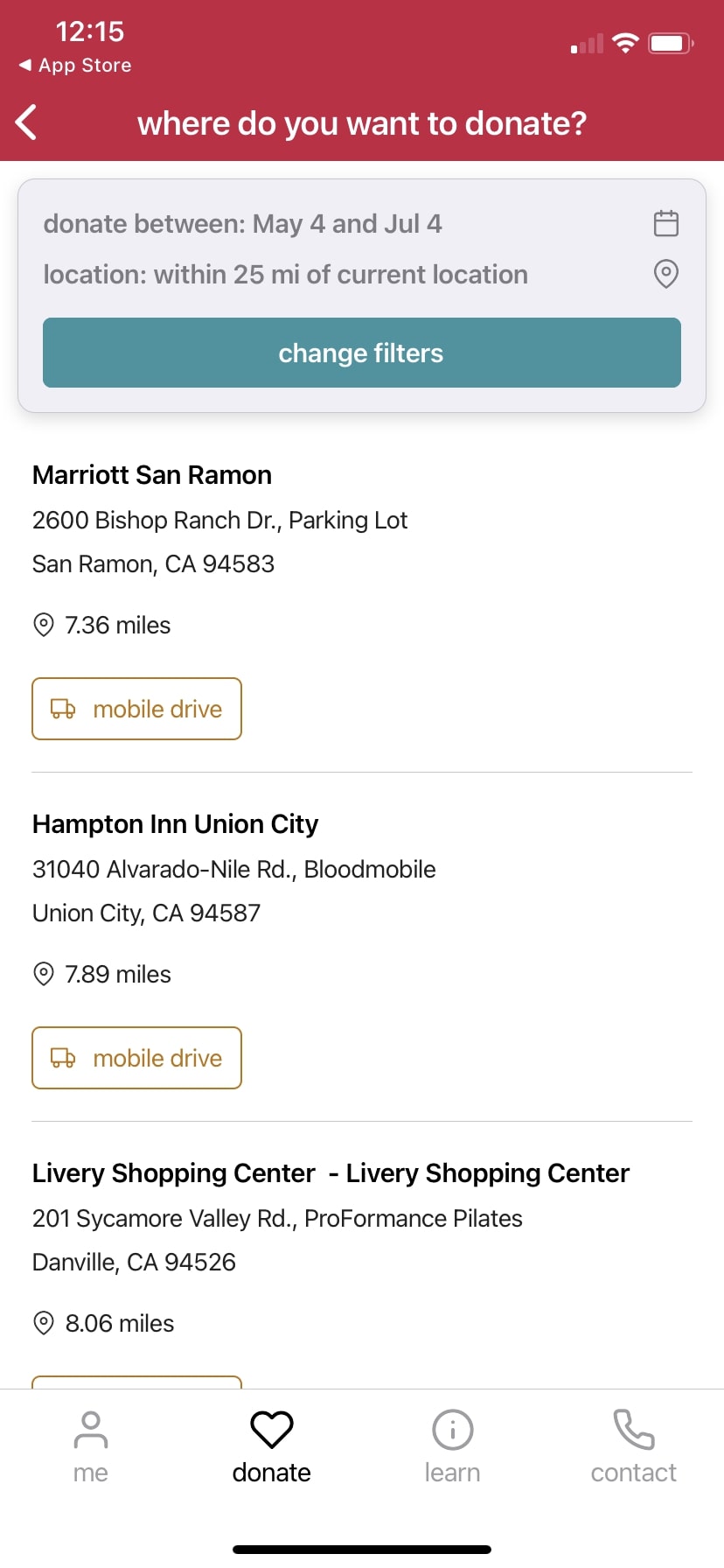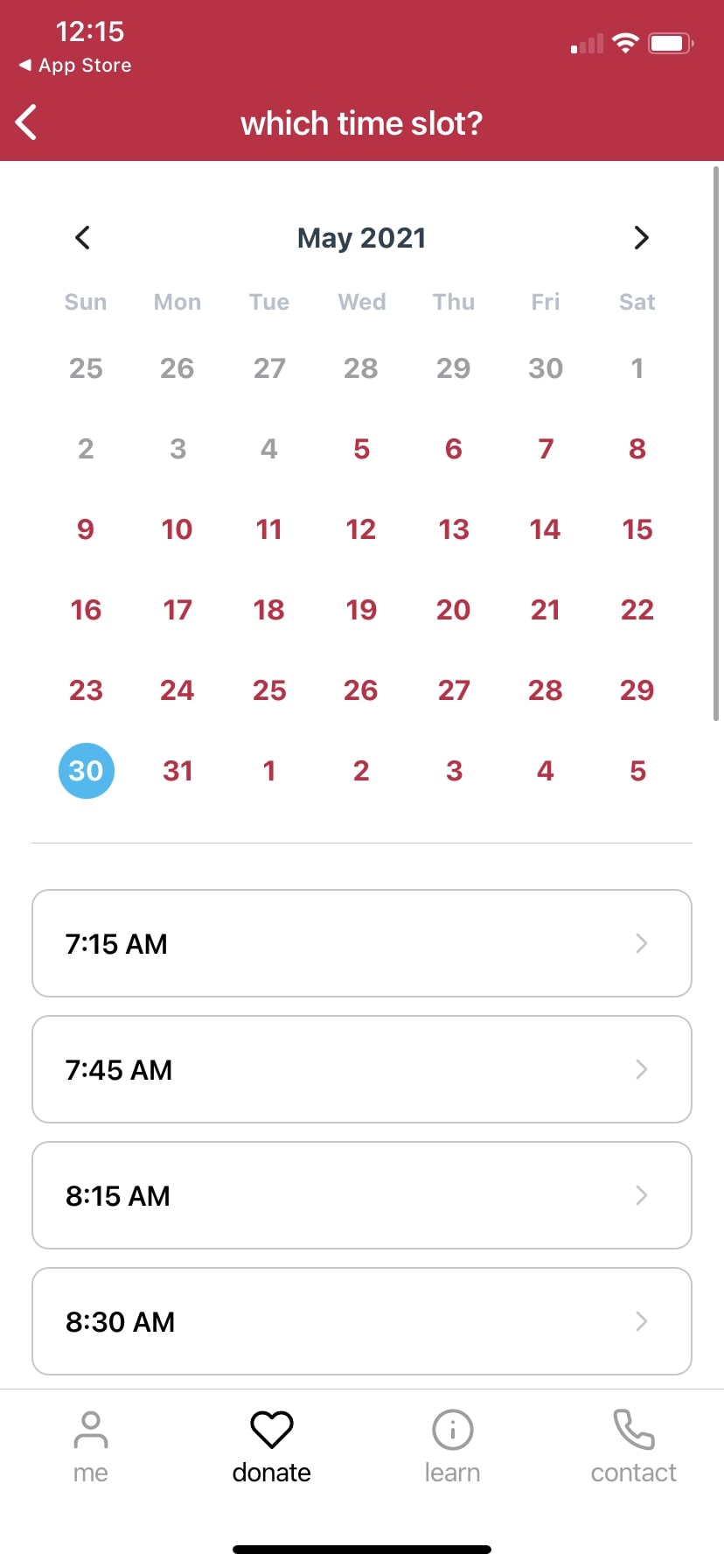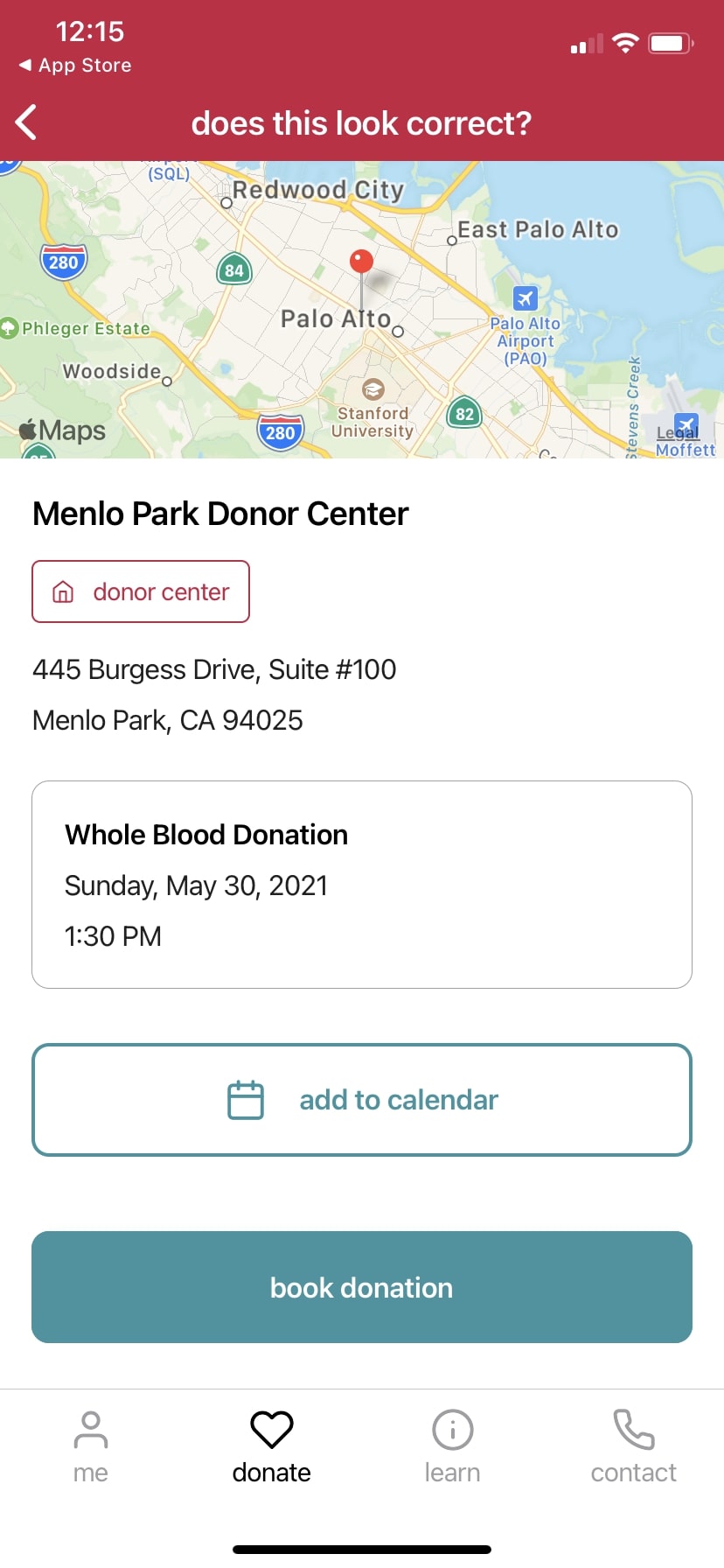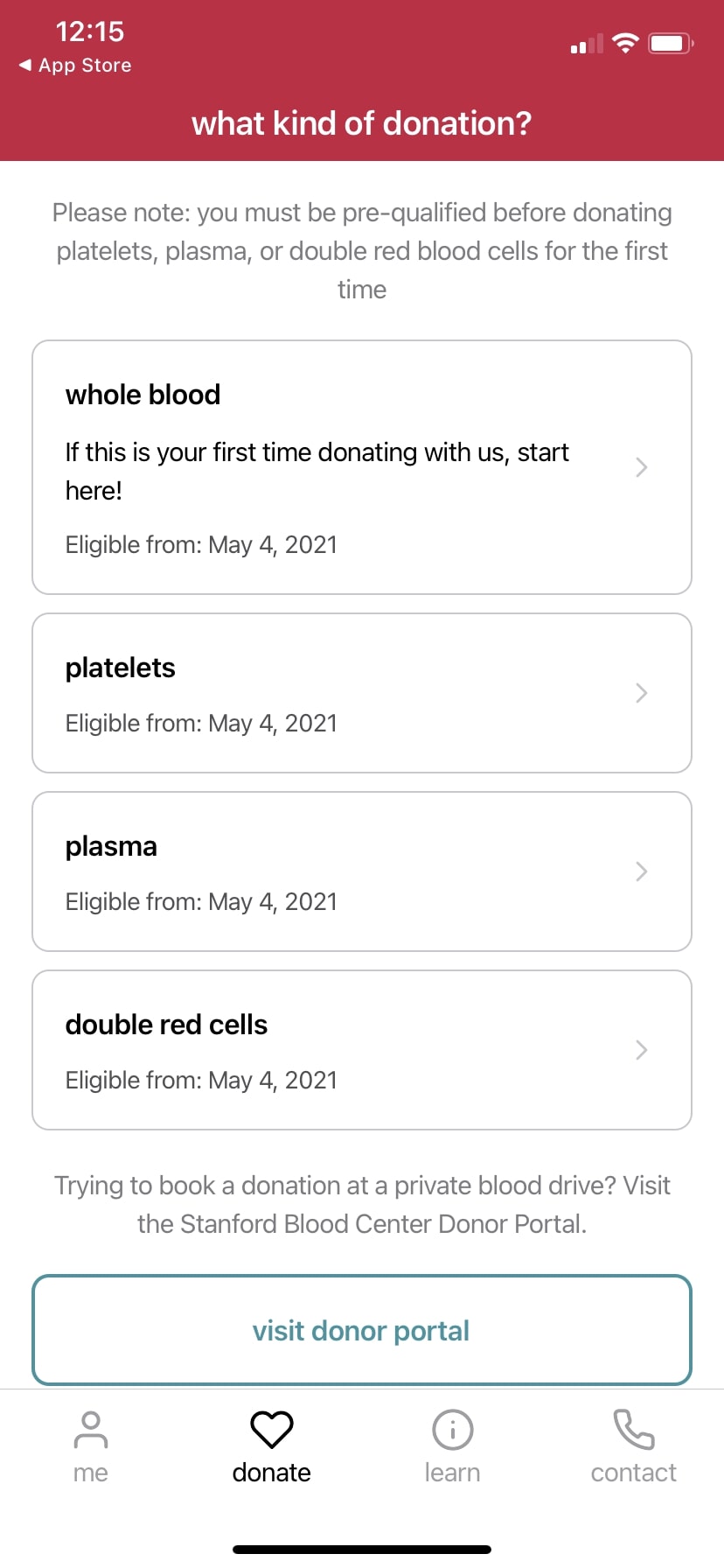 NOTE: At this time, appointments cannot be canceled within the app. However, donors CAN call, email or text to cancel and reschedule, or cancel on the web portal at sbcdonor.org.
Get in touch
Click to contact an SBC team member via text, email or phone call.
Find locations and hours (website link).
Find alternate contact numbers (website link).
Read information and get answers to commonly asked questions.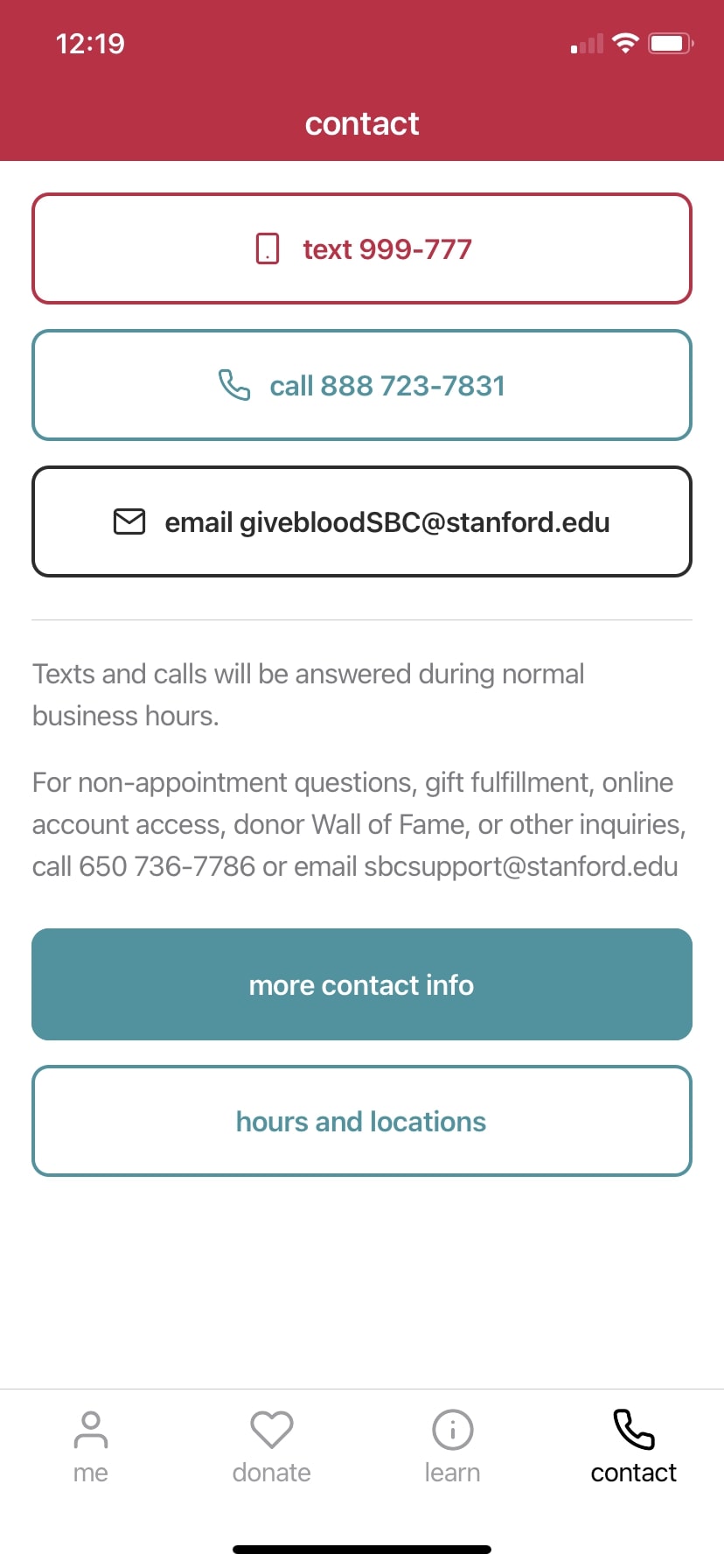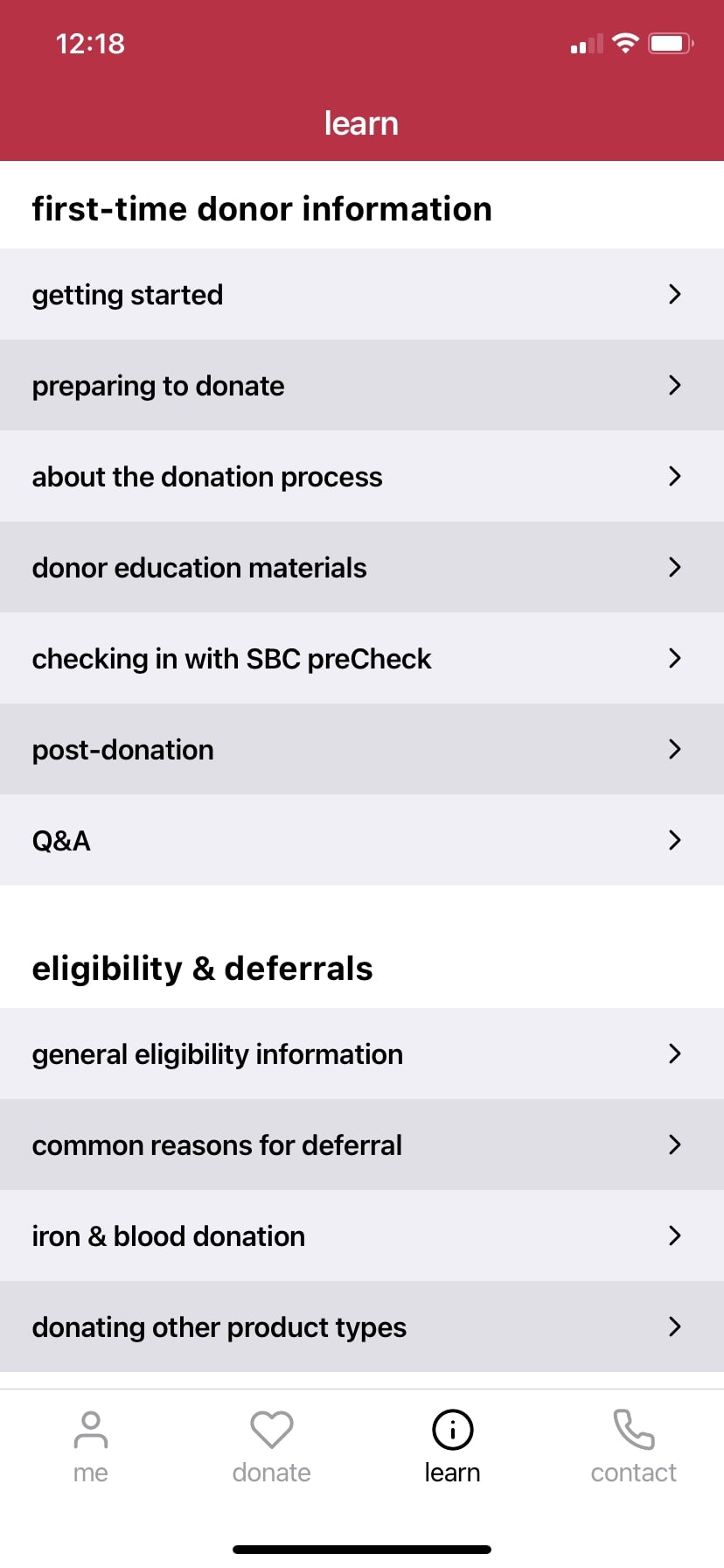 Introducing… BADGES!
You now have the opportunity in the SBC app to earn badges for your important milestones. Check out the badges you can earn below. Some of them come with more than just bragging rights, too! Also you can share your badges on social media and inspire friends and family to be an amazing donor like you.
| | | |
| --- | --- | --- |
| | First-Time Donor | Get this badge when you register to donate for the first time. |
| | Back In Action | Get this badge when you register to donate within 12 rolling months of your last donation. |
| | Lifesaver | Get this badge when you register to donate at least 3 times within a calendar year. |
| | Four Seasons Club | Get this badge when you register to donate at least 4 times within a calendar year. You'll be eligible for a free t-shirt, too! |
| | Home Base | Get this badge after you register to donate at a center location at least once per year. |
| | First Responder | Get it when you donate during a critical need time for your blood type and/or product type. You may be eligible for extra points toward items in the store, too! |
| | 10 Times Club | Get this badge when you register to donate at least 10 times within a calendar year. You'll be eligible for a free gift, too! |
| | 15 Lifetime Donations | Get this badge when you register to donate at least 15 times total. |
| | 20 Lifetime Donations | Get this badge when you register to donate at least 20 times total. |
| | 25 Lifetime Donations | Get this badge when you register to donate at least 25 times total. |
| | 50 Lifetime Donations | Get this badge when you register to donate at least 50 times total. |
| | 75 Lifetime Donations | Get this badge when you register to donate at least 75 times total. |
| | 100 Lifetime Donations | Get this badge when you register to donate at least 100 times total. |
| | 200 Lifetime Donations | Get this badge when you register to donate at least 200 times total. |
| | 300 Lifetime Donations | Get this badge when you register to donate at least 300 times total. |
| | 400 Lifetime Donations | Get this badge when you register to donate at least 400 times total. |
| | 500 Lifetime Donations | Get this badge when you register to donate at least 500 times total. |
| | 600 Lifetime Donations | Get this badge when you register to donate at least 600 times total. |
| | 700 Lifetime Donations | Get this badge when you register to donate at least 700 times total. |
| | 800 Lifetime Donations | Get this badge when you register to donate at least 800 times total. |
| | 900 Lifetime Donations | Get this badge when you register to donate at least 900 times total. |
| | 1000 Lifetime Donations | Get this badge when you register to donate at least 1000 times total. |