"It is not every day you get to witness an immensely selfless act in the making…volunteering gives me the opportunity to share in their rewarding experience and give back the same compassion they show for patients in need."
— Daniel Rossi, SBC Mobile Volunteer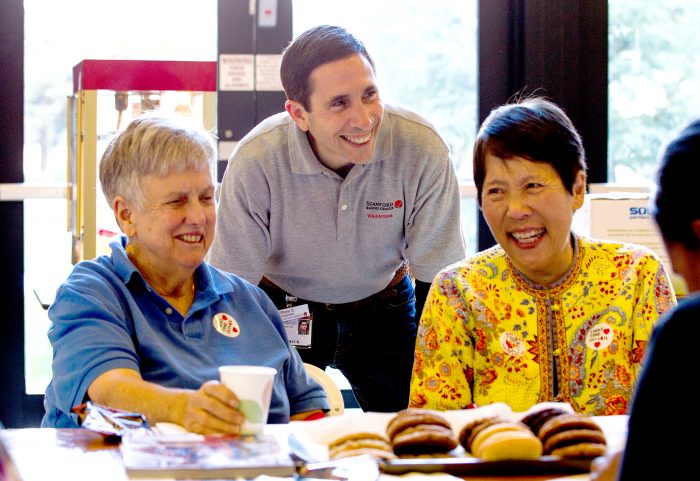 At Stanford Blood Center, volunteers have the unique opportunity to work directly with our donors as they help save lives through blood donation. Volunteers at Stanford Blood Center are giving back to their own communities. They interact directly with our donors and medical personnel.  All of our volunteer positions support our mission to provide blood products to patients in need.
Volunteers assist with a variety of positions within the agency, at our centers in Menlo Park, Campbell, and Mountain View, as well as at our various mobiles held at businesses, schools and community organizations throughout the Bay Area.
Benefits of Volunteering with SBC
Interaction with people
Flexible hours
Fun environment
You'll be part of the SBC family
Opportunities Include:
Post-donation Canteen Host: If you enjoy talking with many different kinds of people, the canteen is the place for you. You'll monitor donors for infrequent medical reactions, while serving snacks and ensuring they drink plenty of fluids. Canteen volunteers can help at all three centers and at mobile drives throughout the Bay Area.
How to Volunteer with SBC
All of our volunteer opportunities include free orientation and training. Minimum age for volunteering is 16. If you are interested in becoming a volunteer, please download and complete the volunteer application below. For more information, please contact Stanford Blood Center Volunteer Services at: alison.hopkins@stanford.edu
Thank you for your interest in volunteering at the Stanford Blood Center! All volunteer opportunities are currently filled, and a waitlist has been established. When an opportunity opens, an SBC team member will reach out to waitlisted applicants.
Volunteer Spotlight
We love our volunteers, which is why we want to highlight them in our new Volunteer Spotlight section. Check back regularly to get to know more of our wonderful volunteers. This month, we would like to introduce you to Julia Bodson! We asked Julia some questions about herself and what it is like to volunteer at SBC. Check out her answers here:
Why do you volunteer at SBC?
I recently moved to the Bay Area, and I decided to volunteer at SBC to get to know my new community.
What is your favorite thing about volunteering? 
My favorite thing about volunteering at SBC is meeting the friendly and big-hearted people who donate blood. Especially during this time, it is really uplifting to meet people who are so selfless and generous.
What are your hobbies/pleasures in life? 
I love to hike and swim and dance, and I'm learning how to "speak" American Sign Language (ASL) and how to do roller skating tricks.
Where did you grow up? 
I grew up in Salt Lake City, UT.
What is one thing that would surprise someone to learn about you? 
I love Star Trek.
Do you have an anecdote or a story you have learned from a donor at SBC that really moved you?
I am really awed by the donors who come in literally hundreds of times, most of whom say they do so just because it seems like the right thing to do.