Each year during our critical winter season (when blood donations drop due to sickness and holiday travel), SBC partners with another local organization with a charitable mission as part of our Give Good initiative. Now in its sixth year, the goal of Give Good is to spread awareness about blood donation so we can continue to serve our local patients during this time, while also supporting a community organization with a good cause.
Human Society Silicon Valley
This year, for the entire month of January, we are partnering with Humane Society Silicon Valley (HSSV), which has been connecting people and pets in the Silicon Valley for over 80 years.
One Donation Can Save Patients and Pets
In addition to providing lifesaving blood products for local patients, your generosity will help pets in need in our community.
January 1 – 31, for every person that comes in to donate blood, SBC will make a financial contribution to Humane Society Silicon Valley.
HSSV will, in turn, use this to provide vaccinations and other medical care to shelter animals.
Learn More About Humane Society of Silicon Valley
Human Society Silicon Valley is a nonprofit organization that offers quality adoptions, microchipping services, pet care services, a shelter medicine program (including vaccinations and affordable spaying/neutering), volunteering and educational programs, and progressive behavior and training programs.
To learn more about Humane Society Silicon Valley, visit www.hssv.org.
Ready to Give Good?
Make an appointment to donate blood January 1 ­– 31 at one of our center locations or attend our mobile drive at HSSV on Saturday, January 19. 
Good Karma Bikes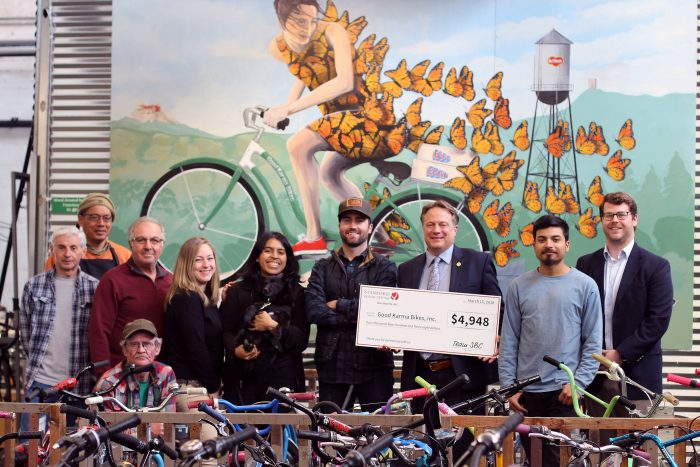 In 2017, for every 15 people that came in to donate, Good Karma Bikes (GKB) gifted one bicycle to a child in foster care or a single-parent shelter. The donated bicycles were gifted to Life Moves, Georgia Travis House.
Good Karma Bikes is a second-hand bike shop, however, what they give to the community is so much more. If you cannot afford a bike and you need one for transportation, you can volunteer for six hours and they will give you a refurbished bike, free of charge. They also offer bike repairs for homeless and low-wage workers at no charge.
Bay Area Cancer Connections
In 2016, in addition to providing lifesaving blood products, donors benefitted breast and ovarian cancer patients in treatment. For each donor that came in during the campaign, SBC made a donation to Bay Area Cancer Connections (BCC). Donations went toward providing comfort totes to clients, which included items like relaxing lavender eye masks to relieve stress, ginger chews and tea to help with nausea, and soft, fuzzy socks to provide comfort during treatments.
"We greatly enjoyed the event! Learning more about the wonderful work the Stanford Blood Center does and getting to work with the team was a pleasure," said Jill Nelson, Marketing Manager at BCC. "Donating blood on the day of the event was also a great experience and the staff seemed very knowledgeable and to enjoy their work."
We are incredibly grateful to the 1,521 donors donated during the campaign with Bay Area Cancer Connections.
Habitat for Humanity East Bay/Silicon Valley
In 2015, we partnered with Habitat for Humanity East Bay/Silicon Valley. We thank all the blood donors who participated and share some appreciation from Janice Jensen, President & CEO, Habitat for Humanity East Bay/Silicon Valley, who said:
"Habitat for Humanity East Bay/Silicon Valley is incredibly grateful for the partnership of Stanford Blood Center and the Give Good campaign. The financial support and awareness from this campaign will bring strength, stability, and self-reliance to more families in need of affordable homes. Thank you to those who took time out of their busy schedules to make a tangible impact by donating lifesaving blood and building a stronger community."
2,048 donors participated in our three-week campaign with Habitat for Humanity East Bay/Silicon Valley.
BayKids Studios
In 2014, we partnered with BayKids Studios, whose mission is to help children facing long-term hospitalization heal through the power of filmmaking.
Devora Kanter Kothari, executive director at BayKids Studios, said, "On behalf of all our filmmakers and their families, thank you! The BayKids Board of Trustees, Dave Spencer, our founder, and the BayKids Studios staff greatly appreciate your generous donation.
"Your belief in the healing power of filmmaking is inspiring. Our organization may not be able to supply the cure for our young filmmakers' health challenges, but we can supply the cameras and the movie-making expertise to transform hospitals into movie studios and patients into directors, storytellers and actors."
During Give Good, many donors were inspired to share their stories of why they donate. You can read their stories at SBCStories.org.
1,896 donors participated in the two-week campaign with BayKids Studios.
Humane Society Silicon Valley
2013 was the year we launched the campaign designed to double your impact. Our first partner was Humane Society Silicon Valley (HSSV). For each donor that came in during the campaign, we donated funds towards life saving medical care and vaccines for shelter cats and dogs.
Stephanie Ladeira, HSSV's Vice President, Development, said, "The enthusiasm we've seen from clients, staff and volunteers eager to participate in the Give Good campaign has been terrific. Our programs touch human and animal lives, so this collaboration speaks to our mission to save and enhance lives. We're looking forward to seeing the good that will come from this effort, to those who rely on both organizations."
3,224 donors visited during the three-week campaign with Humane Society Silicon Valley.