In addition to the warm and fuzzy feeling you get from helping others, you can get cool gifts as a thank-you when you donate blood with us! Check out our current promotions below. If you'd like to learn more about blood donation, start here:
SPECIAL PROMOTION » SUPPORT FOR UKRAINE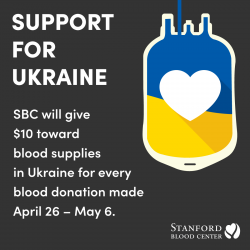 Stanford Blood Center stands with the people of Ukraine by helping to supply transfusion supplies to the war-torn nation through the #BloodSupplies4Ukraine initiative.
SBC will be giving $10 to the #BloodSupplies4Ukraine initiative for each donor who registers to give blood April 26–May 6. As part of a national partnership with Blood Centers of America and America's Blood Centers, Fresenius Kabi — a national supplier of blood bags and equipment — will match contributions to the fund up to $250,000.
Those who wish to make a direct financial contribution to #BloodSupplies4Ukraine can do so at BloodSupplies4Ukraine.com. 100% of funds donated will be allocated for supplies.
Make an appointment at sbcdonor.org, via the SBC App or by calling 888-723-7831.
SPECIAL PROMOTION » MAY GIFT CARDS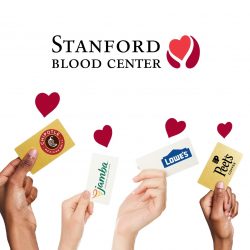 Anyone who comes in to donate May 1–31 will receive enough Donor Loyalty Store points to take their pick of four digital gift cards! Get a gift card you know you'll love — choose between Jamba Juice, Chipotle, Peet's Coffee and Lowe's!
Simply log into your sbcdonor.org account, visit the "Store" tab, select the gift card of your choice and add it to your cart. The gift card will then be emailed to you for later use.
If you have any questions or want help with your sbcdonor.org account, we are happy to assist! Please contact the Donor Relations team at sbcsupport@stanford.edu.
Please note: Points may take a few days to populate in your account. If you do not see your points within three days after your donation/attempted donation, please reach out to Donor Relations.
ONGOING PROMOTION » TARGET MONDAYS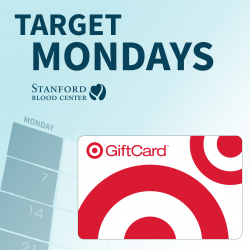 To ensure we can start the week off strong and support patients throughout the week, we'll be giving $10 Target virtual gift cards to all donors who present to give blood on Mondays at our center locations moving forward.
ONGOING PROMOTION » FOUR SEASONS CLUB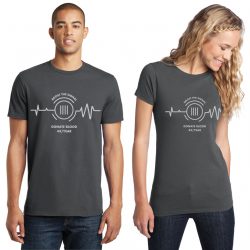 Donate four times in 2022 (or give two double red blood cell donations) and you'll get this free t-shirt as thanks. The design comes in masculine and feminine cuts, and is made of 100% ring-spun cotton by Port & Company. Once eligible, you will receive an email inviting you to order the speaker in our Donor Loyalty Store.
4.5-ounce, 100% ring spun cotton
Removable tag
1×1 rib knit collar
Shoulder to shoulder back neck tape
Women's cut is ladies fashion fit
SIZING CHARTS:
Men's sizing
Women's sizing
ONGOING PROMOTION » TEN TIMES GIFT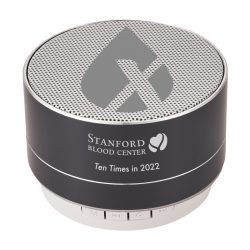 Donate 10 times (or a double red cell equivalent) in 2022 and get a feature-packed portable bluetooth speaker as a thanks for your dedication! Once eligible, you will receive an email inviting you to order the speaker in our Donor Loyalty Store.
Bring your favorite tunes with you on the road, to a camping getaway weekend, or to your next BBQ! With fun accent lighting and up to two hours of rechargeable battery life, you can carry the party with you.
Features:
crystal clear sound that can be heard for over two hours at max volume on a charge
a 3W output
an FM radio tuner
Micro SD Card input
USB input
built in music controls
a microphone for hands free operation
Bluetooth Version 4.2.
Bluetooth working range is 33 ft.
Size: 1.77″ H X 2.75″ W X 2.75″ D