SPECIAL PROMOTION » OCTOBER BONUS DAYS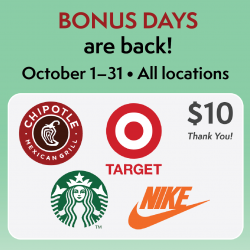 Register to donate October 1–31, and you'll get 1000 extra bonus points to spend in our Donor Loyalty Store. Take your pick of a gift card or another item in our store if you prefer.
Simply log into your sbcdonor.org account, visit the "Store" tab, select the gift card of your choice and add it to your cart. The e-gift card will be emailed to your email address on file.*
* Note: Please ensure you have a valid email address on file when you register to donate. Points may take up to three (3) business days after your donation to appear in your account. If you do not see your points within this time frame, please reach out to Donor Relations at sbcsupport@stanford.edu.
ONGOING PROMOTION » TARGET MONDAYS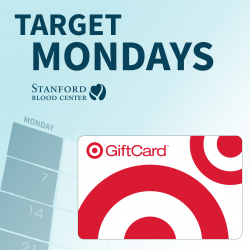 To ensure we can start the week off strong and support patients throughout the week, we'll be giving $10 Target virtual gift cards to all donors who present to give blood on Mondays at our center locations moving forward.
ONGOING PROMOTION » SUNDAY CINEMA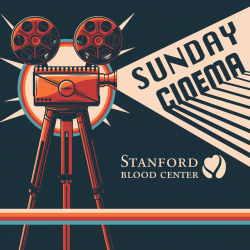 This summer's Sunday Cinema promotion is great way to make a difference in your community and enjoy a free movie at the same time. All you have to do is donate blood on Sundays this summer at any center, and you'll receive a free movie ticket. It's a win-win situation, and you'll feel great about helping to save lives. So, grab some friends or family, book your appointment, and be a part of our exciting summer promotion!
ONGOING PROMOTION » GIVE GOOD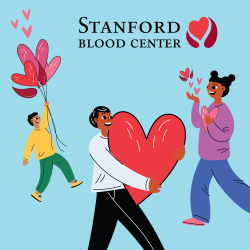 Double your impact by donating your points back to local community partners! SBC's Give Good Program helps save patients and support the community at large by converting loyalty store points donated to a dollar amount at the end of our fiscal year. The money is then presented to a charitable organization as a gift from SBC donors.
ONGOING PROMOTION » FOUR SEASONS CLUB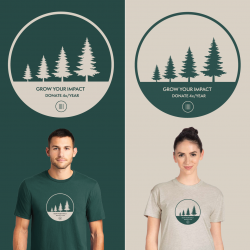 Donate four times in 2023 (or give two double red blood cell donations) and you'll get this free t-shirt as thanks.
This year, we're kicking off our Four Seasons Club with an outdoor-inspired shirt that speaks to the great impact of your continued commitment! The design comes in masculine and feminine cuts. The male cut is a forest green shirt with a natural colored logo and the female cut is natural colored shirt with a forest green logo.
Once eligible, you will receive an email inviting you to order the shirt.
Men's Cut (forest green shirt)
District Threads brand
3-ounce, 100% combed ring spun cotton
1×1 rib knit neck
Tear-away label
Available in male sizes S – 3XL*
Women's Cut (natural color shirt)
Next Level Apparel brand
3-ounce, 100% combed ring spun cotton
1×1 baby ribbed collar
Tear-away label
Relaxed fit
Available in female sizes S – 3XL*
SIZING CHARTS:
Men's sizing
Women's sizing
ONGOING PROMOTION » TEN TIMES GIFT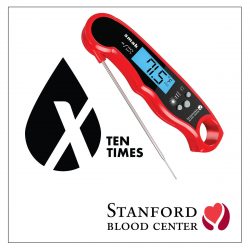 Donate 10 times in 2023 and get an instant read Digital Meat Thermometer as a thank-you for your dedication to saving lives! Whether you're preparing the main dish for a dinner party, wiping your brow over the BBQ or baking the perfect cake, it is critical to check whether it's all cooked to perfection. This clever little gadget has it all, so you can check food temperatures at a glance.
Once eligible, you will receive an email inviting you to order.
Digital Meat Thermometer Features
Made from food grade stainless steel
Stanford Cardinal red color
Takes temperature in 2-3 seconds with an accuracy to +/-1 degrees up to 572º F
Perfect for indoor or outdoor cooking, grilling or BBQing
Dimensions are approximately 6.1″ L x 1.4″ W x 0.7″ H