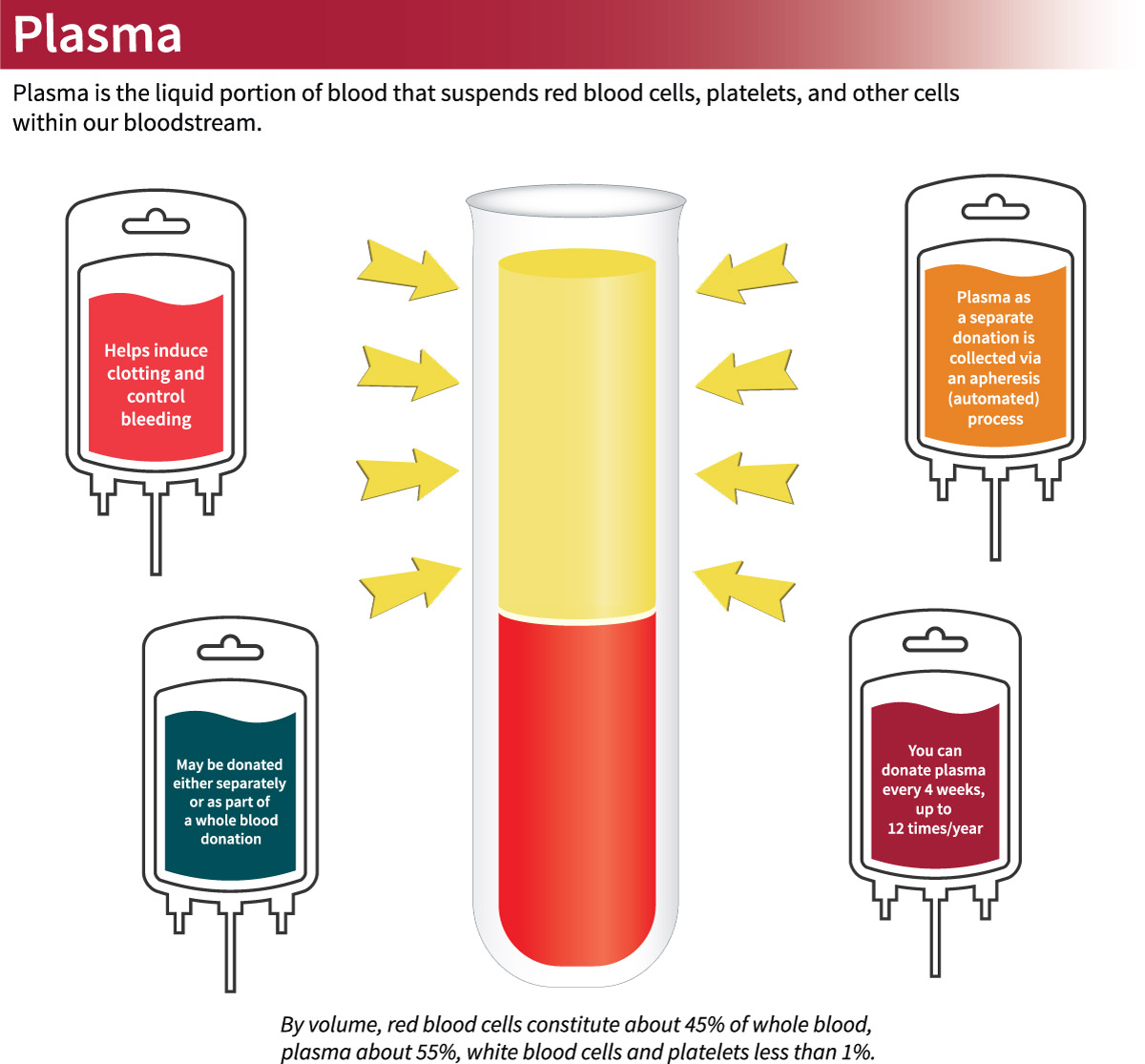 What is plasma used for? Much like platelets, plasma helps to induce clotting and control bleeding. However, it does this through different mechanisms and many of the clotting factors found in plasma are made from the liver.  Therefore, although both plasma and platelets both help to control bleeding, they are sometimes used for different patient populations, depending on what the patient's underlying disease.
How long does donating plasma take? Donations are made using an apheresis (automated blood collection) process, and take 45-50 minutes.
How often can I donate plasma? You can donate plasma every four weeks. However, there is a limit to only 12 plasma donations each year.
Is there any special preparation required to donate plasma? To donate plasma, please remember to increase fluid and calcium intake, as well as iron.
Is plasma type-specific? Yes, plasma is transfused to patients based on blood type, so we categorize plasma as type A, B, O or AB. Since type AB is universal plasma, meaning it can be transfused to any patient, we are always looking for more plasma donors with AB- or AB+ blood type. We are also currently growing our A plasma donor program.
Where can I donate plasma? Plasma donations are accepted at all three of our donor centers.
How do I make an appointment to donate? To make an appointment to donate plasma, give us a call at 650-723-7831.
HOW WILL MY PLASMA BE USED?
While plasma had been transfused as part of whole blood for hundreds of years, the specific value of plasma became acutely clear as a result of the devastating violence of WWII. Though plasma could not replace lost red cells and platelets, plasma and its related products were far easier to transport than whole blood (which…
PLASMA DONATION REWARDS
When you donate plasma, you get even more benefits beyond that good feeling of knowing you have saved a life (or several)! Asa plasma donor, you accrue donor loyalty points faster than with whole blood donation and are eligible for other great gifts as well! Check out some of those perks below:
POINTS SYSTEM
Plasma Donations (or a combination of platelets and plasma donation) 
If you are a plasma donor, points are earned on this schedule, per donation, within a calendar year:
Visit 1 = 100 points x number of pints donated
Visit 2 = 125 points x number of pints donated
Visit 3 = 150 points x number of pints donated
Visit 4+ = 175 points x number of pints donated
Bonus Points!
In order to incentivize donations when and where we most need them most for patients, we are offering additional points for the following:
Center Visit = 50 points
Appointment Scheduled and Kept = 25 points
Time of Day (12:00 p.m. – 2:00 p.m., +/- 10 minutes) = 25 points
Bonus days: 1000 bonus points up to six times per year! Watch our promotions page for announcements or download the SBC app for notifications.
Donors can choose to redeem points for SBC branded items in our Donor Loyalty Store or can donate their points back to one of our community partners.
PLASMA STORIES & EDUCATION