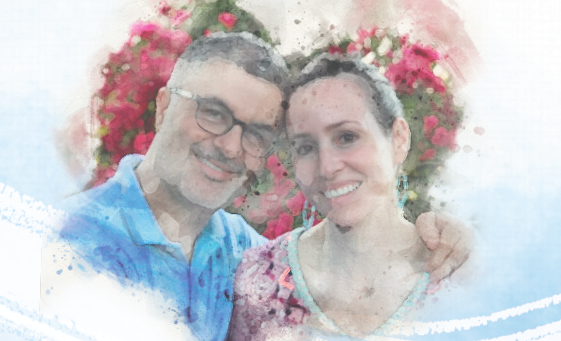 Dr. Sam P. Most, Chief of the Division of Facial Plastic & Reconstructive Surgery at Stanford Health Care (SHC) and professor at Stanford University School of Medicine, is not only an accomplished and beloved member of the Stanford community; he is also a dedicated husband in his familial life and a very health, very active individual in his personal life. However, when faced with COVID-19, neither his role in the healthcare community, nor his strong support system at home, nor his glowing medical record were enough to prevent him from becoming dangerously ill.
Sam first started feeling "a little off" on Friday, February 28. Given how few COVID-19 cases there were reported locally at that time, Sam was not very concerned about having COVID-19, and in fact began feeling slightly better the next day. However, by that Sunday, he had all the symptoms he thought indicated flu and called out of work.
Despite his reservations that he could have COVID-19, he decided to be tested for the virus when, instead of his symptoms getting better after a few days as they typically would with the flu, he felt himself continually declining. By Friday, March 6, Sam became the staff member at SHC to be diagnosed with COVID-19.
Despite being free of any preexisting medical conditions and being in great health prior to his illness, Sam could not shake the virus, spending the next week "pretty much horizontal," unable to eat and unable to muster enough energy at times to get out of bed or even to talk. While at home, he was under the care of his wife, Beth Most, who, despite contracting a milder yet significant case of COVID-19 herself, was extremely attentive and doing all she could to support Sam.
"Sam is a very healthy guy, so to see him deteriorate so quickly was very frightening," Beth recalled. Despite their best efforts with at-home care, one week after his diagnosis, the increasing severity of Sam's symptoms meant that he would have to be admitted to the hospital.
For 13 days, Sam was laid up at SHC, fighting to keep going. During this time his condition deteriorated to requiring oxygen and intensive monitoring, though he was able to avoid intubation. This was not only a terrifying time for Sam, but also for Beth who, even if she hadn't had COVID-19 herself, would not have been able to visit due to Sam's assignment to an isolation room. "It is very surreal to see someone in your family so sick," Beth said. "Normally when a loved one is ill, you can go see them, you can check on them. There were times when Sam was so sick that he couldn't text me back because he couldn't muster the energy to even hold up his phone." With periodic updates from hospital staff as her only source of news, she said it was hard to believe that something this devastating was all really happening.
Finally, toward the end of his nearly two-week stay in the hospital, Sam started showing signs of improvement. Weakened by the illness and having lost nearly 20 pounds, being able to move around without the aid of a walker was a true reason to celebrate. At last, Sam was released from the hospital and allowed to return home to recover and rehabilitate, a long process that he attests was only made possible with the support of Beth, his "guardian angel."
While he was resting and recovering, Sam came across an article about COVID-19 convalescent plasma (CCP) and, after some initial investigation, reached out to colleagues in Stanford Medicine's Department of Pathology to learn more and to hopefully get involved. Thanks to the help of these individuals, both Sam and Beth were put in contact with Dr. Suchi Pandey, Chief Medical Officer of Stanford Blood Center (SBC), who was managing SBC's CCP program.
"We knew that if either of us could prevent anyone from going through what Sam had to go through, we would do it in a heartbeat," Beth said. Since recovering from COVID-19, Beth and Sam have both made multiple successful donations.
Now that the couple is fully recovered and is moving past their frightening experience, they are focusing their energy on giving back and are bravely sharing their story in the hopes of benefiting others with COVID-19. "For me as a healthy person to get that sick that quickly and to feel as awful as I did was really hard for me and for my family," Sam said. "We knew that when I got out, it was really important for us to try to donate CCP, to make a positive out of what was extremely negative."
Through their donations and their advocacy, both Sam and Beth have already benefitted countless local patients, and we at SBC are so grateful for their selfless generosity.
If you or someone you know has recovered from COVID-19 and would like to join Sam, Beth and all our other community heroes donating CCP to support hospitalized COVID-19 patients, please visit stanfordbloodcenter.org/covid19plasma.
---
Read more of winter 2021 PULSE at stanfordbloodcenter.org/pulse.