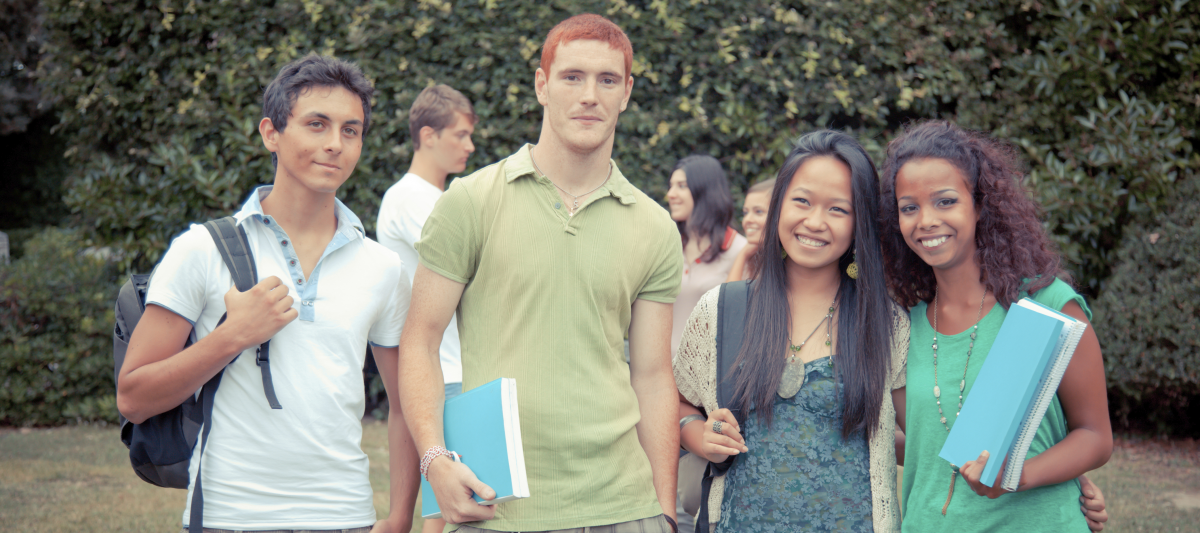 Overview
Stanford Blood Center is dedicated to providing a safe and adequate blood supply for patients, as well as supporting the community that helps meet this need. It is in this spirit that we will honor students who actively support our mission through hosting successful blood drives at their high schools.
Stanford Blood Center will award up to $1,000 in scholarship funds to select candidates each academic year. Qualified applicants will have participated in coordinating a successful blood drive on their high school campus.
Please check back soon for an updated High School Scholarship Application.
Eligibility
The applicant must:
Have a minimum GPA of 3.0
Be a graduating senior
Be enrolled in a four-year college/university, a community college, or technical school the following year
Have participated on a blood drive committee at their high school and have been actively involved in at least one Stanford Blood Center blood drive for the school year of application submission
Blood drive(s) collect 90% or more of established goal
Complete and submit the scholarship application and attachments on or before the deadline
Requirements
A typed essay, no more than two pages (double spaced), about your personal experience with your high school blood drive(s). Include how your efforts made the drive(s) a success and how you think the experience will benefit your future education, leadership, and volunteerism goals
A copy of your current high school transcript
One academic letter of recommendation
A completed scholarship application and attachments submitted on or before the deadline (the application will be available soon)
Additional Information
Scholarships will be awarded by check payable to the college, university or technical school where the student has officially enrolled.
Questions: Contact High School Scholarships at 650-723-8015 or Email Us
2018 High School Scholarship Recipients
The SBC High School Scholarship program just awarded scholarships to our deserving high school blood drive coordinators for the second year running. These high school students were a pleasure to work with and did a fantastic job recruiting our future blood donors. The following were this year's winners:
Megan Bettencourt – Santa Clara High School
Ariana Faizi – Castro Valley High School
Ester Gnanadoss – Washington High School
Jacklyn Vo – Oak Grove High School
Oscar Li – Cupertino High School
Karsyn Lee – Homestead High School
Shalin Shah – Adrian Wilcox High School
Joel Joseph – Bellarmine College Preparatory
Sophia Huang – Mission San Jose High School
Kyra Jensen – Gunderson High School
We also wanted to share a few of our favorites…below are Joel Joseph and Karsyn Lee's essays:
Essay by Joel Joseph – Bellarmine College Prepatory
"Get another nurse to hold him down." "Stop moving, someone get his legs." The team of nurses pinned me down as I squirmed to avoid the needle. This had become a common ritual my sophomore year, at each of the almost 200 times I came into the doctor's office or ER for my muscular dystrophy that year. Needless to say, I've always hated needles. It only made sense, then, that I would step up to lead the school blood drive my junior year, after every other member of my school's Associated Student Body (ASB) passed over the opportunity. Possible even worse than my fear of needles was the date of the drive, conveniently sandwiched between the Debate State Finals Tournament and my finals for my Advanced Placement (AP) courses. It made an already sleep-deprived week more destitute — but hey, the best leaders aren't made, but forged when they need to step up, right?
So I stepped up my junior year and became the leader of a hastily formed committee of underclassmen, who all had the same blood drive experience as I did — absolutely none. My first time running the blood drive, I had about a week to build and train volunteers on a system to recruit, schedule, and excuse hundreds of students from class. While I didn't really know where to begin, I knew I just couldn't hand out the job to an underclassman who would be more underprepared than I was. It's just not what a leader does. And, believe me, that's a hard decision to make when it's 3:00 a.m. and your eyes are burning with every blink as you power through a stack of paperwork. But with every burning blink, I realized that I was feeling only a fraction of what the people who needed this blood and their families were feeling. It was the same feeling I had as I spent countless nights in the hospital fighting my own muscular dystrophy. If the people who needed this blood could deal with the stress and fatigue they had, then who was I to complain?
After long nights of hard work, I was able to lead my team of underclassmen to collect enough blood to save 300 lives. To be honest, organizing Bellarmine's blood drive made me feel like I had made a real difference in someone else's life as a high schooler. So much so that it led me to spend the summer of my junior year volunteering at the Red Cross Blood Center in San Jose, clocking in the hours to reach 250+ hours of community service.
While volunteering over the summer, I met a young woman named Sarah who nervously asked me in the quietest voice possible – as if ashamed – if the Red Cross offered free iron tests. She'd later burst into tears as she explained that she had recently lost her insurance and was struggling to make ends meet with thousands of dollars' worth of necessary blood transfusions. It made me sick to find out that Sarah was emblematic of a larger problem in our society, and even more frustrated when I realized that the future of healthcare isn't going to be how to find new cures for diseases, but can the patient afford those treatments? For me, it's personal that society figures out a way to sustainably care for its sick because I know firsthand through my own time rotating in and out of the hospital how easy it can be for many of these patients to lose hope. My experience working at the blood center over the summer is what makes me want to study health economics and the University of Southern California so I can find solutions to help people like Sarah.
Now, of course, my senior year running the blood drive was a much more pleasant experience given that I had some experience under my belt. This year we started planning the blood drive two months in advance, which meant there were a lot fewer late nights. It also meant we could do a lot more things to raise awareness about the blood drive and rum up more sign ups. This year, in addition to organizing the blood drive, my team and I made an awesome promo video along with organizing a day to give out free doughnuts to students who turned in their donation slips early. More importantly, I was able to build a team of upper and underclassmen who will be able to take over and be in charge of their first blood drive with a level of experience I never had.
Essay by Karsyn Lee – Homestead High School
Although I was only five years old, I remember my family restless in the hospital, awaiting news about my mother's health after the birth of my brother, Ryan. I did not know at the time, but she began hemorrhaging shortly after childbirth. Now, I am aware that my mother needed eight units of blood and was put into an induced coma. Fortunately, she is now healthy and able to live a normal life, but always stresses the importance of giving back to our community through blood donation.
When I began high school, I joined the California Scholarship Federation, a club providing community service opportunities. As a freshman and sophomore, I participated in various community service projects including gardening, breast cancer awareness fundraisers, and the creation of care packages for hospitalized children. Although each event left me with a unique feeling of fulfillment, I had not found a project with which I felt a personal connection. Embracing the opportunity, I was able to work my way up in the club to the role of Vice President in charge of the Stanford Blood Drive that my school hosts biannually on campus.
With advertising and recruitment, stressing that every donor saves approximately three lives, I have helped Homestead High continue to host the Stanford Blood drive on campus. I have participated in four blood drives on campus, two as the lead. I have gained leadership experience and responsibility through being in charge of everything from excusing students from class, creating activity proposals presented to leadership, distributing parking passes for volunteers, and donor recruitment to make the drive possible.
When I first was given the responsibility of taking over the blood drive, I was not given much information on how to do so. It took many trips to the office, to our former club advisor, contacting the blood drive representative, Elisa, and attempts at contacting our former leaders to make the drive possible. Taking charge of the blood drive made me a better leader because I had been in the shoes of the executive officer position as well as the junior officer position. I took it upon myself to create a detailed document for every other leader who takes over the blood drive at Homestead High School in the future. It takes more than someone who will create a good drive for the year they are in office. It takes a leader that will create a team of following officers that will have success in years to come. My hope is that my leadership skills and time as Vice President will allow Homestead to continue having successful blood drives year after year.
My passion, spawned from my own personal experience of having donated blood, has had a significant impact on my contribution to my own community. After the tireless preparation required to host the blood drive, there was no greater feeling than overcoming my own fear of needles and donating blood for the first time. I am proud to say that I have now donated three times and play a part in a cause which saves millions of lives every year. I have also had such a huge role in making my community a better place through this opportunity. I will continue to support this cause throughout the rest of my life because it has left such an impactful mark on my early childhood and high school experience.