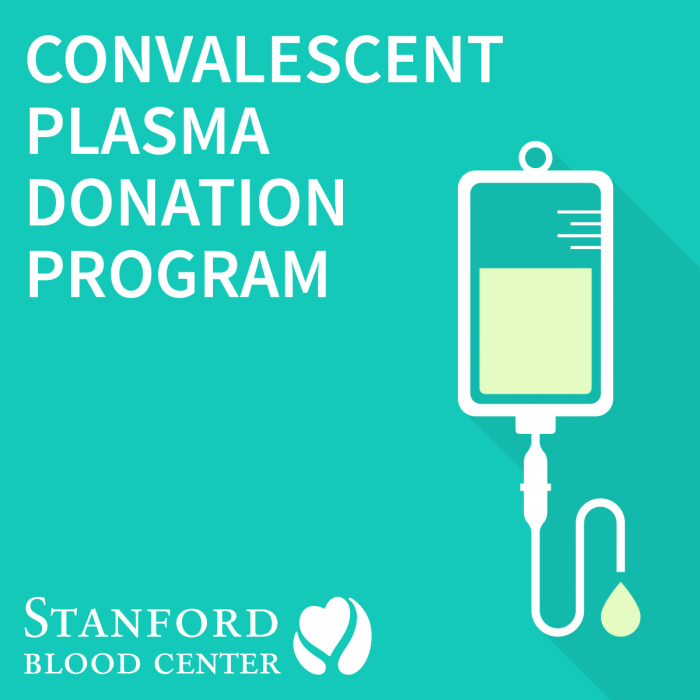 Stanford Blood Center is in the process of working with Stanford Medicine to establish a convalescent plasma program. This exciting initiative involves taking plasma donations from recovered COVID-19 patients and transfusing that plasma into critically ill COVID-19 patients in the hopes that the antibodies present in the donated plasma will help save the lives of the recipients.
We recommend reading the FAQs below as well as the related press release from America's Blood Centers. If you would like to see if you are eligible to participate, please click the button below to answer a few questions that will help us determine if you are a candidate.
How can I sign up to participate?
Thank you for your interest! You can fill out the form to apply to donate convalescent plasma. Please note that additional follow-up may be needed after you have filled out the form. Due to the high level of interest we've received thus far, we will reach out to you if you are a potential candidate. If you have questions or need additional support, please reach out to specialdonations@stanford.edu or call 650-723-6667.
Frequently Asked Questions (FAQs) About Convalescent Plasma
FOR HOSPITALS AND BLOOD CENTERS: CONVALESCENT PLASMA ORDERING
At this time, we are working to provide COVID-19 convalescent plasma (CCP) to healthcare institutions that have patients in need; however, we are limited in terms of the amount of CCP available. We are ramping up collections and distributing CCP as quickly as possible based on the availability of product. If you would like to order plasma to support a specific patient at this time, we invite you to fill out the below order form and fax it to 650-724-5304. A member of our team will follow up with you to determine if we are able to provide CCP.
If you would be willing to share information on our program with potential CCP donors in your hospital system (meaning those who have tested positive for COVID-19 or its SARS-CoV-2 antibodies), thereby increasing the amount of plasma we are able to collect and distribute for patients, we would greatly appreciate your support! See the below flyer about Stanford Blood Center's CCP Program.