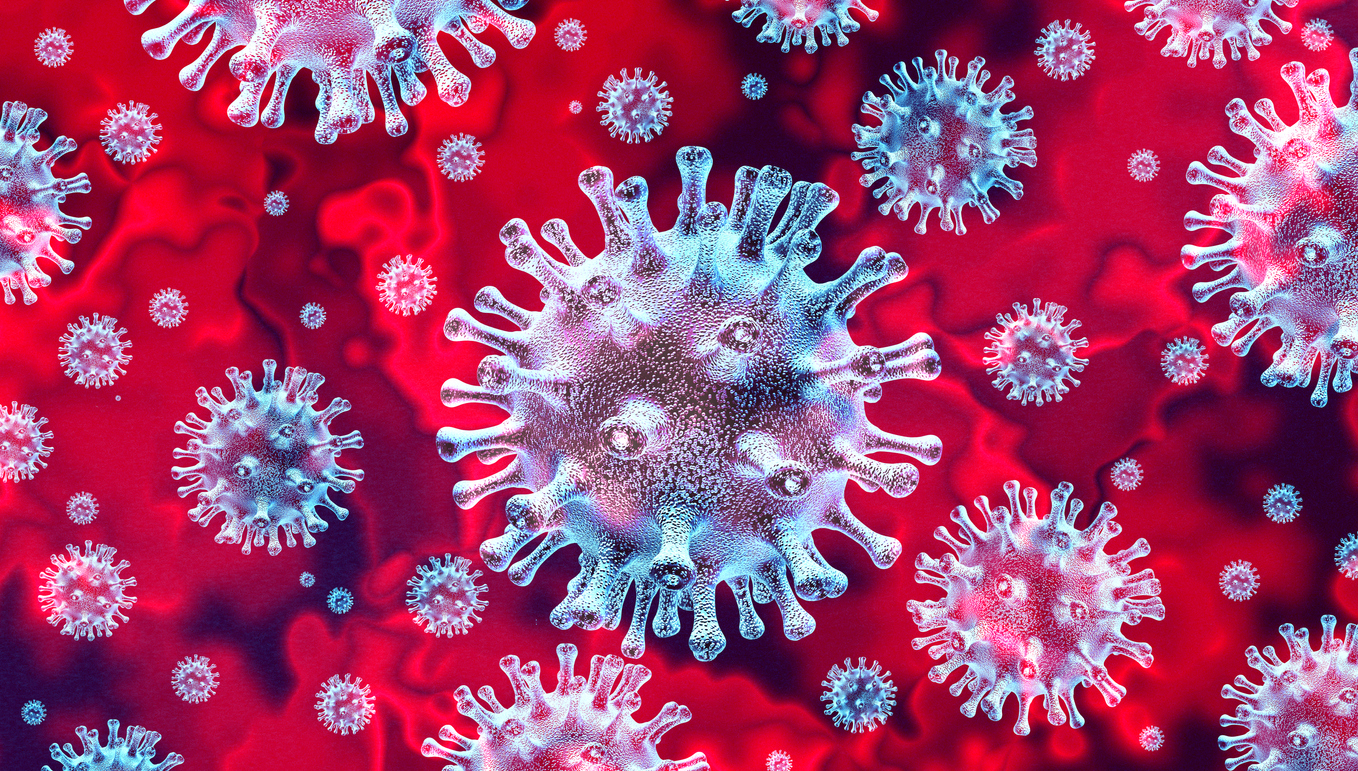 We would like to take this opportunity to provide some additional information about coronavirus and blood donation. Our hope is that people interested in donating blood consider all of the facts of the situation, namely that COVID-19 does not pose any special risk to blood donors during the donation process or from attending blood drives. We would like to encourage all blood donors to continue to uphold their commitment to helping local patients, who continuously depend on life-saving transfusions.
In order to keep our community healthy and to make sure we are being mindful of your time, we'd like to remind you ahead of your appointment of some of our policies that may affect you eligibility to donate. Please reschedule your appointment if you have any symptoms of illness, such as a fever, cough, sore throat, congestion or G.I. symptoms. Previous diagnosis of or close contact with someone with who has COVID-19 may also affect your eligibility. However, receiving a Pfizer, Moderna or Johnson & Johnson vaccine does not affect your eligibility to donate. Please read more below under the "Eligibility" section to learn more.
GENERAL INFORMATION ON COVID-19
What is 2019 novel coronavirus?
The novel coronavirus, or COVID-19, is a new strain of the coronavirus that was first identified in Wuhan, Hubei Province, China, in late 2019.
The virus has spread globally, and there are currently cases throughout the U.S., including within Santa Clara County.
What are the symptoms?
Common symptoms of the coronavirus include fever, cough and shortness of breath, among others.
These symptoms will vary person to person, though most individuals with coronavirus will experience mild to moderate symptoms that do not require hospitalization.
To view the full list of symptoms, view the CDC website.
How does it spread?
According to Stanford Health Care, the virus is believed to spread "by respiratory droplets produced when an infected person coughs or sneezes," similar to the common cold or flu.
Accordingly, the best way to prevent getting the virus is by washing your hands frequently and avoiding contact with your mouth, nose and eyes when your hands are dirty.
For more specific guidelines, see "How do I stay healthy?" below.
Note that COVID-19 does not pose any special risk to blood donors during the donation process or from attending blood drives.
How can I keep myself healthy?
Please use the following best practices for keeping yourself well:

Washing hands frequently with soap and water or using an alcohol-based hand sanitizer
Avoiding touching eyes, nose or mouth with unwashed hands
Avoiding close contact with people who are sick

It is also important to stay home and minimize contact with others if you have symptoms of a respiratory illness like fever or cough.
What should I do if I have or am suspected of having coronavirus?
If you have been diagnosed with (or are suspected of having) COVID-19, or if you have had close contact with someone diagnosed with (or suspected of having) COVID-19, please call our Resource Nurse at 650- 725-7336 to discuss your eligibility to donate.
If you have recently donated blood and any of the above scenarios apply, please call our Post-Donation Callback Line at 650-724-9968 immediately so we can evaluate your previous donations.
ONGOING BLOOD NEED
Why is it critical that I continue to give blood during this time?
Even during the pandemic, individuals in our community — potentially even individuals we know personally — will continue to be in car accidents, need emergency organ transplants, give birth to babies in critical condition and need chemotherapy. In short, there will still be lives that need saving.
We understand that this is a stressful time and want to assure you that we are taking your health and wellness very seriously. All of our practices are designed with this in mind, and additional policies have been implemented as an extra precaution. (See "What measures is SBC taking to ensure donor safety?" below.)
If your appointment schedule is filling up when I want to donate, should I walk into a center?
SBC is accepting walk-ins at this time.
However, we recommend that you make an appointment ahead of time to ensure you do not experience extended wait times.
DONOR SAFETY
Is there a risk of getting coronavirus from donating blood?
COVID-19 does not pose any special risk to blood donors during the donation process or from attending blood drives.
Blood donation is a safe process, and we have implemented additional safety precautions at this time.
Please keep in mind that, since blood donors must be healthy and without fever on the day of donation, the risk of exposure to a sick person is extremely low at a blood drive.
Now that there is a presence of COVID-19 variants in California, is it still safe for me to donate?
Yes, it is still both safe (and necessary for patients' health) for our community to continue donating blood.
All of the safety measure we currently have in place, such as requirement that everyone at a donation location wear a new mask (See more under "What measures is SBC taking to ensure donor safety?"), are expected to protect against all forms of COVID-19.
As long as you continue following safety protocol, there is no need to be worried about an increased risk of catching a COVID-19 variant during donation.
What measures is SBC taking to ensure donor safety?
As always, all of our equipment during the donation process is sterilized, and most is single-use only.
Hand sanitizers are placed throughout donation sites.
All donor areas, including the reception/waiting area, canteen, history booths and donation chairs are cleaned frequently.
We have increased spacing between donors in the canteen to the extent possible.
SBC team members wear face masks while interacting with donors during the entire donation process. All donors, volunteers and team members are required to wear a new, disposable face covering (provided by SBC) each day they come to a donation site.
SBC is continuing to strictly enforce the policy that team members must NOT report to work if they are feeling unwell.
What is done to ensure those donating are healthy and well?
Per our usual policy, anyone who comes to donate is required to be feeling healthy and well; donors are asked to read a list of COVID-19 symptoms upon entry to a donation location and to report if they are experiencing any of the symptoms. If they report that they are, they will kindly be asked to leave by our registrars for the safety of others onsite. Symptoms include fever or chills, cough, shortness of breath or difficulty breathing, fatigue, muscle or body aches, headache, new loss of taste or smell, sore throat, congestion or runny nose, nausea and vomiting and diarrhea.
All donors are asked if they are feeling well on their donor history questionnaire as soon as they register and are not permitted to stay and donate if they report any symptoms of illness.
Per our usual policy, any person who wants to donate blood must have their temperature taken before they donate and is not permitted to stay and donate if they have a fever.
Donors are not eligible to donate if they have any risk factors for coronavirus, such as close contact with a person with coronavirus in the past 14 days.
ELIGIBILITY
Will I be deferred if I have received the COVID-19 vaccine?
Assuming you are feeling well afterwards, there is no deferral for COVID-19 vaccines that have received Emergency Use Authorization or been approved for the public.

This includes the Pfizer, Moderna and Johnson & Johnson vaccines.

However, if you received an experimental vaccine as part of a clinical trial, you will be deferred for 56 days.
What are your deferral policies for diagnosis of/exposure to COVID-19?
Basic COVID-19 deferrals are as follows:

14-day deferral for exposure to someone diagnosed with or suspected of having COVID-19.
28-day deferral after recovery (28 days symptom-free) if you were diagnosed with or suspected of having COVID-19
56-day deferral if you received an experimental vaccine as part of a clinical trial

(Per the above, there is no deferral for receiving a vaccine that has received Emergency Use Authorization, such as the Pfizer or Moderna vaccine.)

Temporary deferral for anyone with a pending diagnostic test for COVID-19
Anyone who has been asked to quarantine by doctors or local officials for participation in high risk activities

We encourage anyone who falls into the above categories and has questions to call our Resource Nurse at 650-725-7336  to discuss their eligibility.
If you have recently donated blood and any of the aforementioned scenarios apply, please call our Post-Donation Callback Line at 650-724-9968 immediately so we can evaluate your previous donations.
Learn more about our deferral policies by clicking here.
I feel healthy, but I'm worried that I have coronavirus but am asymptomatic. Is it still okay to donate?
We really appreciate your concern! The first thing to note is that respiratory viruses are not known to be transmitted by blood transfusion, and there is no evidence to-date that SARS-CoV-2 can be transfusion-transmitted.
That said, routine blood donor evaluation will help prevent individuals with respiratory infections from donating. Blood donors must be healthy and have no symptoms of illness or fever on the day of donation (we take temperature on site, per our usual policy).
In addition, we are taking extra precautions for COVID-19 and have in place deferrals for close contact with a confirmed COVID-19 case.
If you ever do start to develop symptoms, we have a Post-Donation Callback Line that you can call after your donation, and we will immediately perform the appropriate follow-up. This goes for any illness.
If you are not experiencing any symptoms of illness and have not had any known exposure, we would love for you to come donate! We and patients in our community hospitals that need blood transfusions appreciate your willingness to donate.
Are there any travel deferrals?
When cases of COVID-19 in the U.S. were still low, SBC did implement a deferral for travel to high-risk areas internationally.
However, as the global health situation has evolved, we no longer feel that international travel history is an effective way to assess COVID-19 infection risk.
In accordance with updated FDA recommendations, on May 28, 2020, SBC eliminated COVID-19-related travel deferrals.
TESTING
Is SBC testing all donations for antibodies?
As of October 16, 2020, SBC is no longer testing all donations for SARS-CoV-2 antibodies.
For a full assessment of previous exposure to SARS-CoV-2, please consult your primary physician.
Can I get a blood test to find out if I have (or had) COVID-19?
The CDC has provided criteria to guide lab testing for COVID-19.
If you are concerned that you may have COVID-19, it is important that you are evaluated by a physician. After reviewing your medical history, such as symptoms and possible exposures, a physician will determine if you need to be tested for COVID-19.
Diagnostic testing for COVID-19 is not performed at Stanford Blood Center.
MORE INFORMATION
Where can I find updates regarding your policies on coronavirus?
Can plasma from people who have recovered from COVID-19 be used to treat patients with active infection?
During the height of the pandemic, Stanford Blood Center established a convalescent plasma program that involved taking plasma donations from recovered COVID-19 patients and transfusing that plasma into hospitalized COVID-19 patients in the hopes that the antibodies present in the donated plasma would help save the lives of the recipients.
Due to a decrease in the need for convalescent plasma as local cases have gone down, we are no longer recruiting for this program.
If someone can't donate blood for any reason, are there other ways to help?
Absolutely! If someone has been deferred or can't give blood for any reason, they can still make an impact in a number of ways:
Visit our website at stanfordbloodcenter.org/get-involved for more information.