April 25, 2022
Attention News Desk: Press Release (for immediate release)
MEDIA CONTACT:
Ross Coyle | 650-725-3804
rcoyle@stanford.edu
STANFORD, Calif. — Stanford Blood Center (SBC) is proud to offer Bay Area community blood donors a way to help support Ukrainian relief efforts through blood donations. SBC has joined a nationwide campaign with Blood Centers of America (BCA), America's Blood Centers, and Fresenius Kabi to provide much needed blood and transfusion supplies to those impacted in Ukraine. For each donor who rolls up their sleeve between April 26 – May 6, SBC will make a $10 contribution to the #BloodSupplies4Ukraine initiative.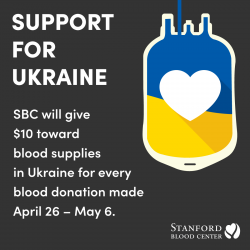 "We've all seen the images of suffering happening in Ukraine, so we are honored to take part in this effort to help provide relief to those in desperate need," said Harpreet Sandhu, Stanford Blood Center CEO. "SBC has a long-standing tradition of community service, and we have an incredible group of compassionate donors who always step up to help local patients. Now is a chance to extend that generosity and kindness to the citizens of Ukraine, who are in significant need of critical blood supplies. Your donation at one of our centers or mobile blood drives will support humanitarian efforts to help with the shortage of blood bags and other blood collection supplies that are essential to the immediate care of patients in Ukraine."
As part of this initiative, Fresenius Kabi, a national supplier of blood bags and equipment, will match contributions made by blood centers across the country up to the equivalent of $250,000 in blood collection supplies, with all proceeds used to purchase and deliver the transfusion items most needed in the war-torn country.
Donors are encouraged to make an appointment at one of three donation center locations in Campbell, Menlo Park, or Mountain View. There are also a number of mobiles open to the public in the coming weeks, including blood drives in Fremont, Half Moon Bay, Milpitas, San Mateo, and Sunnyvale.
Appointments can be scheduled online at stanfordbloodcenter.org, via the SBC app, or by calling 888-723-7831.
About Stanford Blood Center
Stanford Blood Center (SBC) is an independent, community blood center that supplies blood products and testing services to multiple Bay Area hospitals and is a recognized leader in the fields of transfusion and transplantation medicine. SBC was created at the Stanford University School of Medicine in 1978 to meet the complex transfusion and transplant needs of Stanford Health Care and Lucile Packard Children's Hospital Stanford, as well as provide clinical trial services and specialized blood products for researchers. Today, the center remains locally focused, serving community hospitals, patients and donors, while contributing to research and advancement that impact the world at large. More information is available at stanfordbloodcenter.org.