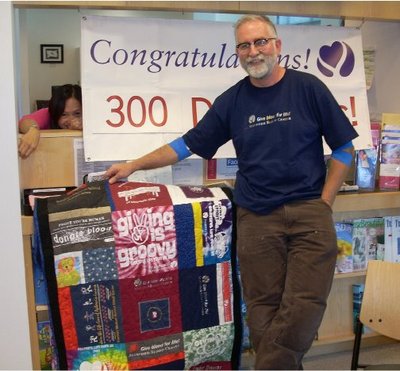 By Jim Early, 300-time blood donor
Above, Jim (with nurse, Raquel Morgia, sneaking in a smile) stands beside a quilt his wife made from his collection of SBC t-shirts.

When I was twenty-two I was sick with an intestinal disease. In a month's time I went from healthy to hospital patient and for the next seven weeks I lived in the Old Hoover Pavilion Stanford Hospital. I ate nothing by mouth and instead received all my nutrition from IVs into my arms and eventually via a central line. A year later I was back again and after another three weeks opted for corrective surgery. After some major surgery, a few revisions, and many units of blood, (during and post op) I was healthy again. While being treated I thought very little about where the blood came from or who was giving it, I just wanted to feel better.
---