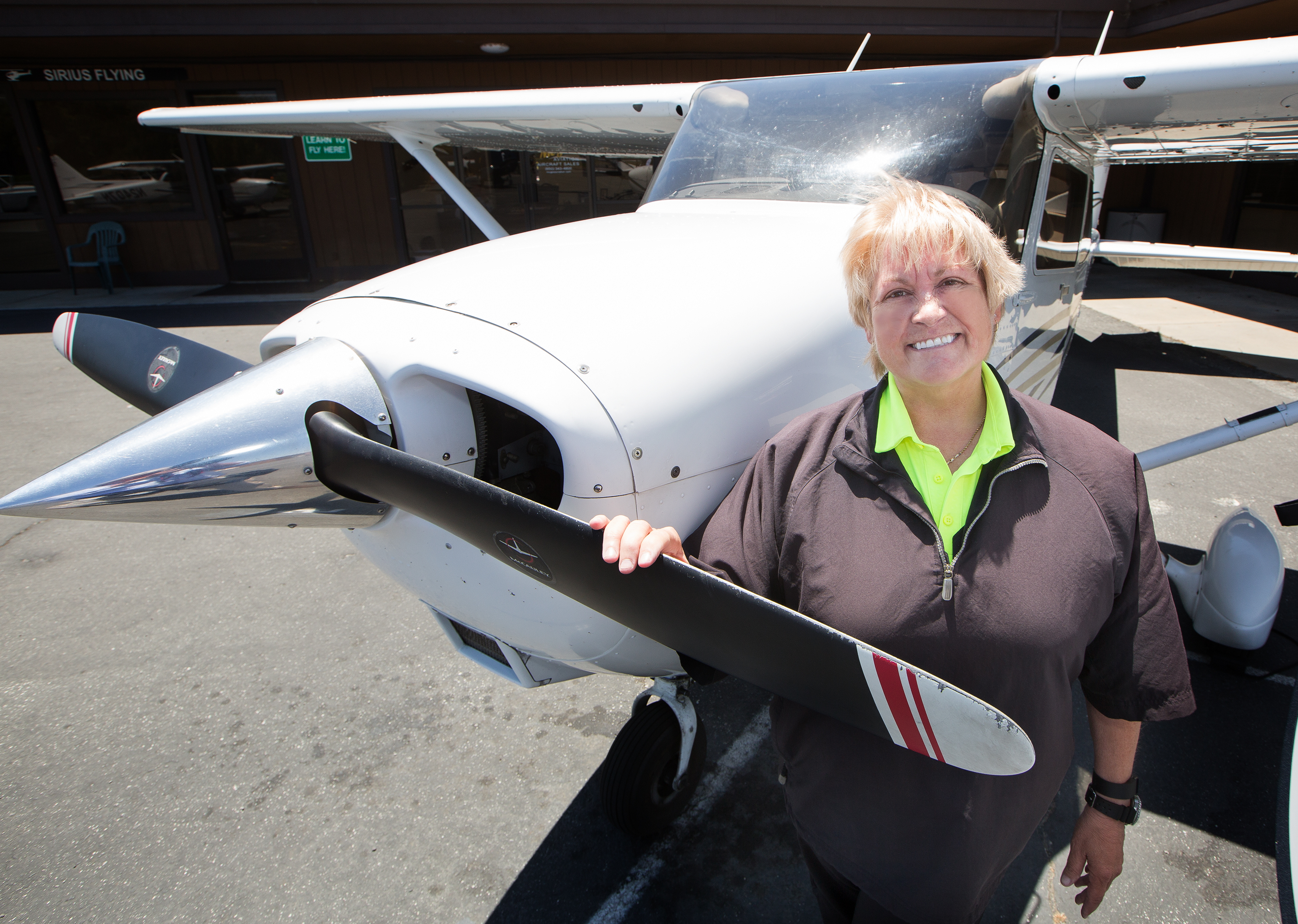 Jen Julian, 57, might be the most active person you will ever meet. She golfs, skis, bikes, boats, scuba dives and regularly makes good use of her newly granted pilot's license. She is without a doubt the epitome of what life can be when given a second chance.
Jen was first diagnosed with interstitial lung disease in 1998 from a condition called chronic hypersensitivity pneumonitis. Over the next eight years, her health deteriorated as her right lung failed, followed shortly by her left. Doctors warned a transplant was her only real chance to survive, as there is no cure for many lung diseases. At just 48 years of age, Jen was told to have a double lung transplant or she probably wouldn't live to see her next birthday.
"When I first heard that I needed a double lung transplant, my head was spinning because I didn't even know that was possible," Jen said. "Facing the reality of death was one thing, but I had so much to live for that I decided to trust the doctors and made the decision to go through with the transplant."
In 2006, Jen became the recipient of a double lung transplant. Even after what was considered a successful surgery, Jen was told it wasn't likely she would ever be able to do the things she loved anymore. Months would pass before she regained her strength but through her incredible spirit and resolve, she persevered. Only six months after her transplant, and with permission from her doctors, she was skiing at 7,800 feet.
This July 2015, Jen will be celebrating the nine-year anniversary of her lifesaving procedure performed at Stanford University Medical Center. Since then, she has dived in some of the most famous bodies of water in the world. She has also started golfing again and even brought home a gold medal from the 2010 Transplant Games competition.
"Patients like Jen are the reason I went into transplant medicine," said Dr. David Weill, Director of the Center for Advanced Lung Disease at Stanford University Medical Center. "Seeing her embrace her new life so fully is tremendously gratifying to our entire team. She inspires all of us to do the best we can in our own lives."
Jen had always loved to fly and in 2013 realized a longtime dream of becoming a pilot. This accomplishment was particularly special for Jen because she lost her father at the age of five when he was killed in his own private plane. Coincidentally, the Palo Alto airport Jen flies in and out of most frequently is the one most often used to fly in organs for transplants by Stanford Life Flight.
Jen is a founding member of the Patient Family Advisory Council (PFAC) at Stanford Health Care, which is a patient support group through Stanford University Medical Center. She has also become a mentor and coach to pre- and post-lung transplant patients. Every patient she meets becomes inspired by her accomplishments and looks to her as a role model. Jen advises them on the importance of having a great attitude and the desire to live as they await their surgery or go through post-surgery rehab.
During her surgery, Jen Julian received a large amount of blood and as a result has become a huge advocate of educating others on the importance of blood and organ donation. "Taking the time to donate blood or register to be an organ donor is a selfless act, and can help so many people continue to live," she said. "It really doesn't get any better than that."
How many people will ever get the proverbial second chance at life? If your name is Jen Julian, you recognize how rarely those chances are given and remind yourself by making the most of every single day. For that reason, Jen says she prefers to describe herself as a "thriver" as opposed to a "survivor."
"Every day I wake up I'm reminded that life is amazing," said Jen. "The first deep breath I take is for my donor, and the next one reminds me to live the day to the fullest."
To make an appointment to donate blood, visit sbcdonor.org. To learn how you can become an organ donor, visit organdonor.gov/becomingdonor/index.html.