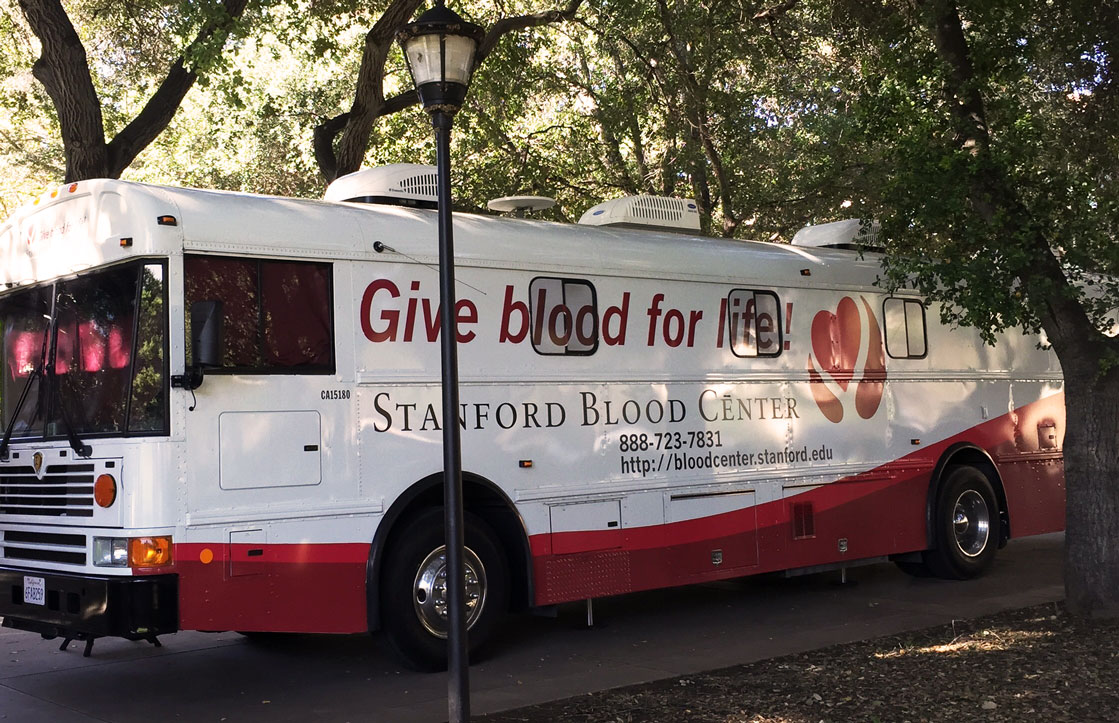 A large portion of the blood Stanford Blood Center (SBC) collects comes from community mobile drives that originated with a specific patient need. When a loved one is severely ill and in treatment, family and friends often feel powerless and seek ways to help. SBC offers a unique way for communities to come together for a good cause: donating blood to local patients in need.
For many years, SBC has had the privilege of getting to know many families and communities that have been touched by blood donation. "Community drives often see family, friends and communities come together and helps those in need. Sometimes these drives are patient driven and hosted by loved one. The selfless act of donating blood can bring people together, show support for those going through a difficult time, and honor those who passed," explained SBC mobile drive account manager Tim Gilmore. Some of the patient focused community mobiles held annually include:
Ava's drive
One of SBC's first neighborhood drives began in 2009 when the Hernandez family assembled their local community and asked them to donate blood as a way to honor their daughter, Ava. Ava passed away at the age of four after a battle with neuroblastoma, a highly aggressive form of cancer that primarily affects infants and children. Today, Ava's drive is in its eighth year and has collected over 725 units to date.
Colma Community drive
Luis Navarro was in a terrible water skiing accident 20 years ago that ultimately led to his needing a liver transplant last year. Luis received many blood transfusions during his treatment as his daughters watched helplessly wishing there was something they could do. "It's hard to understand until you're put in a position where someone you love needs blood," said daughter Anais. "There were countless times we wished we could give him part of our health, a healthy liver, anything to make him better." After Luis' transplant, the family decided to host a blood drive where 50 of Luis' closest friends and family came together to celebrate his 56th birthday. The Navarro family recently held their second community blood drive and plan to continue to do so annually, as a way help others needing blood the way blood donors helped their father. Read Luis' full story here.
NorCal Crossfit
Four-year old Ava was diagnosed with acute lymphoblastic leukemia, a cancer of the blood and bone marrow, earlier this year. Her dad Jason Khalipa, owner of NC Fit, was determined to turn his family's challenges into opportunities by raising awareness of the disease and the importance of blood donation. "I don't care how much money you have, without someone donating blood my daughter wouldn't be here with us today," said Jason. They held their first successful blood drive earlier this year, collecting 53 units and registering 35 first-time donors! They are planning an even bigger blood drive this September, hoping to collect over 150 units. Learn more about Ava's progress and how you can help by visiting the NC Fit website.
Sunnyvale Presbyterian
The Presbyterian Early Learning Center preschool in Sunnyvale held their first blood drive this year to support Maya, a young girl who needed 36 blood transfusions over a 12-month period during treatment for leukemia. The school, along with the community, pulled together and collected 54 units of blood – an amazing feat. The family was overwhelmed by the response and generosity of the friends, family and donors that were touched by Maya's story.
Coastside Community Drive
Six years ago, the Half Moon Bay community rallied around a local family who experienced firsthand the importance of donated blood. Dusty was just four years old when he was rushed to the emergency department at Packard Children's Hospital Stanford, where he was diagnosed with childhood acute lymphoblastic leukemia. Dusty's aunt, Colleen, was by his side when he received his first blood transfusion and after seeing the impact it had on her nephew, decided to organize the first Coastside blood drive. "Dusty's health was out of Colleen's hands," said Dusty's mom, Marina Dimas. "The doctors were taking care of it. We, as parents, were taking care of it. This was something she could do to help while raising awareness about how much blood is needed and used." To date, the drive has collected over 500 unit of blood products and hopes to collect many more in years to come.
If you've been looking for an easy way to connect with your community and do something compassionate to give back to others, you can help patients in your local community that need blood by hosting a community blood drive. For more information, please contact our field recruitment team at 650-723-8015. Or, if you are looking to donate blood yourself at one of our centers or at an existing community drive, please visit sbcdonor.org to make an appointment.