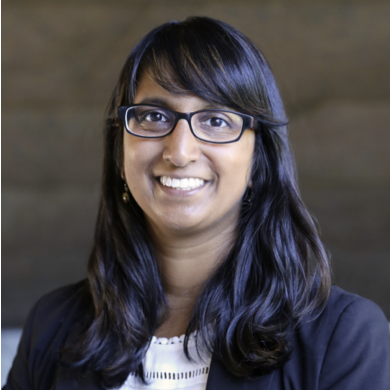 This July, Stanford Blood Center was honored to have Dr. Suchitra (Suchi) Pandey join us as our newest Medical Director. Her responsibilities include providing medical support to blood center staff, management of blood donor medical issues, development of Blood Center medical policy, oversight of blood center operations, consultation with Stanford Hospital for patient management, and the teaching/supervision of fellows and residents. She is currently also one of our CLIA Lab Directors.
Our other Medical Director, Dr. Tho Pham, put together a few questions to help us get to know his new Co-Director:
Dr. Tho Pham (T): Hi Suchi. So… where are you from?
Dr. Suchi Pandey (S): My father came to the United States to get his PhD as a nuclear physicist at Penn State in State College, PA.  After I was born, we moved to a suburb north of Philadelphia.
T: Philly huh? Born and raised? On the playground, did you spend the most of your days?*
S: Yup…chillin' out maxin' relaxin' all cool and shootin' some b-ball outside of the school*
*This didn't really happen….but S and T do like Fresh Prince of Bel-Air
T: Nevermind. Where to after that? How did you end up in California?
S: I went to Muhlenberg College (in Allentown, PA) and then to MCP Hahnemann University School of Medicine (now Drexel University College of Medicine). After that, I wanted to leave Pennsylvania, so I did my Pathology Residency at UC San Diego followed by a fellowship in Transfusion Medicine at UC San Francisco and Blood Centers of the Pacific.  Before coming to Stanford Blood Center, I was the Medical Director/Chief Medical Officer at Blood Centers of the Pacific for about 8 years.
T: What do you like to do for fun on both regular and infrequent occasions?
S: During the weekends I like to be outdoors, go on hikes and camp. Of note, it is very hard to find camp sites in California especially in the summer. I also like to travel a lot. I try to go out of the country on trips 2-3 times per year. My recent trips have mainly been to Mexico, Central America, and South America, but I'll be going to Croatia in September.
T: What is a recent book you've read that you enjoyed?
S: I really liked "River of Doubt: Theodore Roosevelt's Darkest Journey," by Candice Millard. After Roosevelt lost the election in 1912, he went on an expedition in the Amazon jungle, exploring the River of Doubt, later to be renamed Roosevelt River. I was fascinated as I read about his adventure down this unchartered river and how his team overcame all the obstacles and dangers they encountered.
T: Any other fun facts about you?
S: I like to play the violin and enjoy listening to bands that incorporate violin.  I also love dogs and have a sweet little dog named Moet who thinks he's a cat.
Note: Moet's picture is Dr. Pandey's computer's wallpaper.
T: Last question. Which superpower would you choose: flight or invisibility?
S:  Flight…would make my commute much faster!!