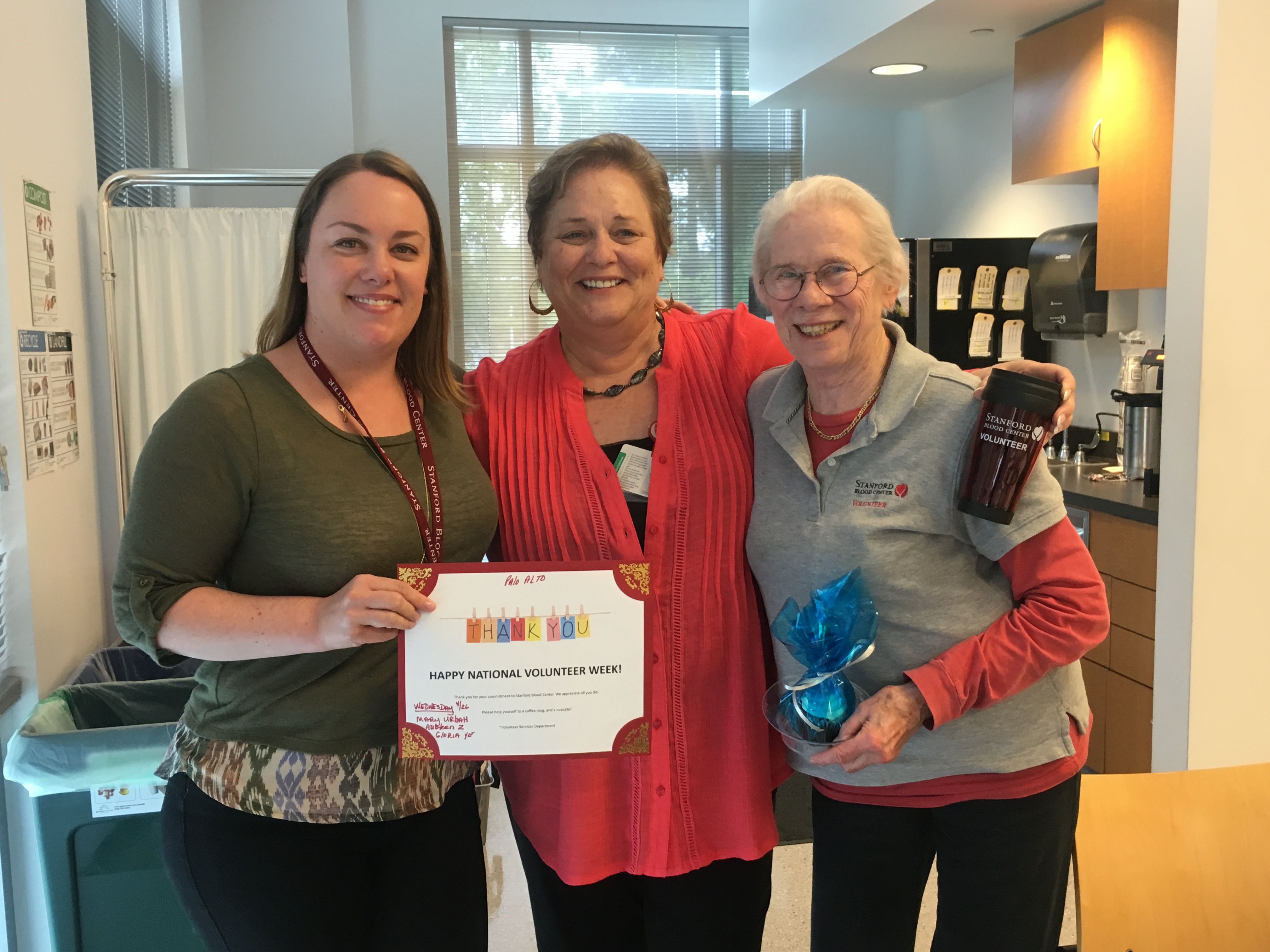 Last week was National Volunteer Week, so of course we have been thinking about all of our stellar volunteers, without whom our work would never be possible. So much of what Stanford Blood Center (SBC) does is entirely dependent on volunteers – donors who generously offer both their time and blood to save lives, and blood center volunteers who help make it happen.
Whether they're bringing you much needed juice after a donation, or simply making conversation while you wait in the canteen, our volunteers are essential to making the blood donation process easy and enjoyable. To thank them, Alison Hopkins, our Volunteer Services Supervisor, and Carlene Vasquez, our Volunteer Specialist, presented our volunteers with goody bags including SBC mugs and cupcakes to show them how grateful we are for their work.
"I love working with the volunteers," said Carlene, who will soon be retiring after 16 years with SBC, the last five of which she's spent working directly with the volunteers. "We have some of them that have been here for over 10 years. They're always excited. These people are so excited to give us their time, and a lot of them are blood donors as well!"
Although we have around 100 volunteers, SBC is always looking for more. Hours are flexible, and volunteers can work at either centers or mobile drives. Volunteers are most often needed to work in the canteen, ensuring that donors have the food and drink they need to replenish after giving blood, and to simply talk to donors while they wait. In fact, its this personal interaction with the donors that seems to be the biggest draw for our volunteers – according to Alison, personal connections with both our staff and the donors are what keeps them coming in the door every week.
"They love the people," echoes Carlene. "Conversing with the people, meeting new people."
Mary Urbach, a frequent SBC volunteer, agrees. "I really enjoy coming here because of all the interesting people who come in. We get into conversations about all sorts of different things!"
Every day, our volunteers are doing work that is genuinely important. Donating blood saves lives, and without our volunteers, getting that essential product wouldn't even be possible. We cannot express our gratitude enough.
If you are interested in becoming one of our wonderful volunteers at SBC, please contact Alison Hopkins at alison.hopkins@stanford.edu