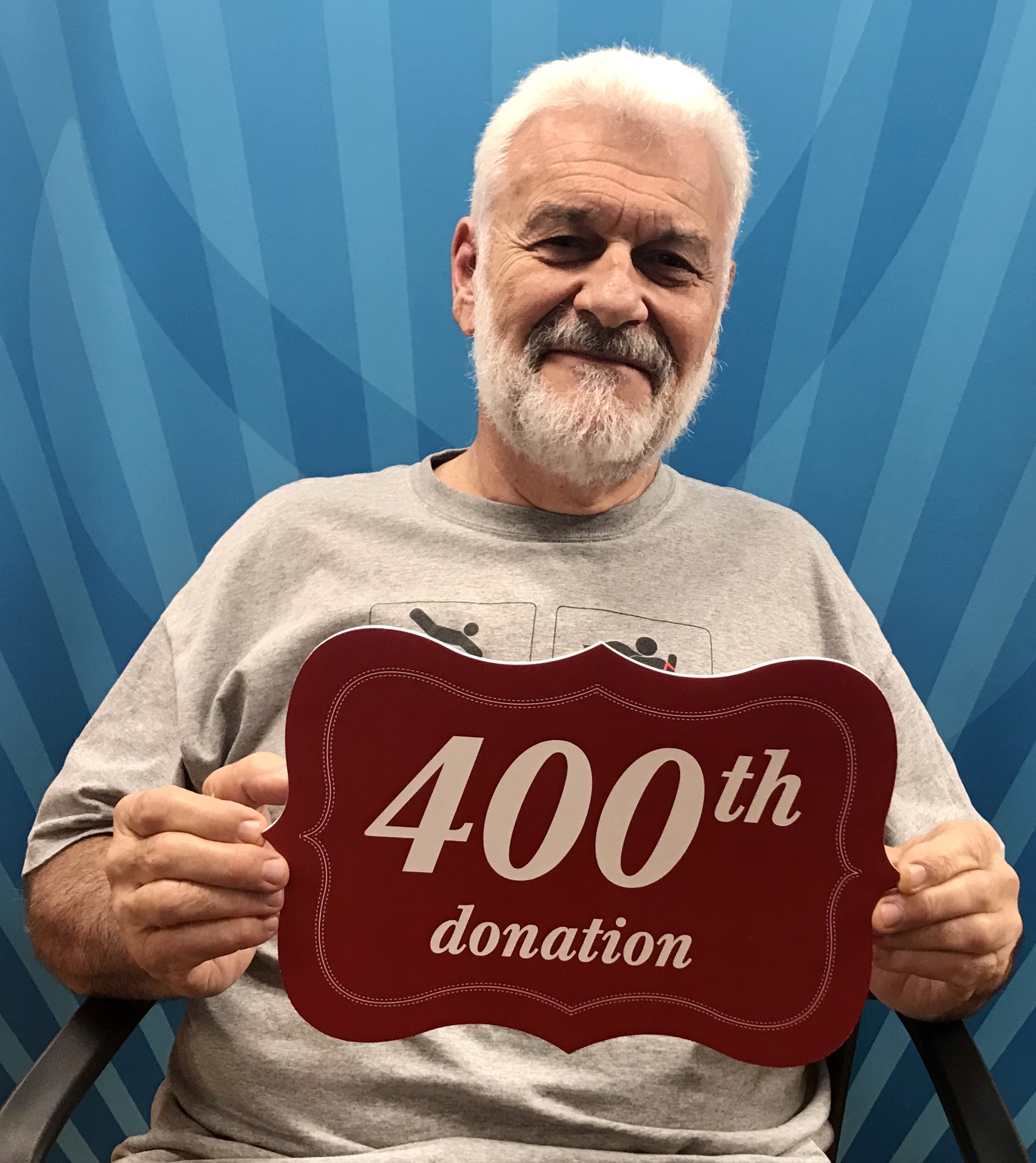 Stanford Blood Center milestone donors are an extremely dedicated group, with all milestone donors having given blood at SBC at least 100 times. Ron Mancini hit his 400th donation milestone at our Menlo Park center last month. In celebration, Ross Coyle, Public Relations Officer, interviewed Ron about his motivation and experiences with giving blood.
What does your 400th blood donation mean to you?
I am thankful that I have been healthy and continue to be healthy enough to donate. I guess I have been donating so long now that it's something I do automatically, but all along I keep in mind that my donation is benefiting people who are in need of blood. It is a way I can help others, and I recognize that my donation might mean the difference between life and death for them, so I am glad to help.
Why do you donate?
I try to help others whenever possible and in any way I can. And I feel that I, as well as others who are healthy and can donate, have an obligation to help others who need blood to overcome their medical issues. Without our donations, the patients who need blood cannot get the help they need, so those of us who are able should donate as often as we can.
What led you to donate blood the first time?
I started donating whole blood while working at my first job out of college, NASA-Ames Research Center (where I ended up working for 34 years!). The Red Cross would come four times a year with their bloodmobile and my coworkers had invited me to donate with them.
It started out as a way for me to join my colleagues, but it grew into a desire to donate for the benefit it provided others. I read the literature the first time I donated and was moved by the stories of those who had been helped by donors providing the blood products they needed. That sparked my feeling of obligation and desire to continue to donate.
Why Stanford Blood Center?
Eventually, SBC started coming to my work with their bloodmobile one time per year and the Red Cross dropped to only three times per year, so I started donating also for SBC. When I realized I could donate more often than once a quarter, and consequently help even more people, I stopped donating at the quarterly bloodmobiles and instead made appointments at the SBC center  that was on Welch Road so I could stop and donate on the way home from work. Once I retired in 2004, I had more time and started donating platelets. That gave me an opportunity to donate even more often and help even more people. I have donated platelets exclusively since then.
Though I started at SBC for convenience (since the bloodmobile come to my work), I had the desire to donate more regularly at SBC specifically when I learned more of what they did in connection to research as well as to helping those in need in the community. I find SBC an organization I want to support with my donations. In addition, the staff have always been friendly and skilled.  SBC provides a welcoming and comfortable environment both for the donation and the canteen experience after the donation. SBC tries hard to thank its donors for their time and blood with special gifts of shirts, Hobee's coupons, etc. during the year, which is appreciated.
How have things changed in the industry since you made your first donation?
Since I started donating at work back in 1972, there have been some major changes. I am happy to report that by the time I started donating platelets, the process involved only needle that could both draw and return blood products. The old process required two needles, which I did experience once at SBC when I donated white cells. Having both arms unusable during a relatively long donation process was challenging, so being able to use just one needle for platelets made that donation type even more attractive for me.
What would you say to those who are on the fence about donating blood for the first time?
Think about the benefit you can provide others who need blood products to recover or fight off terrible medical conditions, and think how that could be a matter of life and death for them. There are many ways to give back to the community, but how many of those allow you to actually save lives in your community? Sure, give back to the community in other ways as well, but donating blood should always be part of that giving back for anyone who is healthy and able. You'll feel good knowing you have helped save a life!