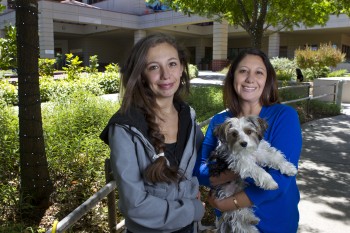 By Winter Johnson, Lucile Packard Children's Hospital and Michele Hyndman, Stanford Blood Center
A month before her 14th birthday in November 2011, Taylor was enjoying a normal teenage life in Watsonville, Calif., when she was hit with sudden, flu-like symptoms that turned into vomiting blood. She was rushed to a local hospital and then taken by ambulance to Lucile Packard Children's Hospital, where blood tests and CT scans showed Taylor had end-stage kidney failure along with bleeding in her lungs.
She was diagnosed with Goodpasture syndrome. "It's an extremely rare and life-threatening autoimmune disease, and it happens to previously healthy people without warning," said nephrologist Paul Grimm, MD, medical director of the kidney transplant program at Packard Children's. "Her body was attacking the filters of her kidney and also the blood vessels of her lungs."
Taylor required blood transfusions when she was first admitted at Packard Children's. "Thank you," Taylor said to the anonymous people who donated blood at Stanford Blood Center so it was available when she needed it. "I lost a lot of blood."
It was the beginning of a long and exhausting medical journey. Taylor and her mother, Lori, soon were on a two-hour drive to Packard Children's four times a week for kidney dialysis, and there were multiple rounds of immunosuppressant medications and plasmapheresis, a process to purify the blood. All of these efforts were necessary to fight the disease raging through her body.
However, it eventually became clear that the damage to Taylor's kidneys was too severe to avoid a transplant. Mom was ready. "From the get-go, I planned on being Taylor's donor," Lori said.
Before she could receive her mom's kidney, doctors had to be certain that Taylor's immune system had stopped producing the deadly Goodpasture antibodies — so there would be no danger of her body attacking the new organ. She also had to be steroid-free for six months, pushing the wait into 2013.
Taylor crossed the finish line this spring. Her doctors declared her steroid- and antibody-free, and healthy enough for an April transplant. A big bonus: After plasmapheresis and a strict medication regimen designed to get rid of the antibodies in her blood, Taylor's lungs have fully recovered.
"I think my mom is beyond awesome," Taylor said of her mother's decision to donate.
While Lori was her kidney donor, blood donors also played a vital role in her recovery. "Thank you for giving the gift of life," Lori said to the blood donors who helped keep her daughter alive. She encourages others to give as well. "A very small donation can mean the world to someone else in dire need."
Now, thanks to her mother, blood donors, and the doctors and medical staff at LPCH, Taylor can pick up where she left off before she got sick. She is especially excited about going back to school in the fall. "I'm looking forward to history class and hanging out with my friends more often," she said.
Visit the Lucile Packard Children's Hospital website to read more about Taylor's story 
About Packard Children's
Lucile Packard Children's Hospital at Stanford is an internationally recognized 311-bed hospital, research center and leading regional medical network providing a full complement of services for the health of children and expectant mothers. In partnership with the Stanford University School of Medicine, our world-class doctors and nurses deliver innovative, family-centered care in every pediatric and obstetric specialty. Packard Children's is annually ranked as one of the nation's finest by U.S. News & World Report and the only Northern California children's hospital with specialty programs ranked in the U.S. News Top 10. Learn more about the Packard Children's Health Alliance at PCHA.org; explore our hospital expansion at growing.lpch.org; and find our full range of preeminent programs at lpch.org. Like us on Facebook, watch us on YouTube and follow us on Twitter.