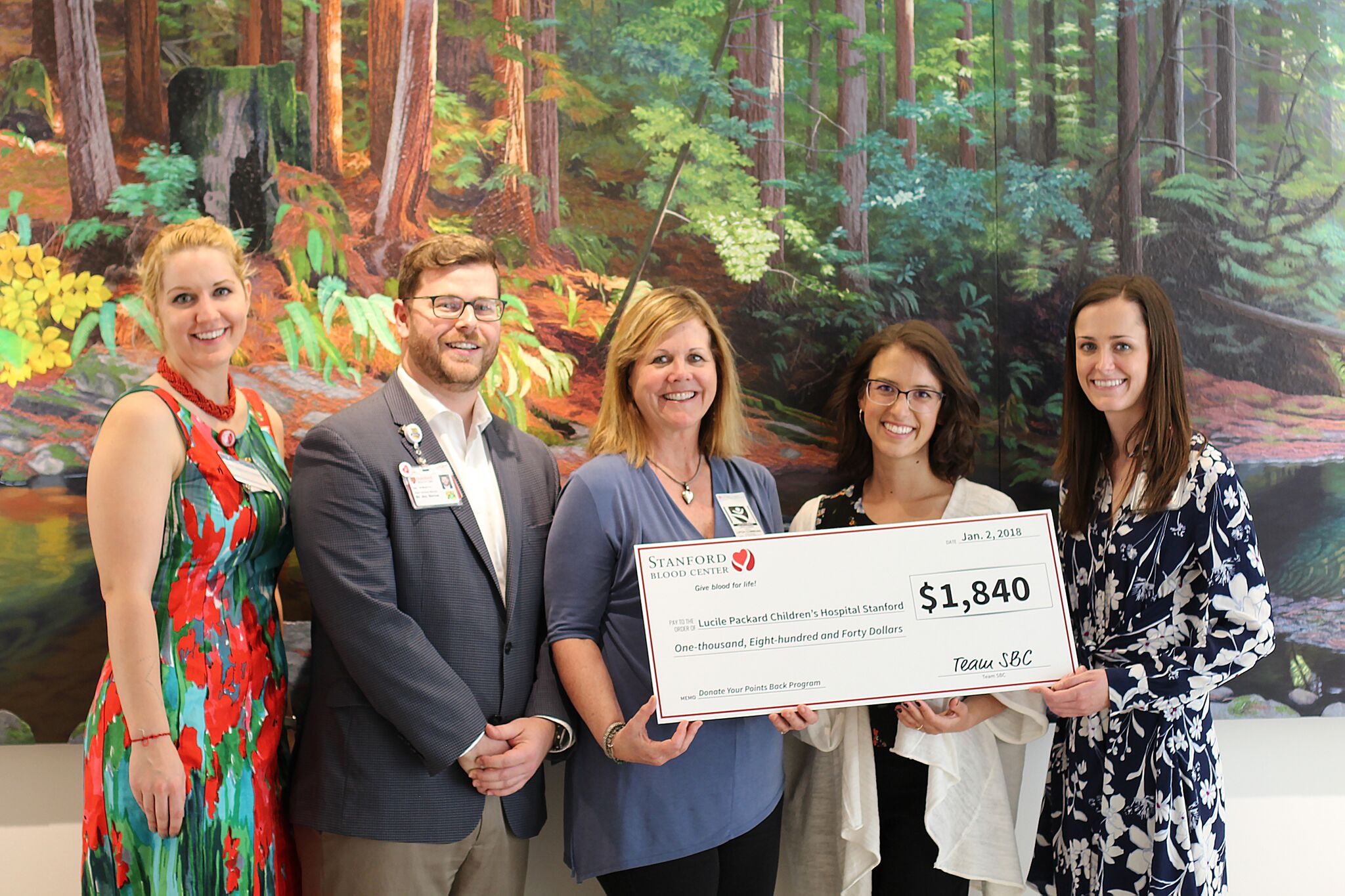 In addition to saving lives by donating blood, Stanford Blood Center donors helped raise funds for Lucile Packard Children's Hospital Stanford through our Donate Your Points Back program. Through this program blood donors earn points, which they can "give back" in the form of a monetary gift to one of our select community partners. Since 2014, our donors have given over 100,000 points to Packard Children's, and on March 28, we presented the hospital with a check that will go toward purchasing items to provide patients some much-needed comfort and enjoyment during their stay.
Donors who made five or more donations to Packard Children's in 2017 through the program were invited to attend a check presentation and take a tour of their brand-new building.
The new building is very architecturally impressive, with incredible thought put into all the details and finishing touches. "Walking through LPCH was like touring a museum where the focus is on 'what will children benefit from the most?' I was so impressed by the attention to detail at every turn, from the unique wayfinding system to the photomurals and floor mosaics," Tammy Holm, an SBC donor since 2011, remarked.
The hospital is very family-oriented and Packard Children's clearly thought of every member— not just the ones receiving treatment. "As the patient ages out of the children's hospital they just move down the hall to the adjoining adult hospital with the careful coordination of care teams on each side," Judy Vant another SBC donor on the tour, said. This thoughtful approach keeps the whole family together and provides continuity of care.
Stanford Children's Health is the only health care system in the Bay Area exclusively dedicated to pediatric and obstetric care. With Lucile Packard Children's Hospital Stanford at the center, Stanford Children's Health brings world-renowned Stanford expertise and innovation to general pediatric and obstetric patients.
"As a non-profit hospital, we rely on the support of our friends in the community to provide the best care, cures, and comforts for the patients and families we care for," Ashton Slagel, Community Relations Officer (and tour leader!), said "We are deeply grateful for the support provided by the Stanford Blood Center donor community, whose financial gift will benefit programs within our Fun Fund and our Child Life and Creative Arts team. From procedure preparation to expressive play activities, Child Life focuses on helping medical care run smoothly and efficiently while ensuring a child's comfort."
And while it was very moving for the donors who attended, it was also a wonderful experience for SBC team members to meet these very special donors. Not only do they support our local community by donating blood products, but then they donate their earned points (which they could easily redeem for items in the Donor Loyalty Store) to children in need. "I found the LPCH tour to be a wonderful way for our donors to further connect with our SBC Mission and Vision," Director of Donor Services, Bradley Burton, said. "The tour highlighted how the donated points impact patients and focused on the new design elements that make Packard Children's addition state-of-the-art. I felt fortunate to be part of the inaugural tour and look forward to continuing the program!"
We at SBC are honored to have Packard Children's as one of our community partners for the Donate Your Points Back Program, and we are glad to contribute (with the help of our fantastic donors) to such a worthy organization.