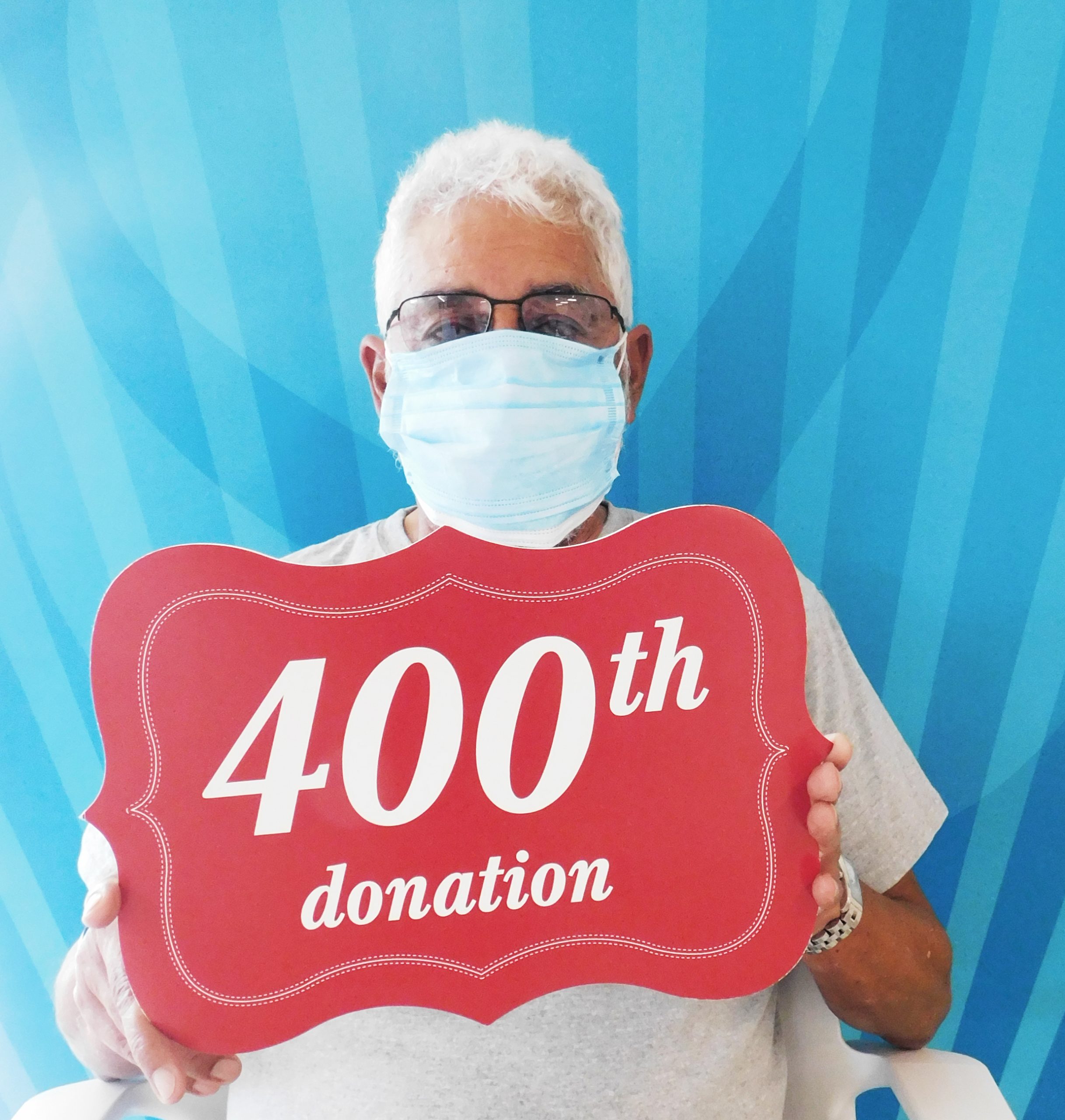 Here at SBC, we love to celebrate our incredible milestone donors. Anthony Flores recently made his 400th donation at the South Bay center. Ross Coyle, Public Relations Officer, interviewed the San Jose resident about what inspires him to donate blood and what keeps him coming back all these years.
What does your 400th blood donation mean to you?
 It's the culmination of donating for over 30 years and helping countless patients in need.
What led you to donate blood the first time?
My company was holding a mobile blood drive. A friend who was a regular donor asked me to go and it seemed like a good idea — and I got a break from work!
Why do you donate?
I donate to help patients in need. I started donating whole blood at the mobile drives at work. About 10 years later, I was asked to donate platelets. Several years later, a friend contracted leukemia and that inspired me to donate more frequently.
What keeps you coming back all these years? 
The knowledge that I'm helping others in need like my friend. I also enjoy my interactions with the SBC team members, including volunteers.
Did you ever think you'd be donating so long that you would reach 400 donations? 
When I first started donating, I didn't think I'd reach 100 donations. When I started donating more frequently and reached 200, 400 seemed within reach.
What has the experience been like for you?
It has been rewarding in several ways. Although knowing I'm contributing to patients' wellbeing is rewarding in and of itself, a few times I was told my donation would be directed to a specific patient, which was especially rewarding. I've also known people who started donating after I tell them about my experience.
What would you say to potential first-time donors who may be on the fence about donating blood?
 A first-time donor would donate whole blood. This procedure is relatively quick, does a world of good for someone in need, and team members are always ready to help in the rare instance of a side effect.
Younger folks have a lot of options these days to give back to their community. What would you say to them about the opportunity to help save lives by becoming a blood donor?
Donating blood doesn't require a lot of time and can be scheduled at the donor's convenience. Blood cannot be provided any other way: There is no substitute, and the percentage of eligible donors who donate often falls far below the need for patients in dire need. My son, now 32, started coming with me to donate when he was 16 and is currently donating platelets frequently at SBC.