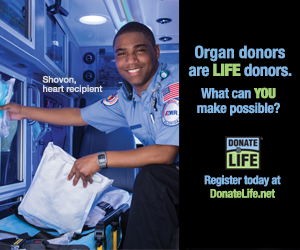 By Kristin Stankus, digital community and social media specialist
Each April, National Donate Life Month (NDLM) is celebrated across the United States to commemorate and celebrate those lives affected by organ, tissue or cornea transplants. Established in 2003 by Donate Life America, NDLM celebrates transplant recipients, provides support for those awaiting a transplant and honors all registered donors.
According to the United Network of Organ Sharing (UNOS), currently 121,352 people are waiting for a lifesaving transplant. Men, women and children of all ages and backgrounds need transplants every day and in 2014 alone 29,532 organ transplants were performed.
Organ transplantation and Stanford Blood Center
Stanford Blood Center (SBC) knows the importance of organ donation. SBC's HLA laboratory develops cutting-edge therapies to successfully match many organ donors with recipients every year. Read more about their lifesaving work on our blog. Additionally, many transplant recipients require blood products during surgery. Several of SBC's featured patient stories have highlighted transplant recipients, including Jen who received a double lung transplant and Luis who received a liver transplant.
What can you do to help?
There are many ways you can help those who have received or one day may need an organ transplant:
Register as a donor with Donate Life org
Make an appointment to donate blood org
Spread the word about the importance of organ and blood donation during Donate Life Month in April
At SBC, we lead the fields of transfusion and transplantation medicine by advancing science and technology. We provide hope for the future by teaching the medical leaders of tomorrow. We enhance lives by connecting donors to patients every day. To learn more about SBC, please visit us at stanfordbloodcenter.org and be sure to "Like" us on Facebook and "Follow us" on Twitter.
Sources: