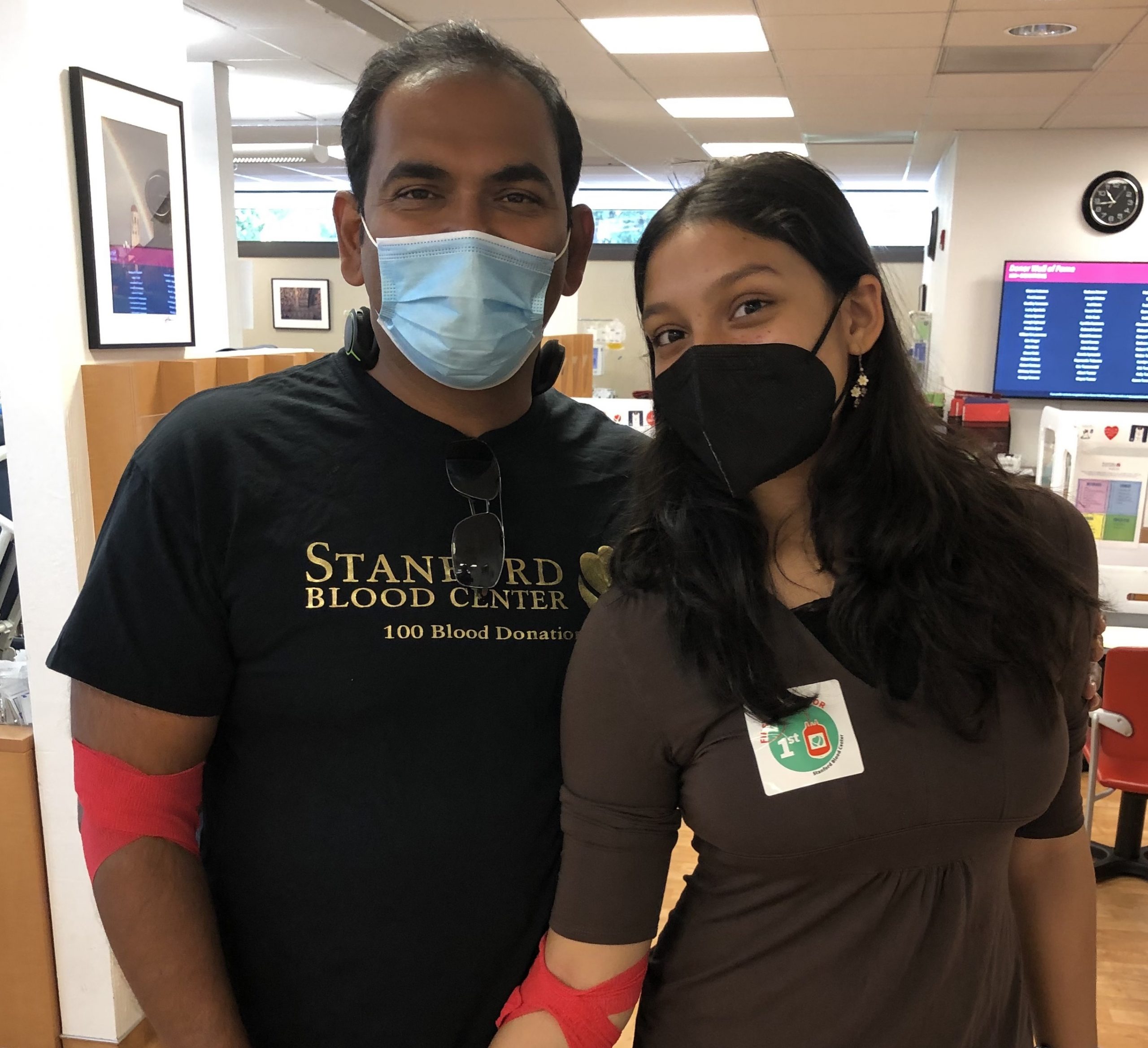 Balaji Iyer recently made his 100th milestone blood donation at our Mountain View center — a moment he had hoped to share with someone very special. Unfortunately, illness delayed his 16-year-old daughter Satvika from making her very first donation that same day. But sometimes things have a funny way of working out. Satvika finally got a chance to donate blood last week, just as we get ready to celebrate Father's Day! Their donation was a very special gift for this father/daughter duo, and a life-saving gift for someone's parent or child in need.
Ross Coyle, Public Relations Officer, interviewed the two about making blood donation a family affair.
Balaji Iyer
What led you to donate blood the first time?
I have been donating blood since I was 20 years old. I grew up in Mumbai, India and was part of a volunteer group that would provide blood donations for patients in a hospital blood center. I thought of blood donation as one of the easiest ways to contribute positively to society. There was an element of sacrifice (time and logistics) involved that made the contribution worth the effort. I also liked the fact that it was a random act of kindness: I was blind to who got the donation, absolving myself from judgment of whether the recipient deserved that kindness. The truth is we all deserve kindness without judgment and that is enshrined in this act.
Is there a motivation behind becoming a blood donor?
I have benefited enormously from all that society has to offer. I have been blessed with a great education, financial freedoms, good health and the things that money cannot buy. I am grateful to my country and the community that I live in. Blood donation is one way of doing good and giving back a little. It definitely involves time and priority management. We all have busy lives, but it's important to make time to do good. I have AB+ blood (meaning I can give universal plasma, aka "liquid gold," which only about 4% of the U.S. population has) and know that when I donate, there are many lives that benefit.
Did you ever think you would reach your 100th Milestone donation?
Not really, I was not focused on a specific number. Since my parents lived in India and I had business that took me there (and India is an endemic malaria zone with a three-month donation deferral period now for travel), I had multiple years of deferrals throughout my years of donations with Stanford Blood Center. Once I got close to my 90th donation, I definitely wanted to celebrate the milestone of giving my 100th donation with my daughter, Satvika, as she became old enough to do her first.
Every milestone in life should be celebrated. It was an opportunity to realize that I was on the path of making a difference. Every journey is a collection of small steps in life. I also realize that there are many donors with 700+ lifetime donations, so there is also that "good competition!" The idea is to do the best that you can, in ways that you can. Be a force for good in life. I also openly talk about this milestone with friends and family. This could be misinterpreted as boisterous pride, but my objective is to spread awareness and encourage others to do what they can.
What does it mean to have your daughter making her very FIRST donation?
Yes, it is great to see my daughter choosing to commit to contribute positively to society. Satvika wants to lead organizing the next SBC blood donation drive at her high school. She is developing into a great leader there as president of the environmental society. Satvika also contributes with her data science skills to research remotely as an intern in a lab associated with studying the development of neurological diseases at St. Jude's Children's Hospital. All this while keeping her weighted GPA at 4.6 this past school year. I hope she continues to contribute to her community and society!
What have you told her about becoming a blood donor?
We have been blessed with a lot in life, do the best that you can! Choose to be a force for good. Focus on your health by investing time in regular exercise and good nutrition and hydration. You have a role to play in keeping your body fit for a donation. Do what you can, when you have the opportunity to; health is not something that you can take for granted and factors beyond your control can also affect you. Choose to give and your cup will be filled. Enjoy giving and contributing to your neighborhood and society. There is such a thing as good karma and we do live in a circular society, we may not often realize this but what we put into the universe comes right back to us.
Is it extra special for you as we approach Father's Day?
I feel blessed and grateful that she is healthy and able to contribute. You can never take anything for granted. I am happy that she believes in the cause and to the extent that I have been an influence in helping her make that choice. I feel like I am doing my job. I remember her as a kindergartener, joining me on bike rides to SBC enthusiastically to snack on the cookies and POG. Glad that she can earn her own POG now!
Satvika Iyer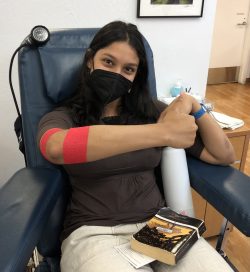 Note: Interviewed just prior to donation
Are you excited about your very first blood donation with Stanford Blood Center?
Yes! I'm so excited for my first blood donation at the center, hopefully one of many more to come. I believe that if you have ample access to such an essential resource as blood, it is your responsibility to share with others.
How are you feeling as you're about to donate? Excited? Nervous? A little of both?
I am so excited to donate. When I was younger, my dad and I would bike in tandem to his donation, and I think it's a full-circle moment to go into my first donation in tandem. Honestly, the photos my dad sends me while donating recently make it seem comparable to a cozy movie night in — curled up in a blanket while watching a movie, sipping on bottomless POG juice and toting some cookies; the reward for an invaluable donation seems to arrive in waves, some in the form of instant gratification.
Has this been something you've been wanting to do for a while?
Along with the list, including filing as an organ donor and getting my drivers permit, this experience is something I have wanted to do as soon as I could. A lif- altering pint in my body seemingly lazing around as surplus when it could find its defining purpose in another stream undercuts the potential of that blood, and along with giving that blood purpose, it gives me fulfillment as well.
Do you think you will become a regular blood donor?
Oh, most definitely. Plasma, or liquid gold as my dad likes to call it, is sourced only through human donation (like other blood products), and is imperative for the treatment of genetic and contracted diseases alike. It's a simple way to give back to my community, and I know I will make time for it regularly going forward.
I understand you want to be a blood donation advocate for your high school. Have you already begun taking steps to help spread the word with your classmates?
Yes! I actually contacted Stanford Blood Center and my school's principal in order to organize a mobile blood drive. I also believe in sharing education, since as high schoolers we can be wary and almost dismissive of anything shrouded in mystery, and the process of blood donation could be a point of less of interest in high schoolers. I think knowing the inner workings and impact of blood donation will go a long way in producing lifelong donors. Don't hold the cookies either!
You're making your first donation right before Father's Day. What does that mean to you?
Imitation is the sincerest form of flattery that mediocrity can pay to greatness, or in my case, a daughter can pay to their father. I think this is a testament to the impact my parents have had on my life so far, and, in general, the habits we see practiced by our parents are the ones we take to and emulate most easily. The fact my dad is a blood donor bodes well for his future commitment to our joint workouts, racquetball matches and Scrabble marathons: he's not going to stop anytime soon!