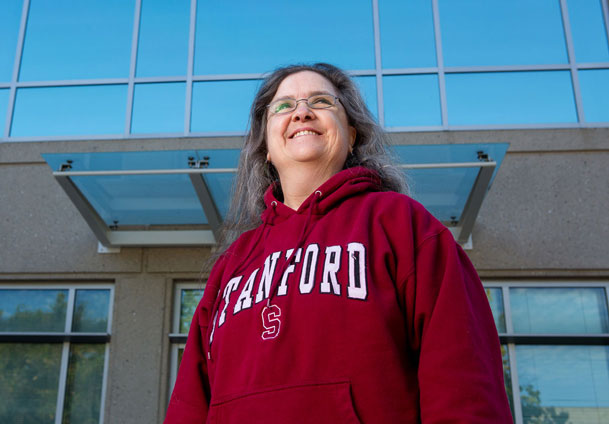 Susan attended this year's Bone Marrow Transplant Reunion where she approached Stanford Blood Center's information table and asked if she could share her story of survival with blood donors through SBC's patient stories program. Susan's story is one of incredible challenges and her will to overcome them. She is a 25-year survivor of non-Hodgkin's lymphoma and is now in good health, but certainly faced many challenges to get here.
Susan was just 22 year's old when she identified an inflamed lymph node in her groin area. Never being a fan of doctor's, she waited it out to see if it would go away on its own. A year later, when the problem persisted and she started experiencing added symptoms like feeling tired all the time, a low-grade fever and more inflamed lymph nodes, she decided to finally make an appointment to see a doctor at University of California San Francisco (UCSF); it was 1983.
The next several years were harrowing for Susan, who saw doctor after doctor only to be told she was suffering from chronic fatigue, Epstein Bar, or was a hypochondriac. She knew in her heart something serious was wrong but doctor's kept telling her otherwise. Susan saw many doctors at UCSF and several others in San Francisco, but came no closer to an answer. Finally, at the seven-year mark, after losing 50 pounds in a month and a half, she decided to see a different type of doctor. So when a friend recommended a doctor that practiced out of a house in Berkeley, she figured why not.
The doctor saw Susan at her office and within minutes was on the phone with San Francisco General Hospital urging them to see her immediately. The next day, Susan arrived at medical screening at 8 am but by 4:15 pm, she had not been seen and had fainted a couple of times. She was asked to return the next day and when she did, her blood was drawn and sent to the lab for testing. She received a call that evening urging her to schedule an appointment with an oncologist the following week to do a bone marrow biopsy. The biopsy revealed the devastating news that Susan had non-Hodgkin's lymphoma and what started as that small, hard bump she found all those years ago had spread as cancer to her liver, spleen and all of her lymph nodes.
Susan was quickly referred to Stanford Hospital that, at that time, was looking for people to participate in their Blood and Marrow Transplant program (BMT). The science and research behind bone marrow transplants was still evolving but doctors knew this would be her best chance at survival and referred her to the program.
Susan spent the next eight months receiving chemotherapy treatment, along with blood transfusions to keep her red blood cell count up, only when she went into remission could she go on with the bone marrow transplant plan, a month into remission they scheduled her for a bone marrow transplant. Susan was able to donate her own bone marrow (an autologous donation) ten days before the transplant. In March, doctors withdrew her bone marrow and mixed it with a concoction of drugs to kill the cancer before transplanting the marrow back into her body. Once again, she received blood transfusions during her treatment.
By June, Susan was able to leave the hospital for the Hometel, an apartment complex on Stanford campus, where there were more comfortable accommodations for recovering patients and their families. She was excited to be on the road to recovery. Six days later though, she began suffering from extreme pain in her stomach area and was rushed back to the hospital. Susan needed emergency gallbladder surgery. After she spent some time healing, she was finally able to go home for good at the end of July, four and a half months after admission.
Susan's journey has been a long and painful one but she never gave up. She remembers telling her father, "you taught me not to do anything I don't want to do and I don't want to die" and so she kept fighting. Susan has attended the Bone Marrow Transplant Reunion just about every year, since her transplant as a way to remind herself, and others, that no matter what life throws at you, you shouldn't give up.
To learn more about bone marrow transplantation, visit www.BetheMatch.org. Or if you have a story of survival and/or inspiration, you would like to share, visit our Facebook page and send us a message, or email at sbcsupport@stanford.edu.
Of course, SBC always need blood donors so please make an appointment to donate. Your blood could help a cancer patient through their chemotherapy treatments, or in many other ways. Visit sbcdonor.org or call 888-723-7831 to schedule your appointment today.