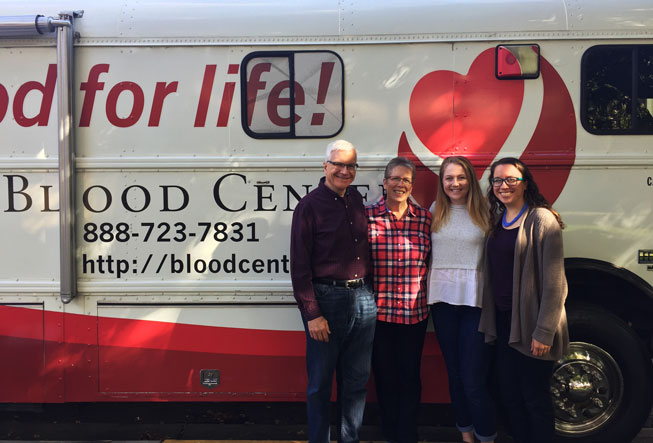 A blood drive was held on October 18th in honor of John McMordie, a Stanford engineering student who tragically passed away this summer. A beloved son, brother, and friend, John was just 23 years old when he died.
This past August, John was running a half-marathon in his home state of Pennsylvania when he collapsed from heat stroke complications. John was taken to a nearby hospital where he received a large number of blood products as doctors kept him alive over the next several days. His mother, Cheryl, father, Bruce, and sisters Heather and Emily didn't leave his side during the next five days, which ended up being John's last.
"Those five days were so important for us to spend with John. Thanks to the generosity of blood and platelet donors [and the care of the medical staff], we were able to say goodbye to him," John's sister shares.
Once John had passed and the family began the grieving process, they started discussing ways they could remember John, and give others the opportunity to do the same. A nurse at the hospital mentioned hosting a blood drive as a way to honor his memory.
Prior to his passing, John was a blood donor himself.
"He received phone calls often asking him to come in to donate," said his mom Cheryl. And since blood products are always needed to treat patients, a blood drive in John's memory could continue his legacy of giving.
In John's obituary, the family asked that in lieu of flowers, blood donations be made in recognition of John. The request resonated with many people that knew John throughout his life, from grade school to graduate school, and resulted in a series of blood drives from coast to coast. The most recent drive was held on October 16 on the Stanford University campus and was organized by John's colleagues at the Product Realization Lab, where he was a teaching assistant.
The family was touched but not surprised by the outpouring of support from the Stanford community and have enjoyed getting to know the people John worked so closely with. The drive had a great turnout, collecting 46 units of blood and recruiting 30 first-time donors.
"John brought light and life wherever he went. It is such a blessing to see the positive response the blood drive has received," Bruce said. "Blood donation is reflective of John as a person. He was generous with his time, his love, and his caring."
A quality, Bruce adds, that all people who donate blood share.
"Blood donation is a very personal gift. You give of yourself. No matter what your station in life, all blood donations are equally valuable."
The family hopes the drive encourages people to continue to donate blood. If you would like to become a blood donor or make an appointment, please visit sbcdonor.org.