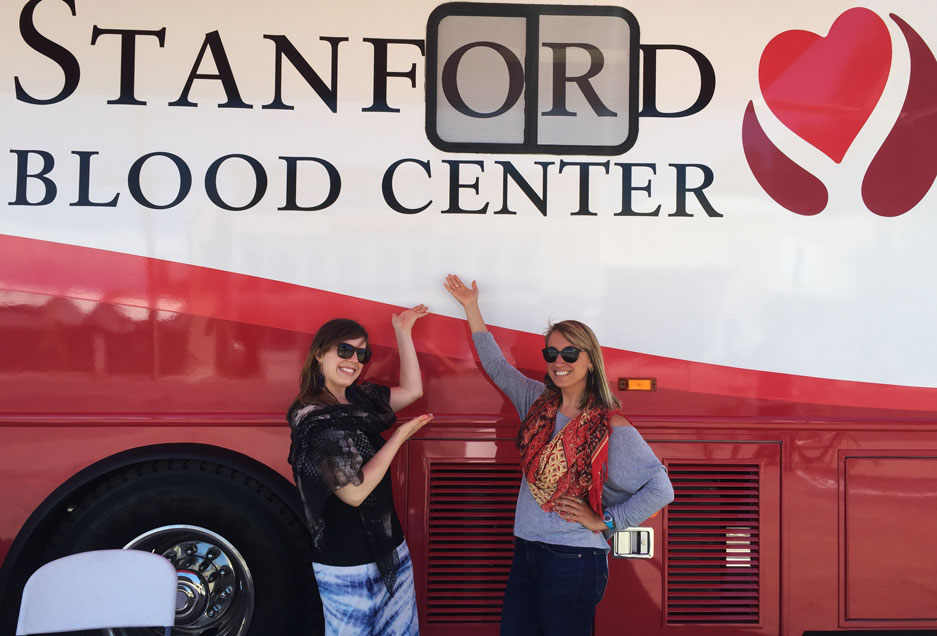 As we celebrate 40 years as your community blood center, it seemed like a good time to reflect on the incredible partnerships we've developed over the years. And when we think of partnerships, we of course think of our fantastic mobile blood drive partners.
Stanford Blood Center (SBC) collects roughly half of its blood products through mobile blood drives. The many companies we work with recognize the constant need for blood donations and are always willing to step up and support local patients. We are proud to say that we've been working with many of our mobile partners for more than 30 years!
For example, Apple and SRI International, both of whom we've been partnering with since 1986, have helped us collect an incredible 8,425 units and 3,883 units respectively. Since one donation can save up to three lives, that means these partners have potentially helped us save 36,774 lives!
Some of our other longest-running mobile blood drive partners (who have partnered with us since the late 1980s) include:
In addition to the amazing Silicon Valley companies we coordinate with, we also partner with many high schools throughout the Bay Area. One such partner, Wilcox High School, has been hosting blood drives with us since 2000, and holds the honor of being our first partner to collect over 200 units of blood products at a single drive – 256 units of blood! To date, 5,549 units have been collected from Wilcox H.S. students.
Some of our other veteran high school partners include:
Another of our partners, LifeScan (Johnson & Johnson), has gone above and beyond in helping us promote blood donation. In addition to hosting their own blood drives, they've donated approximately $500 thousand dollars in incentives to help us recruit blood donors over the last 18 years. When they began partnering with us, they sponsored eight high school blood drives, providing each donor with free movie ticket! Over the years, they expanded their sponsorships to include over 60 high schools, colleges, universities and community blood drives, each time donating either a movie ticket, t-shirt or Baskin Robbins Pint for a Pint ice cream certificate.
Something special to note is that there are no contractual obligations guiding our partnerships. That means our mobile blood drive partners work with us simply because they believe in helping others and are committed to working together for the greater good of our community.
Are you a veteran donor who was part of one of these early mobile drives? We would love to hear your story and thank you personally. Or, perhaps you would like to learn more about hosting your own blood drive? You can find more information on our website, shoot us an email at SBC-blooddrives@stanford.edu or give us a call at 650-723-8015. We hope to hear from you soon!