Many people rarely think about their blood type — most don't even know their blood type. But if that "type" were to go missing in everyday life, people would start to pay closer attention to the need for blood. That's why this August, blood centers around the world including Stanford Blood Center (SBC) will be removing the letters A, B and O (the blood groups) from places of high interest, hoping to create engagement and awareness of the importance of giving blood.
How It All Started
The International Missing Type campaign started in 2015 when NHS Blood and Transplant, the blood service for England and North Wales, launched an exciting campaign that gained popularity overnight. Companies everywhere started removing letters from their online logos, physical signage and social media posts. This year, NHS is partnering with America's Blood Centers (ABC) to take the Missing Type campaign global!
August 15–21, SBC will promote this international awareness campaign. Visit our Missing Type web page to learn more and make an appointment.
Our Partners
We have partnered with several community and corporate organizations to make the campaign a success. You may notice these partners are missing some letters this week! Thank you to the following for supporting the campaign, blood donation and Stanford Blood Center:
Bay Area Cancer Connections
Good Karma Bikes
Habitat for Humanity
Lucile Packard Children's Hospital Stanford
Lucile Packard Foundation for Children's Health
NC Fit
Sports Basement
Stanford Health Care
How we are participating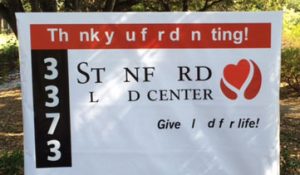 SBC is having great fun with the campaign, removing the A, B and O from several locations, including the logo on our website, the physical signage at our Hillview donor center, and in several places on our social media channels.
How you can be involved
Spread the word and help us recruit new blood donors! The more blood products we collect, the bigger the impact we have on local patients. When you see one of our posts on Facebook, Twitter, Google+ or LinkedIn, please share it out with friends and family and ask them to make an appointment, or share the hashtag #MissingType!
To make an appointment to donate at one of our convenient center locations or mobile drives, please visit us at http://stanfordbloodcenter.org/donate/appointment.php