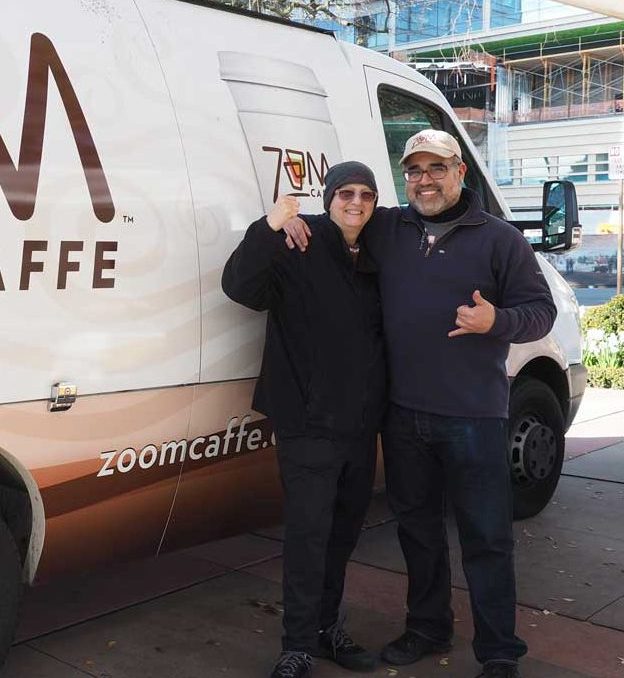 The adventure began soon after their meeting. Carmela and Eric Gries met in 1984 while attending college. Not long after they met and became a couple, they decided to take a year off from school to drive across the country and back. They've now been married for 31 years, have three beautiful children, and are embracing life to its fullest. And though the journey to get here was a difficult one, Carmela and Eric have always believed that when life gives you lemons, you make lemonade – and that's exactly what they did after learning that Carmela needed a heart transplant.
Many years ago, Carmela and Eric were forced to break out that lemonade recipe. Carmela's mother passed away as a result of heart failure. Shortly after, doctor's confirmed that Carmela's brother was also suffering from a type of heart disease. Carmela knew her best option was to visit her doctor and determine if she too could be affected by heart disease, as some diseases are hereditary. Carmela's doctor discovered that her heart was slightly enlarged. As time passed, she continued to be monitored and her heart health became worse. She eventually received a pacemaker to help her heart maintain a normal rhythm and was put on medication to stop, or at least slow down, the cardiomyopathy that threatened her life.
To ensure the correct diagnosis and best course of treatment, Carmela and Eric got a second opinion at the Stanford Health Care Cardiology Department. They met with the cardiology team who delivered the dire news; Carmela's condition would only continue to worsen, so they recommended a heart transplant. Unfortunately, finding a suitable donor could take years. Additionally, Carmela had to undergo IVIG therapy to reduce her levels of anti-HLA antibodies. Low levels of these antibodies would help prevent the new organ from being rejected.
Carmela's condition inexorably worsened; she became very tired and was unable to concentrate. It was exhausting to even breathe because her blood was not flowing properly through her body; she even had to leave her job at an architectural firm. Eventually, several other major organs also deteriorated due to the low blood flow, including her kidneys, stomach and liver. Her only option was a Left-Ventricular Assist Device (LVAD)- a pump inserted next to the heart to help push the blood through the body.
During Carmela's treatment, Eric had also quit his job to focus on caring for her and their three children. In Eric's mind, they had arrived at a crossroads with only two options: to let this painful and difficult journey get them down and feel sorry for themselves, or to look at the positive side. Naturally, they chose to "make lemonade" and look at the positive. Carmela's body had responded positively (though very slowly) to the treatment, so she could now live a somewhat normal live, albeit with an implanted LVAD. But most importantly, she was still alive.
Because the LVAD was making Carmela feel more energized, she and Eric decided they needed a project – something to keep them busy as they continued to await a transplant. They knew they wanted to start their own business; the question was doing what? They thought about what their goal was and decided they really wanted to focus on spreading happiness throughout the community.
Planning for the Future
So they started discussing a food truck – people love good food and often create social experiences around it. But unfortunately they didn't have any food truck or dining experience. The next idea that came to mind was a coffee cart. Most everyone loves coffee, it has a social aspect and brings a smile to people's faces. "There is nothing like a good cup of Joe delivered with a nice smile," Eric said.
They began to work out the details of the coffee cart while Carmela continued her visits to the hospital. Twelve months had passed since the LVAD placement. Carmela was undergoing a round of plasmapheresis when fate finally stepped in. Eric returned to pick Carmela up, but instead of bringing her straight home, the doctor's asked him to stay… they found a heart. By 11 pm that evening, Carmela was on her way to surgery.
During the lengthy transplant surgery, Carmela received many units of blood, without which the surgery would not have been a success. Fortunately, all went well. Eric is enormously grateful towards the staff at SHC, the organ donor whose heart Carmela received, and the blood donors who took the time to donate in order for blood products to be available when Carmela needed them.
Carmela spent some time in the Intensive Care Unit (ICU) to heal, but once she was able to leave the hospital after the surgery, the family took a well-deserved vacation to Europe. When they returned, they got straight to work to finish their coffee truck and start serving the community.
Serving Up Smiles
They knew one of the first stops they had to make was at Stanford Hospital to serve coffee to the staff as a thank-you for all they had done – the SHC community had become Carmela and Eric's second family throughout those years. So they parked the coffee truck at the hospital for about an hour a week to start. Now you can find Zoom Caffe parked at the hospital 6-7 days a week with a seemingly endless line of coffee lovers waiting to get their fix.
It has been two years since Carmela received her heart transplant and the family is grateful to be together and doing something they love. Eric also mentors patients and caregivers going through similar experiences as part of the Heart Transplant Patient & Family Advisory Council.
"You see a lot of heartache spending so much time in a hospital but it is important to look at the brighter side of things and try to make a positive impact. I mentor caregivers and patients to help them through these difficult times," Eric said. "I ask myself 'as members of the PAC, how can we help, how can we make this wonderful organization better.'"
Now that the hardest part of their journey is behind them, Eric, Carmela and their children are trying to live their happiest and healthiest life.
"We are just now starting to go back to normal life and we are appreciating every minute. I don't have a long-term goal for the first time in a long time. I just want to enjoy every day," Eric said.
Carmela and Eric know how lucky they are to have received the blood products, a new heart and the best care. When asked what he would say to people becoming blood or organ donors, Eric responded:
"Don't even hesitate, it seems so obvious of a thing to do as someone on the other side. There are lives out there that can benefit. It wasn't just my wife whose life was affected; it was our children, our extended family, and the community that we serve every day. The touch points go on and on."
If you would like to make an appointment to donate blood or platelets, please visit us online or call us at 650-723-7831. Your donations could help someone like Carmela.