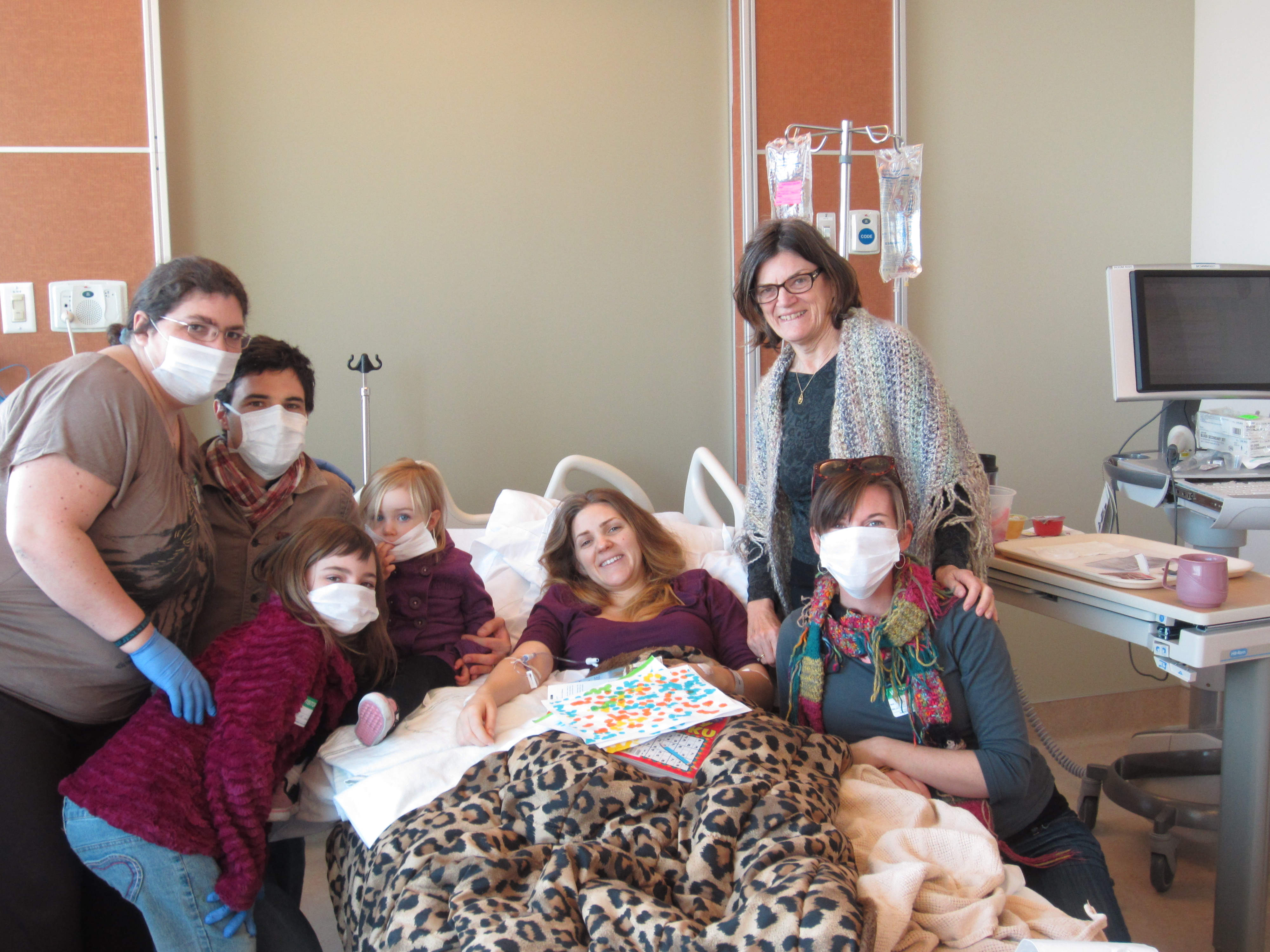 Everyone has a birthday, but J'aime Tilston has two.
The story behind her second, April 4, 2013, is extraordinary: it represents the first year anniversary after her bone marrow transplant, marking it an official success. It's a birthday J'aime might not have reached had it not been for her loving family.
In 2012, J'aime was diagnosed with aplastic anemia, a rare and serious blood disorder that sent her on a long path to recovery. Along the way, she got some amazing support from her family—and a boost from 49 blood and platelet transfusions. She bravely shared her story in the hope that she can encourage everyone to join their national bone marrow donation registry and donate blood, writing, "As a donor recipient, I am unable to donate blood, and would so love to have a way to give back to the blood banks that I took from." She has already achieved amazing results, adding just over 200 new people to the registry since she began recruiting colleagues and friends.
J'aime's Story
In November 2011, J'aime had just finished a master's degree in Peace Studies and was living across the world in Pristina, Kosovo when she got an unexpected email from her doctor back in California. A few weeks earlier, before she flew to Kosovo, she had asked her doctor about some unusual bruises she had noticed. Her doctor ordered some tests just to be safe, but she never dreamed it was anything too serious.
Now, she learned the results of that blood test, which showed a very low platelet count, along with low white and red blood cell counts. Warning J'aime that this could signal a potentially life-threatening bone marrow disorder, her doctor advised her to see a blood specialist right away. She traveled to Skopje Macedonia for care, on the advice of a United Nations doctor friend. The doctor she encountered was extremely helpful and caring; he suspected aplastic anemia, and explained that if confirmed, J'aime would need a bone marrow transplant immediately.
She returned to the U.S., and it seemed as though her symptoms intensified overnight. Her doctors in the US diagnosed her with severe aplastic anemia; essentially, her bone marrow was failing to produce enough new blood cells, leading her to be susceptible to infections and bleeding. Over the next few months, she received platelet transfusions twice a week, along with other blood products that kept her going while she awaited the treatment she needed to recover: a bone marrow transplant. She was referred to the incredible transplant team at Stanford, led by Dr. Miklos and Dr. Logan, who wasted no time in searching for a donor.
J'aime Finds Her Match
J'aime's big sister Shannon recalls, in a testimonial on J'aime's website, that when J'aime first complained of random bruising she didn't give it too much thought … but when she saw the large purple, black and yellow bruises covering her chest, thighs and shoulders, she was taken aback. Within weeks, J'aime was diagnosed with aplastic anemia.
The family learned that a bone marrow transplant was J'aime's best hope, and her siblings offered the best chance of finding an eligible match. As Shannon puts it, "Thank goodness she had 3 gung-ho siblings!" Shannon was thrilled to learn that she was a match for J'aime, and thankfully, although it was a long road to recovery for J'aime, the transplant proved successful.
Shannon's generosity isn't limited to her family, either. She learned that she can donate her marrow two more times in her life, and she is now ready and waiting for a phone call from the marrow registry, telling her she might be a match for a stranger who wasn't lucky enough to have a match in his or her own family. Recalling how she came close to signing up several years before J'aime got sick, after seeing a flyer in a café, but got diverted, Shannon urges everyone who can to sign up for the national marrow registry and donate blood. "Don't be like I was that day in the café and think, yeah, yeah, later. Do it now. It takes less than 15 minutes and I can't imagine that you'll regret it."
Shannon has inspired other VIP blood donors too, including J'aime and Shannon's oldest sister Carey and their brother, Chancey. When a Stanford Blood Center blood mobile showed up at Chancey's workplace, Xilinx, he knew it was the perfect time for him to sign up and become a donor. Now, he joins his sisters in spreading the word about the importance of blood donors. J'aime says it best herself: "As much as the transplant saved my life, I would never have been able to have a transplant if not for those 49 individuals who donated blood," she writes.
Today, J'aime is healthy, happy, and determined to live life to the fullest. She writes, "My story has a very happy ending, and none of it would have been possible without all of the amazing doctors, caring nurses, the 49 blood donors, my completely selfless donor, my family or my friends. While I can forget about the pain, the nausea, or the exhaustion, I never want to forget the experience. I want to remember it for every person out there going through a similar experience, and especially those searching for a donor. I am determined to give my story an even happier ending; to use it to spread awareness about the need for lifesaving donors and encourage those around me to register."
Now It's Your Turn …
Like Shannon and the marrow registry flyer she saw before J'aime got sick, have you ever seen a Stanford Blood Center blood drive flyer and thought you should donate, but haven't quite got around to it? If J'aime and her siblings inspired you to donate blood, SBC is ready to welcome you! Stanford Hospital is a trauma center for the community, and we are the sole supplier for Stanford Hospital and Lucile Packard Children's Hospital.
To book your next appointment, please call 888-723-7831 or visit stanfordbloodcenter.org and click on "Schedule an Appointment."