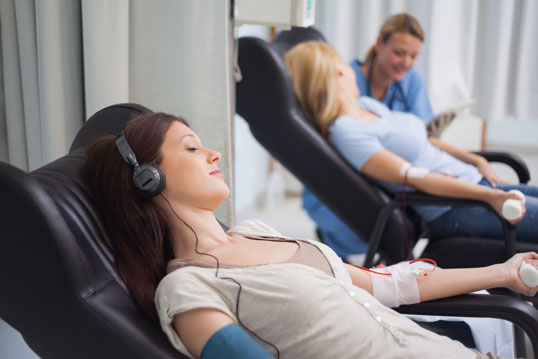 As the devastation caused by Hurricane Harvey continues in Houston, Texas, people across the country are looking for ways they can help. While the Stanford Community may seem a world away from Houston right now, there is actually plenty you can do to directly help Harvey victims, including a service very close to our hearts…donating blood.
Because of the hurricane (now declared a tropical storm) and its subsequent flooding, Houston is in great need of blood products. Many area blood centers are closed because of the flooding, and the dangerous conditions have forced blood drives to be cancelled for multiple days. Blood collection agencies throughout the country are making every effort possible to ensure there is enough blood supply to meet patient needs in Houston.
At Stanford Blood Center, we have been contributing to the relief effort by supplying blood products to the Houston area. However, we must continue to meet the needs of our local patients as well. In order to continue serving both communities, we ask that you please consider making an appointment to donate blood. Both the Houston and Stanford communities will be grateful for your generous gift.
Can't donate blood at this time? There are tons of other ways you can help! Consider donating money to local charities that are dedicated to providing relief in the aftermath of Hurricane Harvey. For instance, The Texas Diaper Bank is creating relief kits for families with infants, young children, children with disabilities, or even vulnerable senior citizens; Coalition for the Homeless is coordinating shelters across Houston; the SPCA of Texas is taking in hundreds of displaced animals; and Global Giving is attempting to raise $2 million for local relief and recovery efforts.
Anything you can give is greatly appreciated. If you do decide to give blood, you can make an appointment by visiting sbcdonor.org or by calling 650-723-7831.