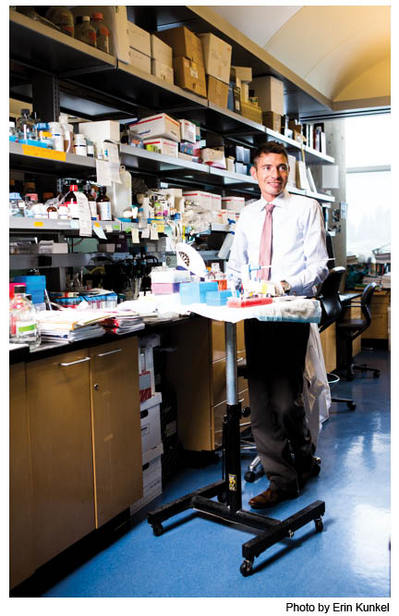 By Krista Conger, Science Writer for the department of Communications & Public Affairs at the Stanford School of Medicine
Not many second-graders manage to clear the school with a single show-and-tell project. But 8-year-old Holbrook Kohrt had a knockout demonstration. Literally.
Kohrt, a hemophiliac, was showing his class how he had learned to give himself lifesaving injections of a blood-clotting factor that his body was unable to make naturally. Engrossed in the performance of what was for him a routine occurrence, he was startled by the reaction of others in the room.
"Halfway through, my teacher passed out, as did many of the other students," he says. Because his rural Pennsylvania school was both remote and minimally staffed, the entire school was dismissed for the afternoon.
Kohrt, now an assistant professor of medicine at Stanford with an MD and a PhD to his name, is keenly aware of the importance of healthy blood – mostly because he doesn't have any. He tells the show-and-tell story in a wry tone, acknowledging the inherent comedy in the scene. But it's a rare light-hearted moment in a childhood that was, by any measure, harrowing. As a child in the early '80s, he, like other hemophiliacs, was forced to rely on transfusions from apparently healthy donors to prevent bleeding to death from even minor injuries. But these treatments carried a significant risk of lethal infection.
"From when I was about 10 until I was about 15 or 16, I was very aware that my risk of contracting HIV and other pathogens increased with each transfusion," recalls Kohrt. "I was also very aware, though, that without the transfusion, I would die. I watched some of my best friends become infected in this way, and saw them go through the process of dying from AIDS and the stigma the disease carried at that time. The whole experience was very shaping."
All told, about 80 percent of people with severe hemophilia during the early 1980s were infected with HIV, according to the National Hemophilia Foundation. Many of these people died as a result. In 1998, the federal government set up a system of restitution through the Ricky Ray Hemophilia Relief Fund Act for those affected by the slow or inadequate screening of the nation's blood supply.
Kohrt's story is a scrapbook of how treatments for a blood disease have gone from being nearly universally fatal to treatable with routine, safe injections of a recombinant form of the clotting factor. Recent advances in gene therapy, including an ongoing clinical trial at Stanford and elsewhere, have researchers cautiously optimistic that it may one day be possible to provide a permanent cure for patients like Kohrt.
Continue to the full article by clicking here.