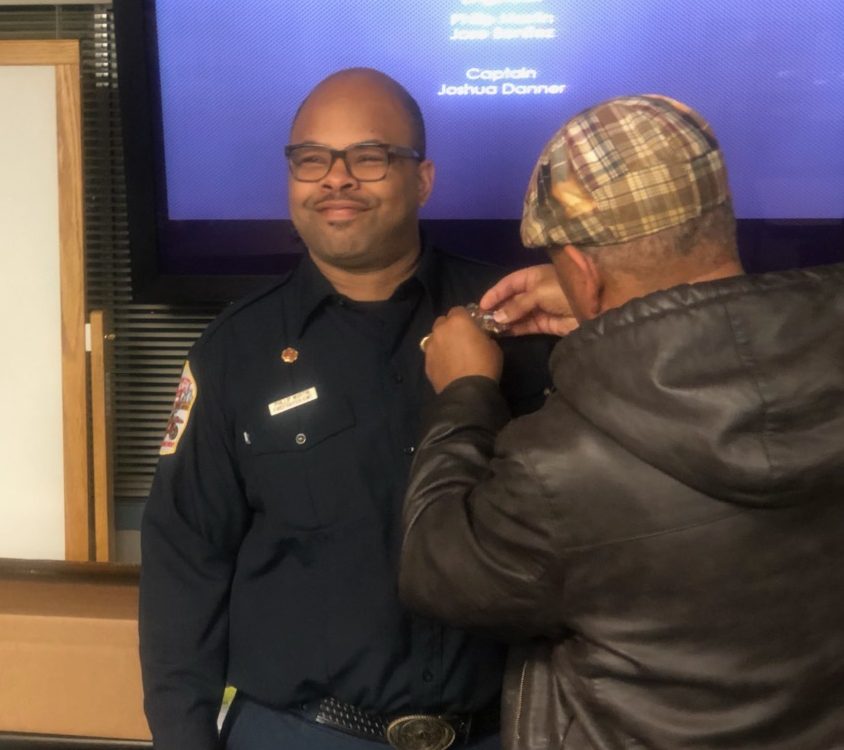 By Krista Thomas, Communications Strategist, and Phillip Martin, SBC Account Manager
The below article was originally published in September 2020, when Phillip Martin, SBC Account Manager, was an active volunteer firefighter. We are republishing this article in early 2023 to celebrate Phillip's retirement from the force last year after 15 years of service to the Suisun City Fire Department, where he was a proud engineer and a certified EMT. Phillip was also a designated rescue swimmer as part of the department's water rescue team and, in 2008, was honored by both city and state for his role in helping to save the life of an eight-year-old girl who had fallen into a pool and become unconscious. Phillip has helped so many individuals during his time at both SBC and on the fire department, and we are incredibly proud of his passion for saving lives in multiple facets of his life! Congratulations, Phillip, on your retirement, and thank you for your service. 
---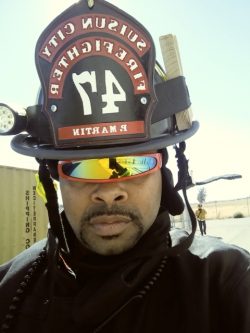 In the wake of an awful fire season in California — one that is affecting our donors and team members alike — we want to extend our sincere gratitude to those firefighters who give their time to keeping our community as safe as possible. One such firefighter we felt it particularly fitting to spotlight is SBC's very own Phillip Martin, Account Manager. Phillip not only saves lives by helping to organize blood drives that bring in an incredible amount of blood products for patients in need, but also dedicates his free time to saving lives through his volunteer work with the City of Suisun Fire Department (Station 47 in Solano County)!
To honor our colleague and friend, we sat down for a Q&A with Phillip to talk about all he does for the community and what it is that drives him to go above and beyond in the service of others. Thank you to Phillip and all our other firefighter and first responder heroes!
What first brought you to firefighting?
I started as a firefighter back in Alexandria, Louisiana in 2005 when a friend of mine was being recruited by the local fire department and I was looking for a cool job. My friend ended up pursuing something else, but I took the civil service exam they require and tested high enough that I got on the force, then stayed with it when I moved back to California in 2008. I've been a firefighter around the Suisun/Fairfield/Solano county area ever since!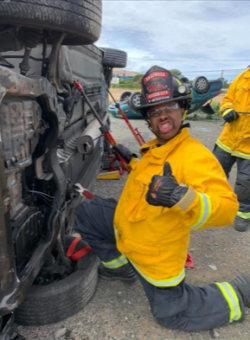 What role do you play in the fire department and what is a typical day like?
I currently serve as an engineer, so I drive the fire engines (or "rigs," as we call them). I typically work about six or seven 12-hour shifts a month and spend a lot of time making sure all the equipment on the rigs is safe and up-to-date, taking and leading regular trainings, doing vehicle maintenance and, of course, running calls. While I do drive the rig, I'm also an EMT, so I respond to all medical emergencies, ranging from people who are not responsive but breathing to people experiencing drug overdoses, and even people who just don't feel good. There are even some guys on my team who have delivered babies! I also respond to vehicle accidents and fires, including large wildland fires and structure fires.
What do you love about your job, and what has kept you going all these years?
I'm from Suisun and grew up in the Fairfield area, I have immediate family living there, my best friend's mother and father live down the street from the station. I've even had the opportunity to respond to calls from family members — once when a cousin broke his ankle on Thanksgiving and another time when a different cousin's boat caught on fire! Being able to provide that extra care is really important to me. These aren't just anyone's people, these are my people, my community.
Have the major fires burning in the Bay Area right now impacted work significantly?
Yes, we all play a role in helping protect our cities. We have a few strike teams out right now to deal with these large "campaign fires" as we call them across the state. Two weeks ago, the LNU Lightning Complex fires were pushing up toward Vacaville, so I filled in at a station in Fairfield to give them more coverage. Normally they have about seven engines plus some regular trucks and a ton of personnel to help respond to calls throughout the city, but with so much going to fight the large fires, we were left with only two engines and significantly less personnel to cover the same area, plus the community members were dealing with significantly more stress than usual with the evacuations taking place.
Responding to intense emergencies seems like it could be very stressful. How have you managed to keep up your happy, positive energy all this time?
It can be really stressful, especially early on. There are times in the past when I've had to utilize mental health resources for first responders because you see things like kids in car accidents, for example, and it can really stick with you. Ultimately, though, I try to remind myself of two things I was told early on: "It's not your emergency, and always do your best." You have to find a way to divorce yourself from the outcome and know that you can't save everyone 100% of the time, and it's not your fault; all you can do is your best. And it's worth it for the opportunity to help the community.
How does your work with firefighting tie into what you do at SBC?
Both blood banking and firefighting found me around the same time. I started working at a blood center as a phlebotomist in 2003 after I came out of the Air Force and was looking for a job. At the time, I had no idea what to do, so I was just saying yes to opportunities, which is how I got into firefighting, too. Ultimately, though, I think I am attracted to both because there is a really strong emphasis on working as a team to help others. Service to the community has always been important to me — being "loyal to the soil" and keeping my feet planted where my roots are. Now as I raise my children, it's important for me to show them my work and to help them learn the value of giving back, too.
---