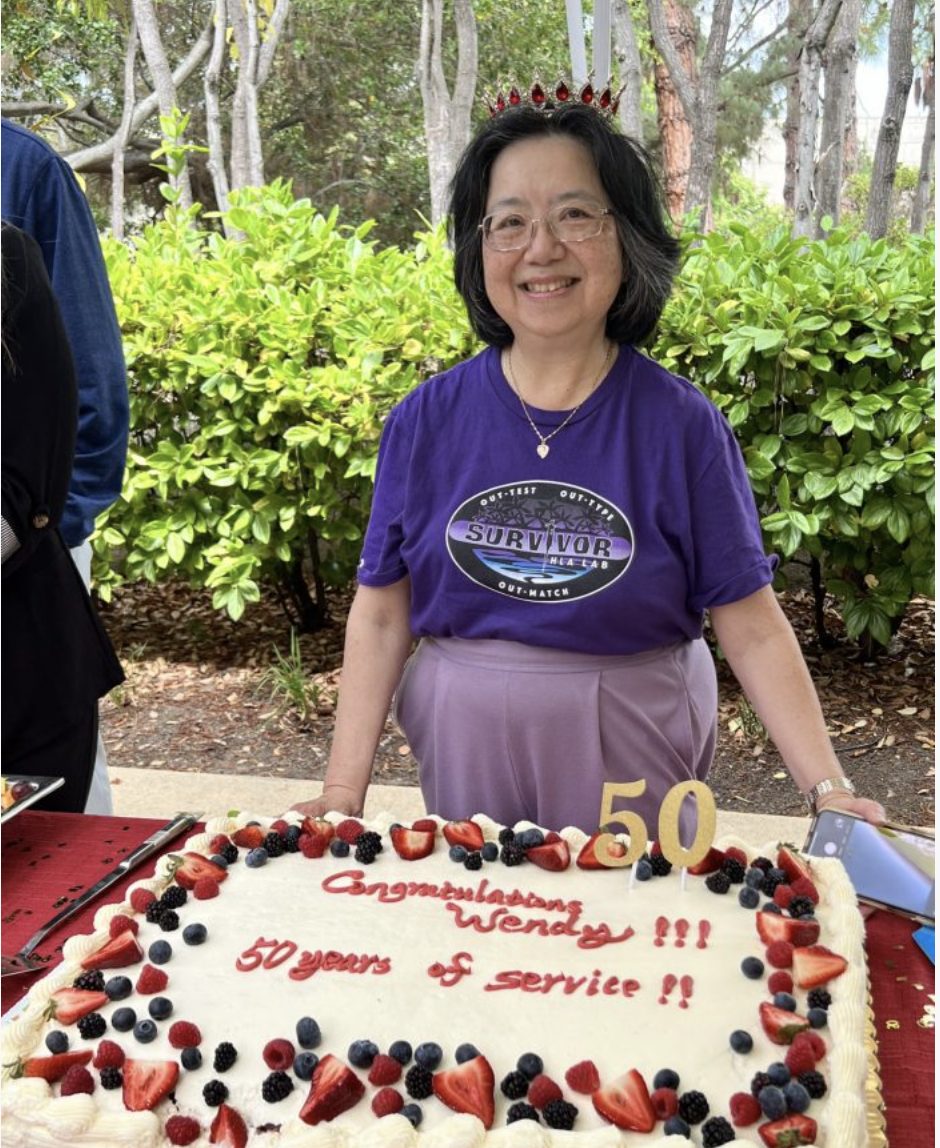 By Samm Baker, Communications Strategist
Throughout her remarkable 50-year journey with Stanford, Wendy Leong has exemplified unwavering dedication as an integral part of the Histocompatibility Laboratory. During her tenure, she has been a firsthand witness (and integral part of) to the laboratory's evolution, from its early days as the Tissue Typing Laboratory to its current form. Her extensive and diverse background in this field has positioned her at the forefront of advancements and enhancements in organ and bone marrow transplantation.
Wendy's interest in transplantation medicine began during her undergraduate years at UCLA. However, it was in 1972 that she decided to further her education by enrolling in the medical technology program at the Stanford Medical Center (previously referred to as Stanford Hospital and Clinics), setting the stage for her remarkable journey in the field of transplantation medicine.
Before completing her medical technology school program, Wendy had the opportunity to engage in independent research. During this time, she sought out the esteemed Dr. Rose Payne, widely acknowledged as the "Mother of HLA," and worked in her laboratory for two weeks. Following the conclusion of this valuable experience and her graduation from Stanford's Medical Technology School, Wendy was fortunate to secure a position in Stanford's newly formed clinical Tissue Typing Laboratory, where she continued her work under the guidance of Dr. Payne.
"Our function in the laboratory was to match recipients with appropriate donors and also to evaluate their immune systems for compatibility," she said. "If you transplanted a donor's organ into a recipient, would that cause rejection? And if the histocompatibility type was incompatible then, yes, it could be catastrophic."
Then, over time, the laboratory began to evolve. Their scope went beyond identifying compatible recipients and donors.
"We evolved to not only just doing the HLA types of recipients and donors, but we also evaluating the recipients for production of serum factors that would be harmful to transplanting a donor organ or bone marrow into that patient," she said.
By considering these serum factors, the laboratory aimed to enhance organ transplantation procedures' overall success and safety. The incorporation of this evaluation has played a pivotal role in improving the outcomes of organ transplants, marking a significant milestone in the laboratory's progression.
Wendy's involvement in laboratory operations has been extensive, encompassing virtually every aspect of its functioning over the years. As a result, she is accustomed to fulfilling various roles and responsibilities, showcasing her versatility within the workplace. Some of her current duties include but are not limited to performing clinical testing, meticulously analyzing test results, actively participating in the development and evaluation of Standard Operating Procedures (SOPs), reviewing and approving clinical reports, as well as diligently assessing Quality Control/Quality Assurance (QC/QA) documentation. In addition, Wendy has played a vital role in the "on-call" service for numerous years. This service ensures that the Multi-Organ Transplant Program receives round-the-clock support and assistance.
Reflecting on her years of service, Wendy expressed, "Significant advancements have been made in the field—more and more people are becoming aware of the impact." Wendy specifically highlighted the impact of newer technologies on data management, acknowledging that they have greatly improved the efficiency of storing and accessing data.
She further emphasized the importance of education, both for the public and the medical technology field, highlighting the efforts of several members in their laboratory. Finally, Wendy noted the need for continued support, stating, "We need dedicated medical technologists in our lab to carry on the torch with this very important work."
For Wendy, working in the HLA laboratory is an immensely rewarding experience due to its pivotal role in providing individuals with a second chance at life. Witnessing the tangible transformations through before-and-after pictures and engaging in conversations with transplant recipients allows Wendy to see the direct benefits of these lifesaving procedures. The gratification she derives from seeing how the products and tests developed in the HLA lab have positively impacted patients is immeasurable.
During her 50-year tenure, Wendy has had the privilege of experiencing numerous memorable moments. One of the highlights was meeting world-renowned HLA experts and researchers, including several Nobel Prize winners. Interacting with these accomplished individuals enriched her knowledge and provided invaluable insights. Wendy's journey also led her to encounter fascinating people from various walks of life, further enhancing her experiences. Additionally, she had the extraordinary opportunity to visit HLA laboratories around the world, such as those in China, Athens (Greece) and Dresden (Germany). One particularly remarkable memory was staying in a villa in Beijing! Furthermore, Wendy cherishes the opportunity to connect with and learn from other transplant recipients, contributing to her work's rewarding nature. Ultimately, the combination of the incredible individuals she has met and the fulfilling nature of the work has made Wendy's journey immensely rewarding.
Wendy has been an invaluable member of the HLA laboratory, dedicated to witnessing its evolution and contributing to advancements in organ and bone marrow transplantation throughout her remarkable journey. From her early days as a medical technology student to her encounters with world-famous researchers and Nobel Prize winners, Wendy's journey has been filled with memorable moments and unique opportunities. Her unwavering commitment to her work, coupled with her passion for making a positive impact on the lives of transplant recipients, has made her contributions invaluable. Wendy's dedication, expertise and profound experiences exemplify the significance and fulfillment that can be found in a lifelong commitment to the HLA field.
---