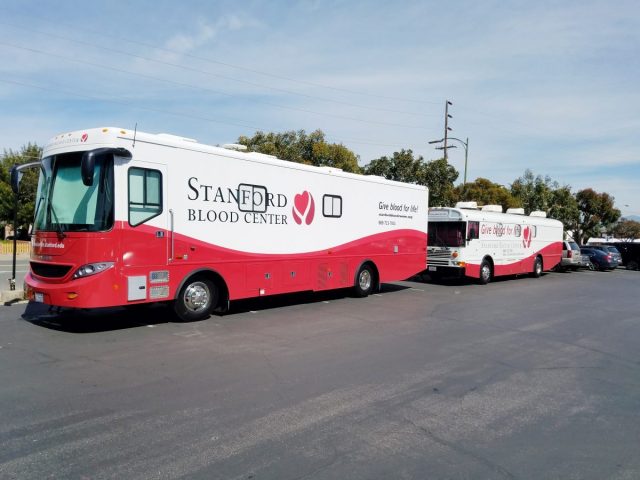 When Rachel Ren* was a junior, she was thrilled at the opportunity to give blood at her high school's SBC mobile drive. Rachel had never had an experience with blood donation before — never had a family member need blood that she could remember, never needed blood herself — but she felt called to help.
On the day of the mobile, Rachel registered herself to donate, only to find out that she was deferred. Rachel and her family had just moved to the Cupertino area from China that year, and due to FDA regulations, she would be unable to donate for three years. Disappointed but determined to help patients in any way she could, she promptly set a three-year reminder on her phone to go off the very day she would be eligible to donate, and she inquired about other ways to get involved. The SBC team member facilitating the drive told her about a volunteering program, and she set about applying, interviewing and ultimately being accepted as an SBC canteen volunteer.
For the next two years, Rachel would work on one to two mobile drives every month. As a canteen volunteer, she would socialize with donors after their donation, check to make sure they didn't have any reactions and make sure there were always enough cookies to go around. "I heard a lot of great stories from the donors," Rachel said. "Some were donating for the first time, some for their hundredth. But I really enjoyed talking to them because they all cared a lot about their community."
Near the end of her second year with SBC, however, Rachel had to stop volunteering abruptly due to serious illness. After being referred to Stanford Health Care just before she was supposed to graduate high school, Rachel was diagnosed with lupus, an autoimmune disease, and was immediately hospitalized. During her month-long stay in the hospital — a stay that required her to miss graduation — Rachel received two blood transfusions.
While most people would be upset to be in a situation like hers, Rachel felt privileged. "I never did volunteer work because I was expecting a blood transfusion, but when I got the transfusion I was really happy because it's not something everyone gets to experience, and it made me realize how meaningful what I had been participating in those two years really was." She said that in particular the memory of all of her wonderful conversations with donors in the canteen and the knowledge of how much they really cared about patients and their wellbeing gave her a lot of peace during a trying time.
After her stay in the hospital, Rachel was promptly put on stabilizing medications and, though she still needed to check in at the hospital frequently, she was doing much better. That fall, Rachel went on to start her freshman year at UC Berkeley as a computer science major. Though her lupus was being well managed, it was a jarring experience when three years from the date of her move to the U.S., an alarm went off on her phone, notifying her that her travel deferral had ended and reminding her to give blood.
"It brought up a lot of emotions," she recalled. Rachel could no longer donate blood due to the medications she was using to manage her lupus, but as she looked back on where she was the day she set that alarm, and all the things she had experienced and overcome since, the overwhelming feeling was still one of extreme gratitude.
*Some names and identifying details have been changed to protect individuals' privacy.