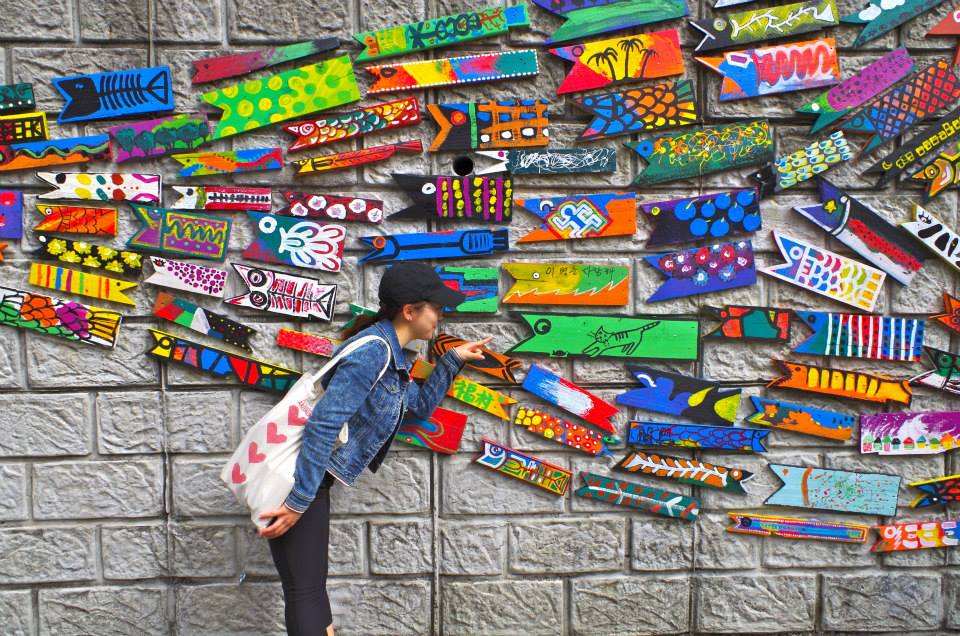 If you've ever interacted with our website or promotional items in any way, you've seen the handiwork of Jess Paik, SBC's brilliant Graphic Designer. In her role on the Marketing & Communications team, Jess develops signage, ads, web banners and all your favorite t-shirt designs (yes, including GLT!), to name a few. What few people know about Jess, however, is how her passion for design as a means of supporting others has led her all over the world.
Jess completed her undergraduate degree in design from Rhode Island School of Design (or "RISD") and, shortly after graduation, was accepted into the Fulbright Scholar program to research "diversification between western and eastern aesthetics."* Her research sent her to South Korea, where she worked in a museum and alongside a South Korean artist.
Early on in her program, one of her colleagues mentioned an opportunity to give back to the community, and Jess was immediately on board — though it didn't end up quite like she had pictured. Every Wednesday night, she was told, a group of scholars went to a local church and offered English lessons to North Korean refugees. Jess ended up helping out with the children's section — a difficult job not only because the children in any given class ranged from kindergarten all the way to middle school, but also because the children were often "closed off."
"We started off by teaching them simple words, and it went okay, but it was challenging to make connections with the students because they were going through so much. They weren't just learning a new language from complete strangers; they were having to adjust to a whole new culture!" she said.
One of the scholars Jess worked with was studying precisely how people from North Korea adjusted to life in South Korea, and she attested that much research had shown that, even when provided with financial support and a place to live, many North Koreans struggled to adapt to a world that was so different, so fast-paced, largely because they missed the sense of community. Refugees by definition have to leave their old homes and communities behind them, and often this involves leaving family and other loved ones behind as well. In talking with her fellow scholar, Jess realized that to make their time with the children truly productive, they would need to devise a way to make them feel comfortable and truly accepted.
"Pretty soon after we started, the teachers and I decided to start using art projects as part of our teaching to help the kids open up more," Jess said. "So, instead of giving them a list of words, we gave them words and asked them to draw. They drew animals, flowers, all sorts of things."
For Jess, it was an interesting experience because it became less about learning language and more about communicating. "Through art, the children became a lot less fearful and were able to express what they were going through much better. It was really encouraging to see that my background could do more than just research or create my own art, but it could really help open someone up and help us all learn about each other," she said.
What she had learned from the experience was so impactful that, following her Fulbright scholarship, she attended Harvard University and achieved a master's degree in Arts in Education. Since graduating, she has gone on to become a professor herself at Azusa Pacifica University, where she leads a program about design and user experience. Jess loves teaching both undergraduates and masters students, guiding them on their professional journey, learning from them and offering them encouragement to unlock their potential and passions.
"I believe design is a great field for students if they want to change the world, change systems, impact communities. Ultimately, designers and artist are valuable because they can contribute out-of-the-box ideas, which is needed any time you are trying to reinvent or improve," she said.
At the same time that Jess teaches, she also leads her own non-profit, Once Upon a Time, which "creates and publishes illustrative books to represent diverse people and cultures, while nourishing a creative relationship between research and storytelling." And to top it all off, she has led design for SBC now for roughly a year and a half.
Though her background is varied, she uses her experiences to elevate her understanding of each new project. "If you look at SBC, our work is really centered around patients and donors, which ties very well into the human-centered design that I teach at university. Often SBC serves as a great example when I'm talking with my students about how design can be leveraged to enhance a person's experience. A lot of healthcare industries have so much potential to improve and better react to what patients need and to recognize their experiences through design," she said. She has even organized projects in her current program around using design as a tool for keeping empathy and understanding on the forefront for the school medical team, and for showing appreciation for the nurses' and doctors' experiences.
"Ultimately, I love all of my opportunities to use design because, when you use creative thinking to challenge existing systems and to problem-solve, you have a whole new world of possibilities." Jess is thrilled that she has found a place at SBC where she can use her love of design while fulfilling her drive to compassionately support communities for the greater good. And, as for the rest of Team SBC, we are grateful to have such a kind and talented individual as part of our family and look forward to all that is still to come!
*For all you art scholars, her work was specifically on how the western European Renaissance period mapped onto certain painting techniques associated with the Korean dynasty period. Supposedly, these two worlds never met each other, but they shared many stylistic and technical similarities.