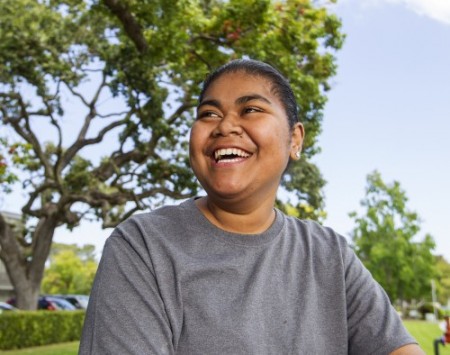 Timena, whose name means 'beautiful,' in her native language, Samoan, is embarking on a mission to match her name. She wants to help ensure that the next time someone with her unusual blood type needs a transfusion, a donor will be ready.
As a child, Timena was a sporty and energetic soccer devotee. But by age 12, persistent shortness of breath forced her to give up the sport she loves. By age 17, her concerned family took her to a doctor, as she was losing a lot of weight, and frequently seemed feverish. The doctor delivered surprising news: Timena likely had rheumatic fever, an illness that commonly afflicts people from the islands, when she was younger. In Timena's case, the infection was mild enough to slip under the radar, but it probably damaged her heart. Her doctors detected a heart murmur, and further tests revealed she was in grave danger: one of her heart valves was leaking.
She underwent two heart valve surgeries at Lucile Packard Children's Hospital, where she needed blood transfusions to get her through the surgery. Tests there showed that her blood type is Jk3-negative — a type that is extremely rare on the United States mainland, and thus very hard to find. Thankfully, Stanford Blood Center was able to find the units she needed in Hawaii.
Now, at age 19, Timena is truly on a path to recovery, and she expresses deep gratitude for everyone who has helped her get to this point. "I'm really grateful for all the good things my doctors and nurses have done, finding my rare blood type, and caring for me so kindly through my surgery and hospital stays." A Mormon, she also credits her faith and thanks her church and its members, who never missed a day visiting her in the hospital. "It was tough but I'm really blessed," she said. "I'm thankful and looking forward to my life ahead of me."
An island girl at heart, now she hopes to move closer to home — American Samoa in the South Pacific Ocean. She is also anxious to get back to school, because her illness forced her to leave high school early and complete her degree online. She plans to apply to college this fall, perhaps to study criminal justice or to become a teacher — a choice that is before her in part because someone donated blood that she needed. Now, Timena and Stanford Blood Center want to make sure it will be easier for the next person in her shoes, by reaching out to people in the Bay Area Polynesian community to encourage them to donate blood.
What Does it Mean to Have Jk3-Negative Blood?
Red blood cells have markers called antigens, and one antigen, called Jk, is found on a protein responsible for transporting urea in the red blood cells and the kidneys. Nearly all people have some Jk antigens on their cells, but a few rare individuals do not — they have what is known as Jk3-negative blood, one of the world's rarest types. Timena's blood type is this JK3-negative type, and when she needed a transfusion, Stanford Blood Center (SBC) did not have her blood type on its shelves. Neighboring blood centers couldn't help, either. Ultimately, SBC had to reach all the way to Hawaii to find the elusive elixir.
Jk3-negative blood is still rare among American Samoans, Timena's ethnic community, and among Polynesians in general — but far less rare than among other population groups in the US. Even in Hawaii, only 1 in 10,000 Hawaiians have JK3-negative blood – .01 percent of the population. However, within the Polynesian community, close to 1 in 100 (0.9%) will have this Jk3-negative blood type. Therefore, it would be much easier to find this blood type within the Polynesian population, if only there were more donors.
Maybe You Have this Rare Blood Type, Too
If you have this rare blood type, SBC especially needs you! Please consider donating, and if it turns out that you have this type, SBC will place you on a special list of donors to call the next time someone like Timena needs help.
An opportunity to donate is just around the corner: the San Francisco Bay Area Aloha Festival August 2-3. The festival celebrates the cultures of the Polynesian islands (including Hawaii, Samoa, Tonga, Tahiti, Cook Islands, New Zealand), and the Melanesian (Fiji) and Micronesian (Guam) islands in the Pacific Ocean. Timena hopes her story will inspire many to donate blood at the festival. She said, "I hope that if more people are aware of the need, they will become blood donors, and maybe some of them will be Jk3-negative."
For more information or to schedule an appointment online, please call (888) 723-7831 or visit stanfordbloodcenter.org.