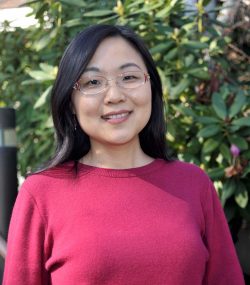 Dr. Bing (Melody) Zhang is a Clinical Assistant Professor for the Department of Pathology at Stanford University Medical School, and serves as Assistant Medical Director for the Histocompatibility, Immunogenetics & Disease Profiling Laboratory. She is also an attending physician practicing at the Stanford Molecular Pathology service.
Dr. Zhang received her medical degree and a master's degree in Medical Genetics from Shandong University School of Medicine. She pursued postdoctoral research training in the department of Pathology at Stanford University after immigrating to the US. She then went on to complete her residency training in Clinical Pathology, as well as fellowships in Molecular Genetic Pathology and Clinical Genomics here at Stanford. She is Board Certified in Clinical Pathology and Molecular Genetic Pathology.
During the time of her research and clinical training, she won multiple national and departmental awards, including Mary Rodes Gibson Memorial Award in Hemostasis & Thrombosis (American Society of Hematology), AMP Young Investigator Award (Association for Molecular Pathology), Charles B. Carrington Memorial Award (Stanford Pathology Research Retreat), and Department of Pathology Trainee Mentored Award in Precision Health (Stanford), etc. She served as a junior member on the College of American Pathologists Biochemical and Molecular Genetics Committee from 2016 to 2017. During this time, she led the development of NGS-based inherited cancer panel proficiency testing and participated in reviewing of the NGS checklist and NGS proficiency surveys.
Dr. Zhang's primary research interest is development and application of molecular assays for the diagnosis and monitoring of patients in transplant medicine. Clinically, she is interested in contributing to further integration of HLA laboratory with other operations in the SBC as well as relevant services in the department of Pathology.