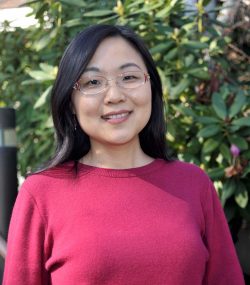 Dr. Bing Melody Zhang is a Clinical Assistant Professor in the Department of Pathology at Stanford University School of Medicine, and serves as Co-Director for the Histocompatibility & Immunogenetics Laboratory. She is also an attending pathologist practicing at the Stanford Molecular Pathology service.
Dr. Zhang received her medical degree and a master's degree in Medical Genetics from Shandong University School of Medicine. She pursued postdoctoral research training in the department of Pathology at Stanford University. She then went on to complete her residency training in Clinical Pathology, as well as subspecialty training in Molecular Genetic Pathology, Clinical Genomics, and HLA here at Stanford. She is Board Certified in Clinical Pathology and Molecular Genetic Pathology.
During the time of her research and clinical training, she won multiple national and departmental awards, including Mary Rodes Gibson Memorial Award in Hemostasis & Thrombosis (American Society of Hematology), AMP Young Investigator Award (Association for Molecular Pathology), Charles B. Carrington Memorial Award (Stanford Pathology Research Retreat), and Department of Pathology Trainee Mentored Award in Precision Health (Stanford), etc. She currently serves as a member on the Biochemical and Molecular Genetics Committee of College of American Pathologists, the CPT code subcommittee of American Society for Histocompatibility & Immunogenetics, as well as the Platelet Disorders Variant Curation Expert Panel of ClinGen.
Dr. Zhang's primary research interest is development and application of molecular assays for the diagnosis and monitoring of patients receiving hematopoietic stem cell or solid organ transplantation. Clinically, she is interested in quality improvement activities and contributing to further integration of HLA laboratory with other operations in the SBC as well as relevant services in the department of Pathology.