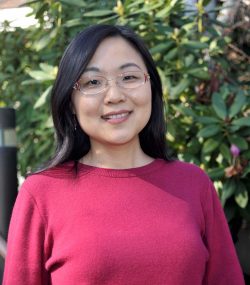 Dr. Bing Melody Zhang is a Clinical Associate Professor in the Department of Pathology at Stanford University School of Medicine, and serves as Co-Director for the Histocompatibility & Immunogenetics Laboratory. She is also an attending pathologist practicing at the Stanford Molecular Pathology service.
Dr. Zhang completed her Clinical Pathology residency training as well as subspecialty trainings in Molecular Genetic Pathology, Clinical Genomics, and HLA at Stanford. Dr. Zhang is board-certified by American Board of Pathology in Clinical Pathology and Molecular Genetic Pathology. She is also a certified and fully credentialed HLA laboratory director by American Society for Histocompatibility & Immunogenetics (ASHI) for the following areas–Solid Organ Transplantation: Deceased Donor; Solid Organ Transplantation: Live Donor; HSC/BM Transplantation: Related Donor; HSC/BM Transplantation: Unrelated Donor; Histocompatibility Testing for Other Clinical Purposes; Transfusion Support.
Dr. Zhang currently serves as the Co-Chair of ASHI (American Society for Histocompatibility and Immunogenetics) Science and Technology Initiatives Committee, and a member on the Cellular Therapy and Basic Science subcommittees. She also serves as a member on the CAP/ACMG Biochemical and Molecular Genetics Committee and ClinGen–Platelet Disorders Variant Curation Expert Panel.
Dr. Zhang's primary research interests include new assay development and evaluation for the diagnosis and monitoring of patients receiving hematopoietic stem cell transplantation or solid organ transplantation, NGS-based T/B cell receptor clonality/MRD/repertoire testing, and HLA-related disease association/drug hypersensitivity testing.