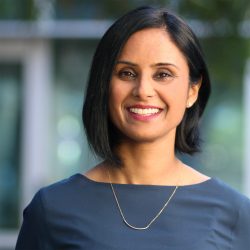 Harpreet Sandhu is the Chief Executive Officer for Stanford Blood Center and has been with SBC since 2007. Harpreet is a board-certified clinical laboratory scientist, with specialties in Transfusion and Transplantation medicine. She has more than 20 years of professional experience, with more than 15 years spent in progressive managerial and leadership roles. Originally from Vancouver, Harpreet completed her undergraduate studies and training in Canada. Since then, she has earned her Master of Science, Health Sciences (MSHS) and Master of Business Administration (MBA).
Harpreet currently serves as a board member for the following organizations: America's Blood Centers; Blood Centers of America (Chair); California Blood Bank Society; National Blood Collaborative, National Blood Testing Cooperative. She has previously served as a board member for National Marrow Donor Program.
Harpreet enjoys traveling and the outdoors, particularly hiking in the beautiful Bay Area and Pacific Northwest. She is also an avid hockey fan and cheers on the Vancouver Canucks!