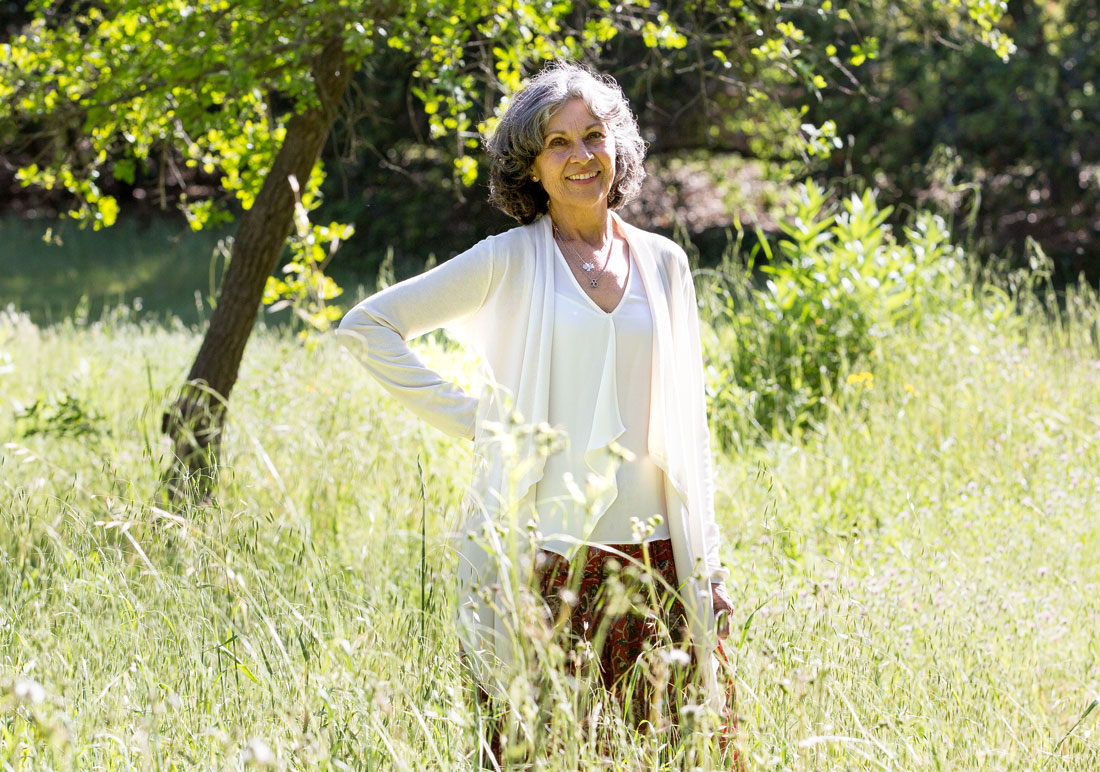 Magdalena Cabrera knows what it's like to be on both sides of the equation. She began donating blood with Stanford Blood Center in 1980. She did so knowing the importance of donating blood products when suddenly the tables turned in May 2013 when she was diagnosed with a very rare form of cancer called Mucosal Melanoma. One in 25 million people have it.
In February 2013, she noticed she was feeling very congested and had trouble sleeping because of it. She tried various over the counter medications and nothing seemed to ease the symptoms. After dealing with this for almost three months, she noticed one evening that the right side of her nose and the area under her right eye were swollen. She hoped it was just an allergy. When she pressed against her right nostril it felt spongy. It was only the right side of her face that seemed problematic, too. After consistently downplaying these symptoms for three months, a friend finally convinced her to see a doctor. She made an appointment with an ENT doctor who recommended a CT scan the very next day for what appeared to be an inflamed polyp.
After reviewing the CT scan the doctor said that the mass seemed to be quite large and that he would need to do a biopsy immediately. On May 16th, the diagnosis was confirmed, and her fears realized. It was not an inflamed nasal polyp but mucosal melanoma. Melanoma, both cutaneous and mucosal, is known to be radiation resistant and chemotherapy resistant.  Surgery is the treatment of choice.  She opted to have surgery at Stanford, May 21st. They were hopeful that surgery had seemed to have done the trick even though the tumor board was split 50/50 on recommending more treatment. The final vote was cast by the Chair of Radiation Oncology for no further treatment at that time but that it was essential that she be followed closely and that she not miss a single check up.
Magdalena was feeling as though she had dodged a major bullet and continued to go for her ENT scopes every six weeks. Everything appeared to be healing nicely until five months later, the night before Thanksgiving. At her appointment that afternoon, her doctor saw something "suspicious" that would need to be biopsied. It took a week to get those results and the news was not good.  It was a recurrence.
On December 6th, 2013, she had her second surgery. This time, the tumor board was unanimous in its decision that she needed further treatment. This new treatment included 30 sessions of radiation to her head and neck along with concurrent low-dose chemotherapy, and then three rounds of bio-chemotherapy. At the end of the 30 sessions of radiation, there was no sign of disease upon visual examination. The bio-chemo, was administered as the "insurance policy against recurrence," which consisted of five drugs given in-hospital over the course of five days, some by IV drip and some by injection.  It was grueling to say the least. This is when her blood counts plummeted and she needed blood products similar to the ones she had so thoughtfully donated for so many years to counter the toxicity of the chemo drugs.  The oncologist noted that this specific treatment was one of the most toxic cancer protocols and that she had come out of it well, all things considered. The belief was that the radiation had knocked out the disease. Everyone was feeling quite celebratory when she was discharged from the hospital following that last stay.
Three and a half weeks later after discharge, Magdalena had her routine scope. The ENT surgeon once again saw a need to biopsy something that looked vaguely suspicious but he was hopeful that it was nothing. "I was trying to be optimistic, and always hopeful, that was my attitude." said Magdalena, "Without hope what else did I really have?" Another long week later, the news was not at all what they had hoped for.  The pathologists found atypical melanocytes, which, in and of themselves, are not yet malignant but can become so. Things were sufficiently vague enough that they needed more tissue to do further studies.
A third surgery took tissue from three areas and quickly revealed "rare" melanoma cells, or some mucosal melanoma cells present in the sinus cavity. The latest strategy of recommended treatment came in the form of four rounds of an immunotherapy drug called Ipilimumab, one every three weeks. Since then, she has had six PET scans and is regularly scoped every four weeks. She is happy to report that as of May 2016, there is no evidence of disease.
Magdalena counts the support from her family and friends as crucial to getting through this ordeal. Her family and friends have all been very concerned and supportive. "My two children, Alejandro and Cristina, were at my bedside all day, every day when I was in the hospital. My ex-husband even came to most of my appointments and was always there during the surgeries. Girlfriends took turns helping out, taking night or day shifts, in order to be on hand in case I had spiked a fever during the bio-chemo days," she said.
Believe it or not, Magdalena says she even felt the support of blood donors as she lay getting transfused. Never in her wildest dreams did she think she would need the same blood products she had so faithfully and selflessly donated. "I donated because it was the right thing to do, it is the gift of life, and so easy to do, " she said. "It can make the difference between life and death."
When asked how this experience has changed her, she notes how precious, short and fragile life is and how much more aware now she is that it can change on a dime. Magdalena wants everyone to remember life should be treasured and not wasted or squandered on regret, anger or blame. It's also about learning to let go of the little discomforts and the big disappointments. "For me, it's about making the most of each experience, having a positive impact on the world and trying to minimize the negative impact I have," she said. "I want to make life easier for others when I can by loving as purely and authentically as I possibly can in each moment, with everyone I meet, in every situation."
Magdalena wants blood donors to see her as someone who has come full circle. From faithful donor of 30-plus years, to grateful patient who's had a life-threatening illness and who was made so much better by receiving donated blood products at a really critical time. She encourages everyone to recruit family, friends and neighbors to donate blood as well. "Blood donation is such easy volunteerism and can potentially save lives," she said. "Blood products extend and enhance the lives of ill people, like me, giving us more time to be with family and loved ones, because at our core as human beings, that's what matters most."
Update: We are happy to report that after consulting with our Director of Medical Services, Magdalena has been cleared to donate blood again! Her first appointment back in the donor chair was this past October and she looks forward to picking up where she left off–full circle, indeed.