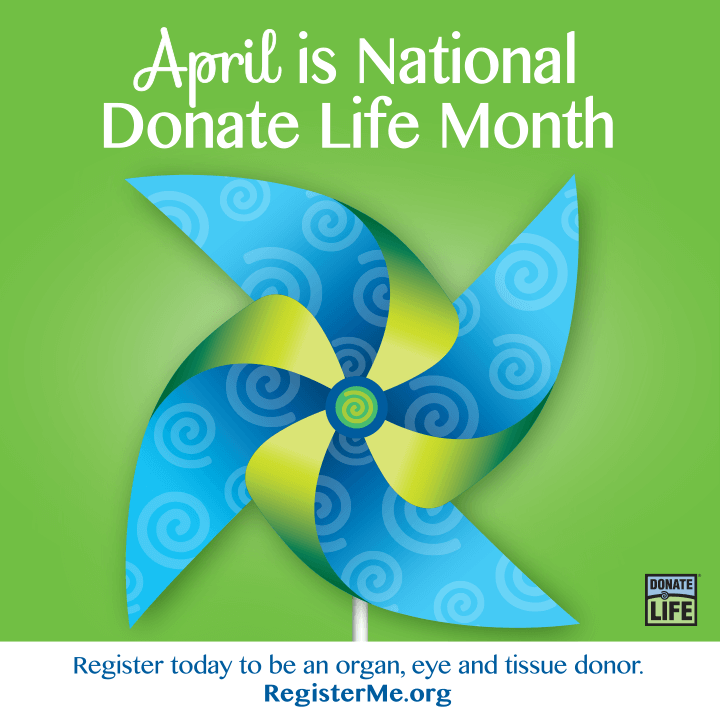 Every 10 minutes, a new patient is added to the national organ transplant waiting list. To raise awareness of this significant need, Donate Life America has designated April as National Donate Life Month. It's a time to recognize the life-saving potential of that little pink dot on your driver's license!
As of the publication of this article, over 118,000 people are waiting for an organ, with over 2,000 of those being kids. Signing up for organ, eye and tissue donation can mean saving the life of a patient with no other course for survival.
Stanford Blood Center's Role
Many of the blood donations collected at Stanford Blood Center are used for organ transplant surgeries. Read the story of Galen Dahl to meet just one of the patients SBC blood donations have supported through the organ transplant process.
SBC's HLA (Human Leukocyte Antigen) histocompatibility lab supports organ transplantations at Stanford Health Care by providing and developing tests to determine donor and recipient organ compatibility.
In 2016, SBC established the Kids to Camp campaign, which supports the Solid Organ Transplant Camp by Lucile Packard Children's Hospital Stanford.
What You Can Do
Check the Stats, Get the Facts
The United Network for Organ Sharing (UNOS), which manages the distribution of organ donations, offers details about both sides of the organ donation story – who needs help, and who can offer it. You may also learn about organ donation at the Donate Life website.
Celebrate on Friday, April 27
Donate Life California has a list of creative ways to participate, plus pretty graphics to share on social media in the organization's signature blue and green.
Spot the Dot
Don't have that little pink dot on your driver's license? You can still sign up to add yourself to the Registry.
Sources
https://organdonor.gov/index.html
https://bloodcenterblog.stanford.edu/lives-saved/young-heart-beats-the-odds-galen-dahls-story/
https://bloodcenterblog.stanford.edu/category/histocompatibility/
https://bloodcenterblog.stanford.edu/organ-donation/transplant-patients-experience-joy-and-healing-at-camp-meeker/
https://www.unos.org
https://www.donatelife.net/statistics/
http://donatelifecalifornia.org/donatelifemonth/
https://register.donatelifecalifornia.org/register/spreadtheword