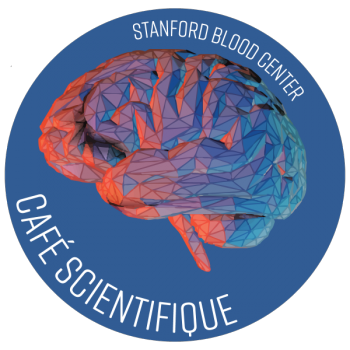 You may have noticed that Café Scientifique looks a little different. That's because Café Scientifique (also known as Café Sci) has gotten a brand overhaul! For those of you who haven't heard of it, Café Scientifique is an international network of informal groups that brings scientific debate into local communities. Stanford Blood Center joined the Café Scientifique community in Fall 2007 with the goal of fostering medical and scientific learning, and raising awareness within our community about the blood center by putting on science-based events that the public can attend.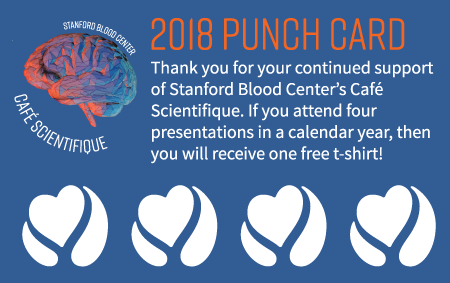 The brand overhaul includes a new logo, color palette, etc. Additionally, this year Café Sci will be adding a new component — a punch card loyalty incentive. If a Café Sci participant attends 4 presentations in a calendar year, then they will receive a free Café Sci T-shirt as a thank you for their loyalty to the Café Sci program!
We usually hold six presentation events in a calendar year. This year's schedule will be January, March, May, July, September, and November. In the past six months, we have tried out new formats (including a panel discussion), introduced a new raffle prize per event that features a Donor Loyalty Store Item, and included new gluten-free snacks (as requested by our donors).
Our next Café Sci event is "Why Did the Robot Cross the Road? A Discussion of Social Interaction with Autonomous Technologies of the Future" with David Sirkin, PhD, Research Scientist at the Center for Design Research, and a lecturer in the Department of Mechanical Engineering at Stanford University. Dr. Sirkin will explore how human interaction with technology informs the design of non-humanoid robots such as automatic doors and autonomous vehicles. The discussion will take place January 31 from 6:00 – 7:00 p.m. in the Breezeway at 3373 Hillview Avenue, Palo Alto. We hope you can join us!
…………..
The evolution of Café Sci is ongoing; if you have any ideas for improvements or future presentations, please send them to Victoria Somerville at vsomer@stanford.edu or 650-725-2540.