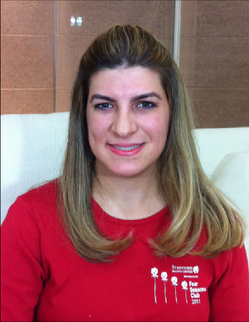 By John Williams, Marketing Manager, Stanford Blood Center
Lisa Sanfilippo has donated blood in nine separate locations in the past five years. Such is her passion for continuing to help save lives by finding a Stanford Blood Center (SBC) blood drive or Center location wherever she happens to be when eligible to donate.
Lisa donated her first unit at Saratoga High School in 2007 and was instantly hooked. She says, "I got my donor card in the mail and found out what my blood group is – it was cool." Coming from a medical family – her grandfather was a pediatrician, grandmother a nurse, and father an endodontist – Lisa is passionate about giving blood as a way of helping others. After her first donation in high school, she was determined to continue donating, which she did, first at our Mountain View Center, then at the following mobile blood drives throughout the South Bay:
Emanuel Lutheran Church – Saratoga
Courtside Club – Los Gatos
Coldwell banker – Los Gatos
Intero Real Estate – Los Gatos
Hewlett Packard – Cupertino
Prospect High School – Saratoga
Congregation Shir Hadash – Los Gatos
Lisa found these blood drive locations by searching on our website. As we conduct many blood drives from South San Francisco to Gilroy, and some in the East Bay, it was easy to find a convenient location when she needed it. Most community drives are open drives, meaning that the general public can make an appointment or simply drop-in. Lisa experienced a wide range of donation sites, including gyms and cafeterias. Blood drives are also held at schools, malls, churches, or other community spaces. She says that her favorite place is the bloodmobile because of the high tech interior, with the screens and machines.
Lisa is now a student in the University of San Francisco Nursing Program. She says that she's had the opportunity to discuss the nursing profession with SBC nurses: "They have all been so friendly and nice, and I've asked them how they got their start in nursing." Despite her busy schedule, Lisa intends to continue donating. She recently received her Four Seasons T-shirt and she pledges to wear it every time she donates, wherever that may be, which makes her a fine example of the spirit of giving.