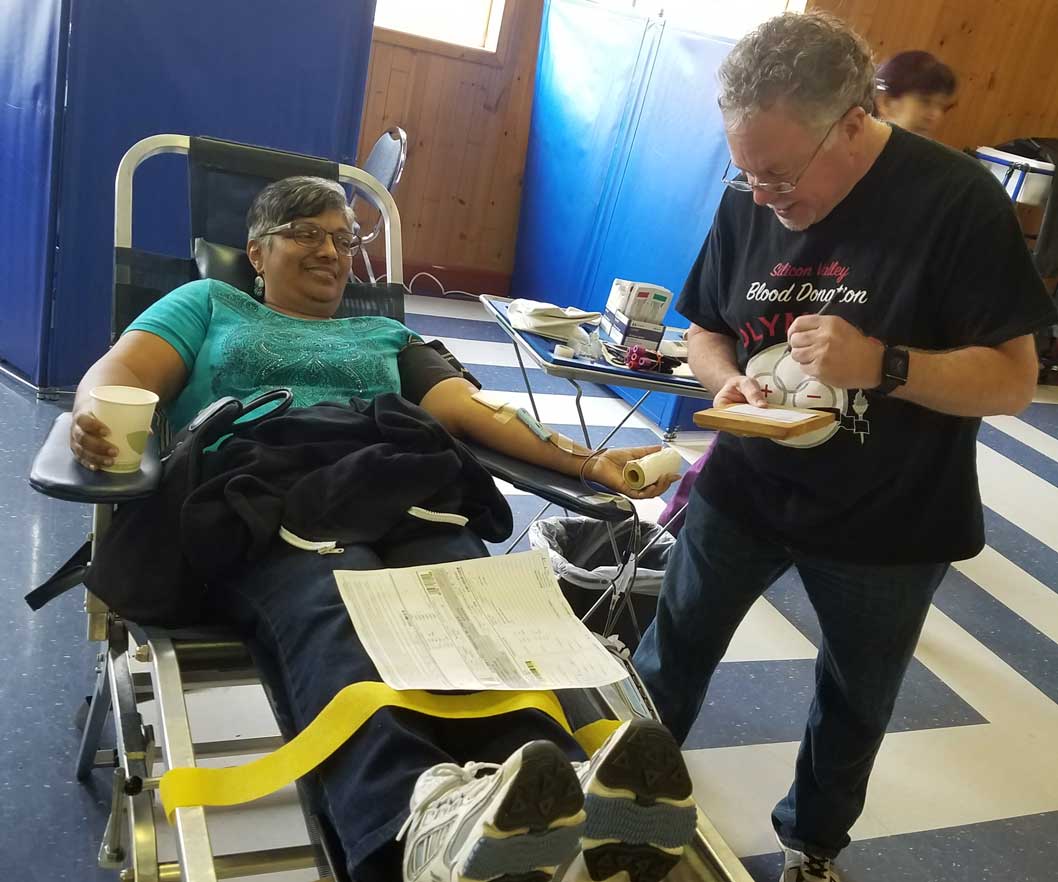 About ten years ago, frequent platelet donor Randy wouldn't even consider giving blood. He understood the importance of blood donation, but was not a donor himself because of an "irrational fear of the unknown – would it hurt, would [he] faint, [does] he have to see the blood?" But Randy decided he should at least try donating once before writing it off altogether; it was too important not to give it a try. After his first donation, Randy was relieved. He realized that being a blood donor wasn't scary or painful at all, and the impact on others was profound, so he continued to donate platelets regularly.
Randy channels his passion for donating blood into recruiting new blood donors for this ever-important need. He started with his sons – when they were 16- and 18- years old, Randy took them to their first donation. While donating, he had an idea to make the process a little more interesting by seeing who could donate the fastest… an idea which ultimately stuck.
The Blood Drive Olympics are born
As an active donor, Randy is familiar with the atmosphere at Stanford Blood Center, and also the challenge of recruiting new donors, who may have the same fears Randy once had. So six years ago, he decided to capitalize on the idea he had to make his sons' experience more exciting. He wanted to create a blood drive atmosphere that was a fun, competitive, and family-friendly environment that would encourage more people to donate. Something donors could look forward to twice a year – and so the Blood Drive Olympics was born.
How it Works
When a donor competes in the now biannual Blood Drive Olympics, they are essentially trying to do two things: beat their own previous donation time (since each donation is unique and dependent on each donor's health history and circumstances, it wouldn't be appropriate for donors to compete against each other), and estimate their actual donation time. On average, a person will donate a pint of blood in 5 to 10 minutes. Randy hands out Amazon gift cards to the "10 second club" donors, those who beat their last donation time by 10 seconds or more.
Some donors also act as coaches to motivate the competing donors. Coaches work with the competitors to encourage them through the donation and monitor their flow rate. You can increase your blood flow during donation by rolling and squeezing an object with your donation hand or moving your feet, and can slow down the flow by relaxing the body. Coaches offer the occasional speed up or slow down cue – using the terms "throttle up" and "throttle down" to encourage donors to push themselves, while still making sure their vitals are healthy, in order to meet their estimated time.
This month's event welcomed three donors into the 10-second club and crowned Patrick as the winner with the closest to his estimated donation time, with his guess being only 3 seconds off his actual time. If you are interested in getting involved in this fun and unique donation event, and in seeing how fast you can donate, visit sbcdonor.org and search "Blood Drive Olympics" under sponsor.