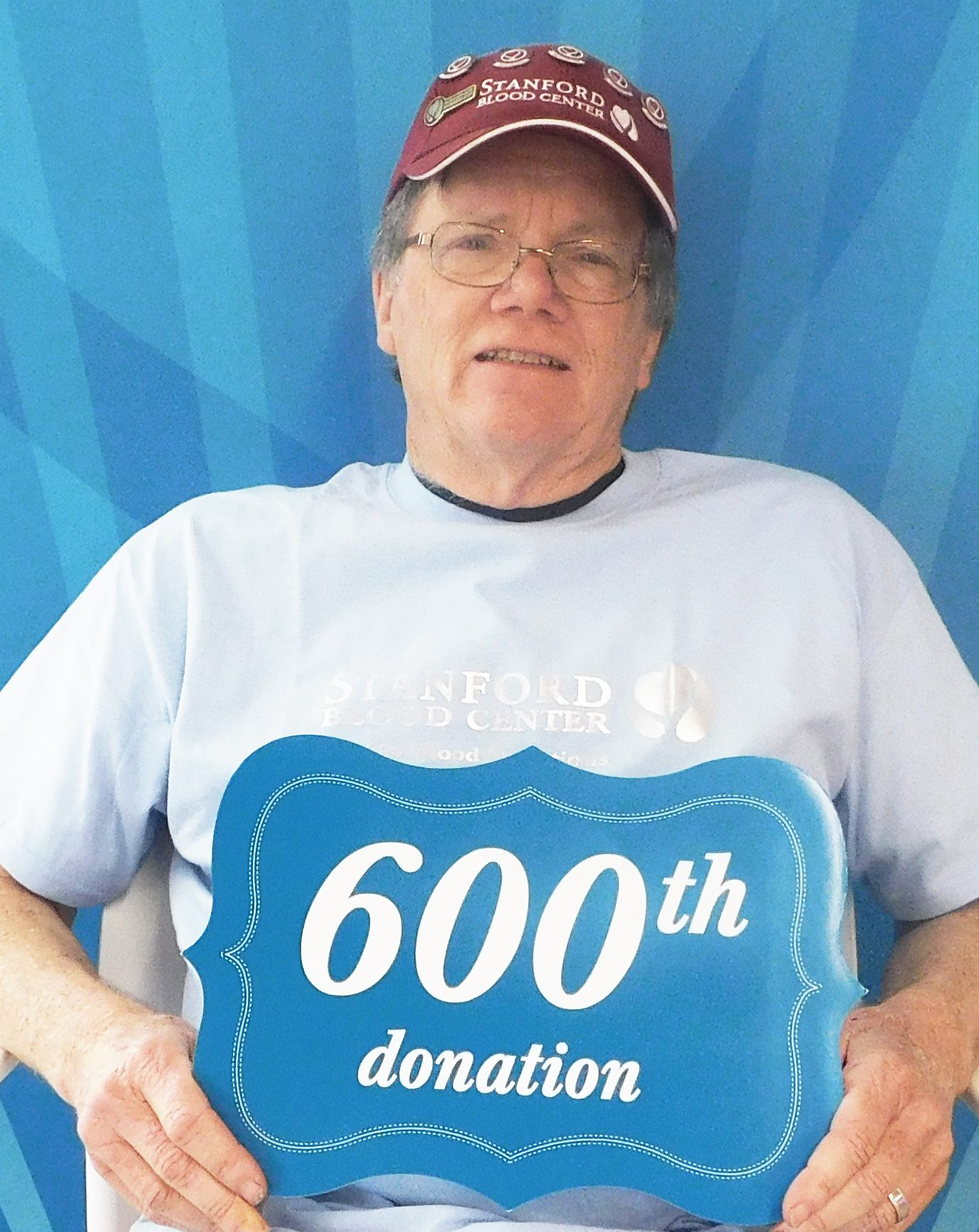 Here at SBC, we love to celebrate our incredible milestone donors. Earlier this month, Tom Welch made his 600th donation at the South Bay center. Ross Coyle, Public Relations Officer, interviewed the San Jose resident about what inspires him to donate blood and what keeps him coming back all these years.
What does your 600th blood donation mean to you?
I am closer to my goal of 1,000. But, really, I am honored to be able to stay healthy and continue to donate all this time.
What led you to donate blood the first time?
The first time I decided to donate was just by chance. I drove by a blood bank near where I lived and thought I would give it a try. It was a good experience, so I kept donating.
Why do you donate? What's your inspiration?
I donate to help other people when they need blood products. One of my relatives needed blood a long time ago and I was in the room when they transfused her. The transformation as she received the units of blood was amazing and that is one of the reasons I continue to donate.
What motivates you to keep coming back?
I enjoy donating and have always had a good experience. The nurses and staff are wonderful and take good care of everyone. 
Why do you donate at Stanford Blood Center?
I donate at Stanford Blood Center because I know several of the nurses who work here and believe in the mission. I have also been called to donate granulocytes for immediate transfusions and I am glad I was able to do that on short notice. And the refreshments are good also. 
What has the whole blood donation experience been like for you?
It has been a wonderful experience meeting other donors and listening to their stories. Everyone at Stanford Blood Center is very caring about all the donors.
How have things changed in the industry since you made your first donation?
There are a lot more questions asked now but that just makes all the blood products safer. Also, the apheresis machine is better now since it only requires one arm to be hooked up instead of both.
What would you say to potential first-time donors who are on the fence about donating blood?
I talk to a lot of people about becoming donors. I was also part of the ambassador program SBC had a few years ago and recruited several donors. My grandson is still a double red cell donor even though he attends Cal. I always tell potential donors the same thing. It is easy to do and not painful. The impact of life-saving blood to the community is enormous and there is no substitute for blood — it only comes from donors like you. So, I urge you to please donate whenever you can. You get to help someone and you will feel really good at the end of the day.