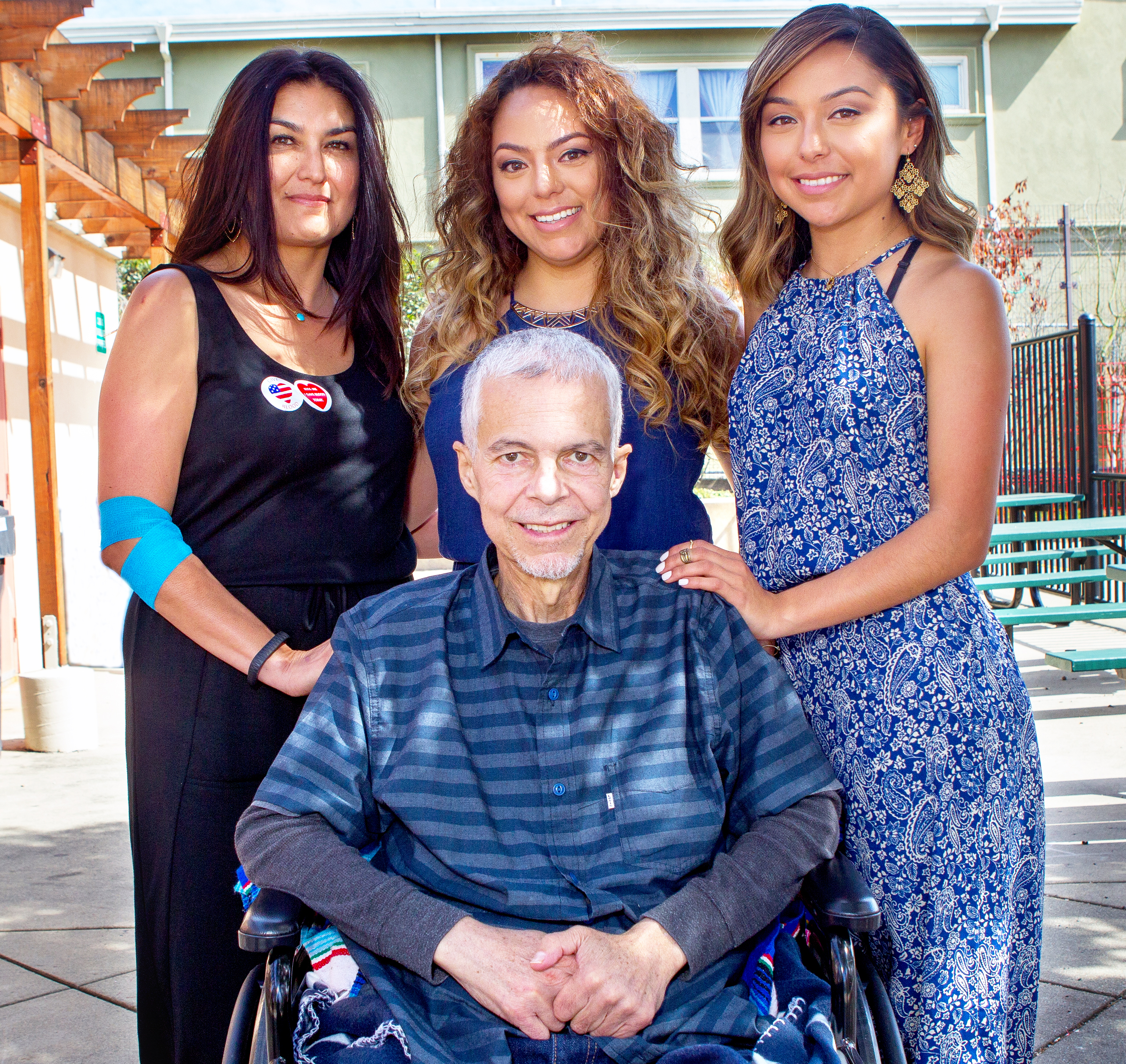 On March 14, Luis Navarro's daughters carefully took off his blindfold to reveal 50 of his closest friends and family. They were gathered for a surprise birthday party and blood drive to celebrate his 56th birthday. The surprise element wasn't the only thing that made this birthday memorable: Luis and his family were also celebrating the recent liver transplant he had received from Stanford University Medical Center (SUMC).
Two months earlier, while sitting in the waiting room while their father received one of his many blood transfusions after his transplant, Gabriela and Anais Navarro were feeling helpless because they thought there wasn't much they could do for him. One of them remembered they had spotted a blood mobile earlier in the day, and that's when something clicked. It was at that moment they decided donating blood would be a great way to do something that could help their father and others like him.
"We had been wanting to throw our dad a surprise birthday party to celebrate his life and thought this would be the perfect time to give back by doubling the birthday party with a blood drive," shared Gabriela.
Almost 20 years ago, Luis was water skiing with friends when the boat that was towing him unexpectedly reversed and the propeller caught Luis, severely damaging his right leg and abdomen. The accident led to other serious health complications such as liver damage.
Last year, Luis' family noticed he was losing weight quickly, unable to absorb nutrients. Doctors decided to put him on a strict regimen of Total Parenteral Nutrition (TPN) or tube feedings. Unfortunately, liver damage is also a common side effect of TPN and in November he was admitted to SUMC, hoping to receive a liver transplant. Due to the severity of his illness, Luis moved up the transplant priority list quickly.
Over Christmastime Luis' health rapidly declined until eventually he needed a transplant as soon as possible. His family knew time was of the essence but were not sure if a healthy liver would be found. "We started going through old photos not knowing if this could be it," said Rosie Navarro, Luis' wife. "We really didn't know if he was going to make it and it almost seemed as if he'd lost all hope, too."
Waiting for a proper organ match made days feel like years. Miraculously, on December 28 a match was found and the next day Luis was prepped for surgery.
While Luis was in surgery, his family experienced feelings ranging from excitement and nervousness, to fear and joy. After all of the high hopes and letdowns, the much-needed transplant they had prayed for was finally going to happen.
"When they were taking me away for surgery, I could see in my family's eyes that they were trying to be strong for me but really were not sure if they would see me again," said a very thankful Luis. "I knew to put my trust in the doctor's hands."
Just over two months after his surgery, Luis is home and on the road to recovery. His body has adapted to the transplant very well and without any complications. Doctors have said Luis' blood work looks great and he is currently in physical therapy working on regaining his strength.
Luis' daughters want everyone to know how important blood donation is. "It's hard to understand until you're put in a position where someone you love needs blood," said Anais. "There were countless times we wished we could give him part of our health, a healthy liver, anything to make him better."
The surprise birthday party and blood drive successfully drew 37 first-time donors.
First-time donor and Luis' nephew Cesar Padilla didn't just donate blood for the first time, he donated double red blood cells. "I was really surprised how easy it was," Cesar said. "Now that I know how many people could be potentially saved, I hope to donate a lot more."
A single blood donation can support up to three individuals in need of blood products. SBC's goal is to help as many people as possible with the blood it collects and to help ensure an adequate blood supply for local hospitals.
"Blood donation gives me the opportunity to provide something to people that can save lives," said Gabriela. "We will forever be thankful to those SBC donors who donated blood that our father received."
You too can help patients like Luis celebrate more birthdays by becoming a blood donor and help pay it forward like the Navarro Family.
To learn more about hosting your own mobile blood drive or to arrange a group donation at SBC, visit http://stanfordbloodcenter.org/donate/blood_drives.html.